Best business lunch deals in Moscow for summer '15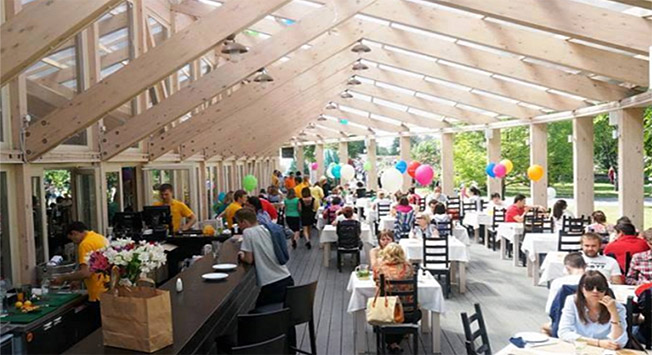 We've been told all our lives that there's no such thing as a free lunch. But in Moscow, you can get some lunch deals during weekdays which may not be free but are pretty good nonetheless!
Here you'll find some options for all kinds tastes, budgets and gastronomical preferences. Also, we selected options based not only on quality of food but also atmosphere.

Shardam
A really lovely place to take the family or your business associates in the summer months, Shardam enjoys a stunning location right in the middle of Muzeon park with a view of the river, Peter the Great Statue and the park's green leafy splendors! The food is organically-inclined with things like quinoa and whole meal flour making frequent appearances on the menu. Between noon and 4pm a soup/salad and a main costs just $7 and a soup, salad and main is $9. Both options include a tea, coffee or mors.
Beer & Brut
Beer & Brut is a newcomer on Moscow's fine but casual dining scene. A loft-like space situated in an old mansion in the heart of the city, B&B creates a pleasant atmosphere for serious people who don't take themselves too seriously. The menu boasts a refreshing price to quality ratio, with a wide range of mouth-watering dishes to perfectly complement both beer and wine. Between noon and 5pm there is a special lunch menu that changes weekly. For example a salad with marinated calamari costs $8 and duck risotto $10. Also the summer terrace is perfect for kicking back and relaxing!
Pushkin
Pushkin needs little introduction: it has been and will probably still be the number one restaurant in the capital and a must-see tourist attraction with a tinge of aristocracy. Normally, this restaurant is not affordable for most people but with their lunch deal management aims to give us common folks a chance to literally get a taste of the good life without breaking the bank. The 2-course option includes a starter and a soup ($11) and the 3-course option includes a salad, soup and main course ($16). Both options come with a complimentary tea or coffee.
Jean-Jacques
The main gathering spot for Moscow's intelligentsia, artists, hipsters and other creatives, this delightful, cheerful French-style bistro with a very Parisian atmosphere has been around for quite some time and now numbers 8 locations around town. Jean-Jacques' regular menu is already considered one of the most decent "democratically-priced" in town but lunch time makes it even more budget-friendly. A salad and soup is roughly $7 and a three-course lunch is just $8.5 - with a tea, coffee or glass of wine included in the price!
Viet Café
For some very decent quality Vietnamese (and other elements of South East Asian cuisines) we'd recommend Viet Café, a chain of city cafes with several convenient locations in and around the city center as well as in the big shopping centers outside the MKAD. Their normal menu is not exactly a bank-breaker but their lunch deals can get you full starting from a mere $5!
Shotlandskaya Kletka
For a taste of the wild North with a 30% discount during lunch hours on weekdays and an impressive collection 101 sorts of fine Scottish whiskey, Shotlandskaya Kletka just a stone's throw away from Sukharevskaya metro station is ideal. Guests get to indulge in traditional dishes like haggis as well as other wild delicacies like muksun fish and dumplings with deer and elk. Having its own smokehouse means that it's harder to find tastier smoked meats and fish in all of Moscow.
Bite Mexgrill
This is a new place right next Belorusskiy railway station and is so far proving to be a ray of hope for Moscow's Mexican food lovers. Their business lunch deal for $6.5 will surely eradicate your hunger and quench your thirst: you get a chicken or veggie burrito/taco, soup of the day and Bite's signature homemade basil lemonade - beef/pork options will set you back by only 20 cents! It's also worth noting that nowhere else in Moscow will you get a Corona for just $3.5 – if it's an informal lunch you're after.
Gastronomica Fish
Although not exactly centrally located, Gastronomica Fish specializes in fresh, delicious fish and seafood dishes. Business lunches range from $10 to $17 depending on whether you want just a soup and salad or you're feeling really hungry and want all three courses and a drink.
AQ Kitchen
Currently (June, 2015) this is THE hottest place in town. The brainchild of the Argentine-born chef Michelin-starred chef Adrian Quetglas, AQ Kitchen quickly became famous for its democratic price tag and fun and inventive menu with a very impressive wine list for all budgets and tastes. Being the star on Moscow's gastronomic scene means that no extra promo deals like "business lunch" or "happy hour" are needed to attract guests but that doesn't mean that the management didn't want to do something nice during lunch hours: between 1pm and 5pm guests receive a complimentary glass of wine with their meal.
All rights reserved by Rossiyskaya Gazeta.