Meat me in Moscow: A carnivore's guide to the best steakhouses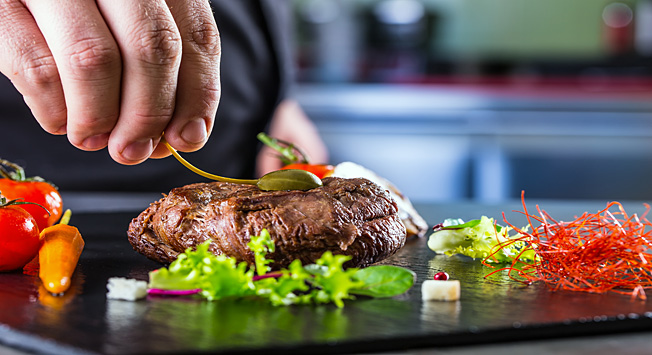 Sanctions have influenced not only Russia's political and economic agenda, but also its meatier restaurants: it's easier now for gourmands to sample first class, locally sourced beef in Moscow.
We've selected the five best restaurants in Moscow where meat is the main attraction. Choose any of the restaurants described below and don't be afraid to experiment and try new dishes, and remember that Moscow's cold climate predisposes one to eating red meat.

Beefbar

Shutterstock/Legion-Media

With locations in Mexico City, Monte Carlo and Berlin, Restaurant Syndicate, a Russian-based restaurant holding group, hopes to recreate the same atmosphere with its Beefbar in downtown Moscow on the Prechistenskaya Embankment. Here you can taste meat from practically any corner of the world while enjoying a spectacular view of the Moscow River. All the details have been carefully plotted out from the grandiose wine list to the specially selected African spice mixtures used to season the meat and the legendary Giraudi ovens where the meat is cooked.
Bison

Shutterstock/Legion-Media

This Moscow-based chain of five restaurants claims to be a place for real men and focuses on rougher and more unusual cuts of meat. It specializes in alternative steaks like machete (a thin cut resembling a machete) or flat iron (a flavorful, but tough cut from the shoulder), although exemplary New York steaks are also on offer. All kinds of meats here are perfect, but the rib eye Russo steak comes especially recommended. Made with Russian beef or venison rib eye it is only in Bison can you find a steak like this. A suggested accompaniment from the vine would be a Russian Terroir de Gai Kodzor, a blend of Mourvèdrе, Syrah, Grenache and Malbec.
El Gaucho

Shutterstock/Legion-Media

One of the best steakhouses in Moscow, El Gaucho highlights the traditions of Argentinian meat and cuisine with three restaurants inside the Garden Ring. It is perfect for big parties, thanks to its reckless and at the same time relaxed ambiance, which is aided by an exceptionally quick waitstaff. I would recommend the Chateaubriand, made of New Zealand chops accompanied by asparagus and cherry tomatoes. It would be difficult to find another place in Moscow where this cut of tenderloin filet is prepared better than at El Gaucho.
T-Bone

Shutterstock/Legion-Media

With three locations in Russia's capital, this is a steakhouse for all occasions. What separates T-Bone from a place like Bison is that here they don't underline their roughness, and unlike El Gaucho they don't focus on a single country's characteristics. Despite the fact that T-Bone specializes first of all in steaks, I personally like the mutton here, and particularly the mutton leg and lamb carré.
The steaks won't let you down, however, as they definitely know their beef, which they have recently begun purchasing from supermarket chain Miratorg, who are known for their high-quality cuts of meat. Expand your horizons and go beyond a standard New York cut or a classic rib eye: tease your appetite and try a cowboy steak. With a taste similar to a rib eye, but different in size – a 700-gram piece of grain-fed meat served on the bone – this is a cut of meat that you're unlikely to forget.
Voronezh

Shutterstock/Legion-Media

The new restaurant of Alexander Rappoport – a Russian lawyer turned highly successful restaurateur – is a must for all meat-lovers in Moscow, so popular that you must book a table one week in advance. The restaurant positions itself as a place for "provincial Russian cuisine" and particularly highlights Russian traditions and culture. Meat is the main course on the second and third floors of a mansion on ul. Prechistenka.
Here there's everything from cheeseburgers and "golubtsy" (stuffed peppers) to veal, mutton neck stew and ossobuco. My advice to you is to try the parts of the menu that raise the most questions. Don't limit yourself to steaks (even though they're excellent here), but instead try the ribs with juniper or ribs marinated in oranges, prepared with beef from Voronezh farms. Don't miss the snack bar on the ground floor, where you'll find rare delicatessens that you're unlikely to find outside Moscow, such as baked bone marrow or pickled tongue.
All rights reserved by Rossiyskaya Gazeta.