Siberia's seven wonders: The region's most astounding places to visit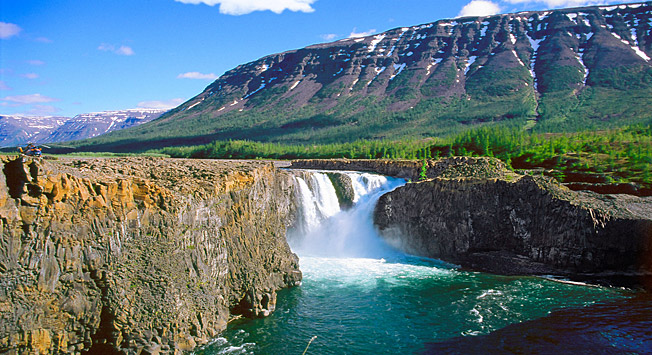 On the eve of summer we have selected seven must-see, unique places in Siberia that you should visit at least once in your life: tall mountains, clear lakes, cities filled with wooden architecture and sandy deserts. Each and every traveler will find something according to their taste.

See seven wonders of Siberia in a larger map
1. Lake Baikal


Photo credit: Shutterstock/Legion-Media
Where: Irkutsk Region
Why you should see it: Nowadays whoever wants to see pictures of this legendary lake can easily find them online. But seeing Baikal in photographs is not the same thing as seeing it in real life: The contours of the deepest lake on earth, which some call the "holy sea," will impress even those that have swum in the limitlessness of the ocean. Every year thousands of travelers from all over the world make the pilgrimage here. Some routes lead tourists to Olkhon Island, others cross the waters of the lake by boat, while particularly hardy travelers go around Baikal by bike or on foot. A trip to Siberia's "sea" also means getting a chance to taste the omul and grayling fishes, to see old Irkutsk's merchant stone architecture and the monuments of Siberian Baroque, to visit the Taltsy Ethnographic Museum on the way to Listvyanka and to drink in the views of the taiga and the extraordinary Angara River. All this adds up to an experience of seeing Siberia in all its glory and diversity.

2. Altai Mountains


Photo credit: Lori/Legion-Media
Where: Altai Territory, Altai Republic
Why you should see it: Even though the Altai, like Baikal, is one of Siberia's most popular tourist destinations, it is at the same time also extremely enigmatic, mysterious and full of rich natural wonders, a real treasure trove for travelers. Even the casual visitor will be intrigued by the petroglyphs, stone engravings and other antiquities that are abundant in the caves and on land. Those that love swimming in rivers, climbing mountains and spelunking in caves will find routes to their liking and their level of physical fitness. Families with children will find some comfortable corners in forests near Lake Teletskoye, cyclists can boast about a trip along the famed Chuysky Trakt, which crosses the Altai, while animal lovers can enjoy horseback rides through the mountains.

3. Chara Sands


Photo credit: Anton Petrov for RBTH
Where: Zabaykal Territory (sometimes known as Transbaikal)
Why you should see it: This is an authentic large sandy desert surrounded by taiga, fast-flowing rivers and inaccessible mountains: welcome to the Chara Sands, perhaps the most "non-conformist" desert in the world. It is also one of Siberia's most unique places. Here you can walk barefoot on hot sands, perch yourself atop of huge dunes, bathe in a cool lake and pick bilberries. The Chara Sands represents the "taiga" and the "Eastern" character of Siberia simultaneously, making it completely different from any other place on Earth. If you climb in the nearby Kodar Mountain Range in a place called the Marble Gorge you can find the remains of the remote and isolated Soviet BorLAG camp and touch the disturbing and horrific history of Stalin's secret prisons in Siberia.

4. Ergaki National Park


Photo credit: Lori/Legion-Media
Where: Krasnoyarsk Territory, Western Sayan Mountains
Why you should see it:This national park, located in the area of the Ergaki Mountain Range, is visited by travelers of the most varied places: from the nearby village of Shushenskoye and from the Czech Republic, from Novosibirsk and Moscow. The truth of the matter is that this mountainous and taiga-forested region is also one of the most compact, accessible and beautiful ones in Siberia. Both families with adolescents and professional mountaineers and lovers of mountain hiking go to Ergaki to admire the waterfalls, eat blueberries and bilberries, roast pine cones over a fire, bathe in its icy lakes and climb to the mountain tops to admire the vistas of the grandiose Sayan and the thick taiga below.

5. Putorana Plateau


Photo credit: Sergei Gorshkov for RBTH
Where: Krasnoyarsk Territory, Central Siberian Plateau
Why you should see it: It may seem that given the development of communications and transport, that even in Siberia there would be no more distant, difficult-to-reach and untrodden places left. Yet vast areas of uninhabited wilderness here have remained intact. The Putorana Plateau in the Far North, recognized by UNESCO as a World Heritage monument, is a large mountainous tract where Peter Jackson could have shot his futuristic fantasy films. There are numerous gorges and valleys, but the area is famous most of all as "the land of 10,000 lakes and 1,000 waterfalls. There is no place in Russia with such a concentrated quantity of waterfalls and Lake Vivi can also be found here, also known as the geographical center of Russia. Visiting Putorana is like waking up on an unknown planet.

6. Tomsk


Photo credit: Alamy/Legion-Media
Where: Tomsk Region
Why you should see it: In Siberia there are many towns where wooden architecture has survived, but it is in Tomsk that you can find the peculiar essence of old—the spirit of the Siberian province and simplicity. Shishkov's mansion, the wonderful grounds of Siberia's oldest house of learning—Tomsk State University, the fabulous "House with the Firebirds" and perhaps most famous are the patterned casings of the windows. You should go to Tomsk if you're searching for the masterpieces of Russian wooden architecture and examples of Siberian Baroque and Art Nouveau. But don't forget to try Siberia's best "bliny" (pancakes) and "pelmeny" (dumplings) and experience its youthful atmosphere: one in five residents here is a student.

7. Trans-Siberian Railway


Photo credit: Anton Petrov for RBTH
Where:Moscow - Vladivostok
Why you should see it:The historical name of the legendary Trans-Siberian Railway is "The Great Siberian Route," and this railway has always been associated with Siberia. Russia's European part is joined with the harsh Ural Mountains and Siberia and the Far East by 9,289 kilometers of rails—there is no railroad longer than it in the whole world. After a weeklong trip along the Trans-Siberian Railway you will come to know the national mentality and witness Russia's diverse landscapes and city views from the window. You will get to try the smoked omul fish from the stations in the Irkutsk region and witness the unforgettable scenery of Lake Baikal. You will pass through various underground tunnels en route to the highest spot on the route, Yablonovy Pass, in the Trans-Baikal region. Along the way you will meet travelers from far and near. Foreigners and native Russians should all get onboard the Trans-Siberian Railway to better get to know the world's largest country.
All rights reserved by Rossiyskaya Gazeta.