Hardcore holidays: Adventure travel for the macho in Russia's great outdoors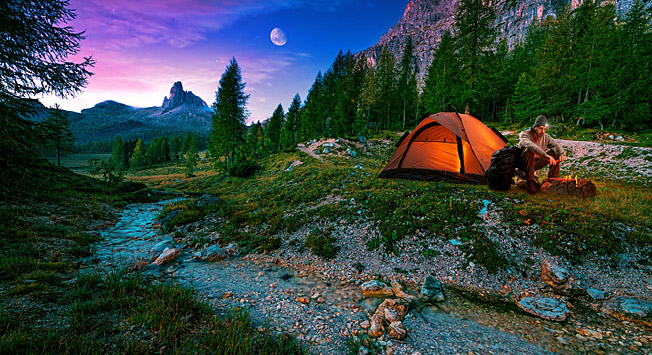 Russian President Vladimir Putin has become almost as equally renowned for his macho outdoor antics as for his policies in recent years, with the world's media frequently amused by carefully-staged photos of the Russian leader engaged in outdoor pursuits such as horse-riding and fishing. But his stunts were well-chosen: Russia offers a wealth of outdoor activities for those in search of adventure. RBTH follows in Putin's footsteps and looks at some of the options for a hardcore holiday – with or without your shirt.
Over the last few years, Russian President Vladimir Putin has made headlines around the world with a series of macho photographs of him taking a break from his official duties by skiing, shooting tigers, fishing or riding horses in the Russian wilds. Putin may have been widely mocked outside Russia for this posturing – especially for the topless photos – but many Russians do choose to spend their holidays in the great outdoors. When it comes to opportunities for wilderness recreation, Russia is unrivaled – its mountains, lakes, thick forest and rivers mean that there are few places better suited to wild camping, skiing, fishing, horse riding – or even tiger watching.

Horse riding and swimming in Tuva


Photo credit: RIA Novosti/Dimtry Astakhov
In possibly the most notorious of his hard-man PR stunts, Putin was photographed shirtless on horseback in the wilderness near the town of Kyzyl in the remote Tuva Republic in Siberia, generating a whole series of satirical memes. But while you don't necessarily have to do them topless, horseback tours around Siberia really allow you to interact with this fascinating part of Russia. The trails along the western shore of Lake Baikal are as diverse as the terrain: You can take a brisk canter along the beach, an amble through the steppe, a faster ride across sweeping grasslands or a meander through the magnificent mountain scenery of the lake's middle section.
Perhaps before the horseback ride, perhaps after, why not get closer in touch with nature by taking a refreshing dip in a lake somewhere in the same region. Indeed, this area is famous for its lakes and "arjaans," which are hot springs closer to the Mongolian border that are a result of fractures in the earth's crust. In the olden days, arjaans were often given to people by shamans. The nutrients and minerals in these springs are considered a form of medicinal treatment. Ush-Beldir is a health resort that specializes in these springs. In the western part of Tuva there are many radon springs. The most popular arjaans are Shevelig, Dostug-Hem, Dorgun and Ulaatie.

Fishing in Siberia


Photo credit: RIA Novosti/Alexei Nikolskiy
Fishing has a reputation of being a "real man's sport" in Russia, so it was no surprise when Putin jumped on the bandwagon and tried to take it up a notch: If we are to believe the photographs, he bare-chestedly pulled a massive 21-kg pike-perch out of the waters in the Tuva Republic in Siberia in July 2013. This activity is by no means limited only to Tuva or indeed the summer months. Russians and foreigners alike enjoy fishing (vodka and pickles are optional) all across the vast country come rain or shine, snow or ice. Here is a fisherman's guide to trophy spots in Russia.

Watching tigers in the Far East


Photo credit: TASS/Yury Smityuk
Apparently a keen animal lover, for his next PR stunt Putin decided to pay the Ussuri Reserve in the Far East a visit to see how scientists were coping with the daunting task of monitoring the extremely endangered Amur tiger in the wild – and ended up shooting one with a tranquilizer gun for the sake of science… or a good photo opportunity. Primorye, also known as the Primorsky Territory, in Russia's Far East is one of the few places on Earth where you can meet a tiger in its natural habitat. There are three fully-grown Siberian tigers living approximately 40 miles from Vladivostok in the Primorsky Safari Park. Note their size, sharp claws and speed. Perhaps a visit like this will make you realize that meeting these tigers unprotected is not a very good idea. If you have not changed your mind, read this guide carefully.

Skiing in Krasnaya Polyana


Photo credit: TASS/Kirill Umrikhin
If it happens to be winter when you turn up in Russia, don't despair: The country has plenty to offer for fans of winter sports. Why not start by hitting the slopes to thrash some serious snow at Krasnaya Polyana, the site of the 2014 Winter Olympics – and another of Putin's playgrounds. While Krasnaya Polyana is now the most famous Russian ski resort, you can also opt for a more remote and "exotic" location suitable for any budget or level of experience – check out this list of mountains from the Caucasus to the Murmansk Region and from the Urals to the Far East.

Exploring a sunken ship in a submersible in the Gulf of Finland


Photo credit: RIA Novosti/Anton Denisov
Scuba diving in the Maldives to see colorful exotic fish is so 2009, and naturally, Putin knows it, so in 2013 he hopped into the "Sea Explorer 5" (a small submersible craft) and went 200 feet under to see the remains of the naval frigate Oleg, which sank in 1869 in the Gulf of Finland. Though it is too chilly for most people, there are a couple of scuba diving clubs that take the few brave and willing to the freezing waters of the Gulf of Finland, as well as Lake Ladoga, Lake Baikal, the Barents Sea and even as far away as the Sea of Japan – thermal suits included, of course. And if that's not hardcore enough for you, then go for a tour operator that will take you underwater hunting.
All rights reserved by Rossiyskaya Gazeta.