Food fit for a Kaiser: Eat your way around Europe in Kaliningrad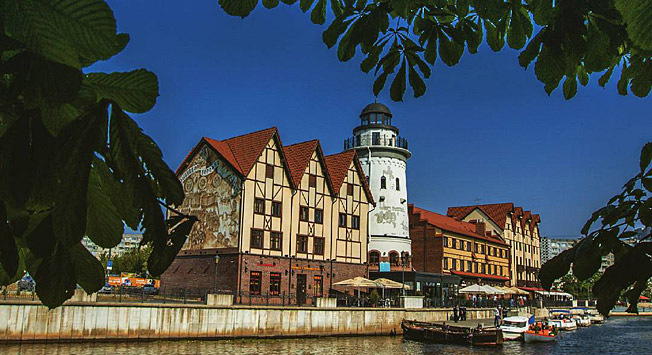 Isolated from Russia and surrounded by Lithuania and Poland, the Russian Baltic exclave of Kaliningrad, once the East Prussian capital Königsberg, inherited a distinct Teutonic culinary tradition that has always been different from that of the rest of Russia.
Now, as the local economy develops closer and closer ties to that of the European Union and tourism continues to grow, Kaliningrad's restaurants are becoming more cosmopolitan, as well as harking back to the area's historic origins. Dishes from Germany, the Czech Republic, Poland and Lithuania are far from unusual sights on the city's restaurant tables, and smart cooks have transformed the local dining scene into one of Kaliningrad's most significant calling cards.
But while traditional cuisine from Königsberg is hearty winter fare with a heavy accent on potatoes, cabbage and sausage, more and more places are branching out and offering lighter, more subtle options: The culinary experience of half of Europe is now here to enjoy.

Breakfasting all over Europe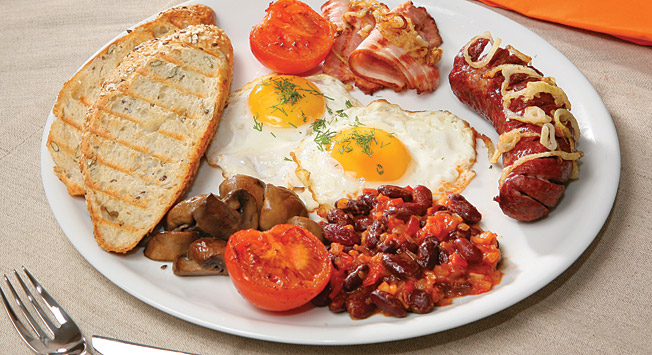 Photo courtesy: Kruassan

Here a whole constellation of European breakfasts is represented: The Danish (sandwiches, potatoes and salad), the Dutch (an omelet and various kinds of cheese), the Norwegian (toasted baguette bread with slightly-salted salmon, fresh vegetables and quail eggs), and the English (fried eggs with bacon and grilled sausages). And that's not all: You might as well stay for a second, or even third breakfast! The good thing is that it is unlikely to cost you more than $10. Every kind of breakfast is served with fresh, hand-made bread.
The salads here are multiethnic, too: There's the Italian one, with aromatic arugula, the Scandinavian and Norwegian one, mainly based on fish, but also including chicken fillet, avocado, bacon and blue cheese. There are also tasty and nourishing pastries such as tourtes, tartiflettes and quiches with meat or vegetable filling. The important thing is not to forget to leave a little room for the excellent desserts: A couple of bright, melt-in-the-mouth macaroons can be forgiven even at breakfast time.

Sauces and spuds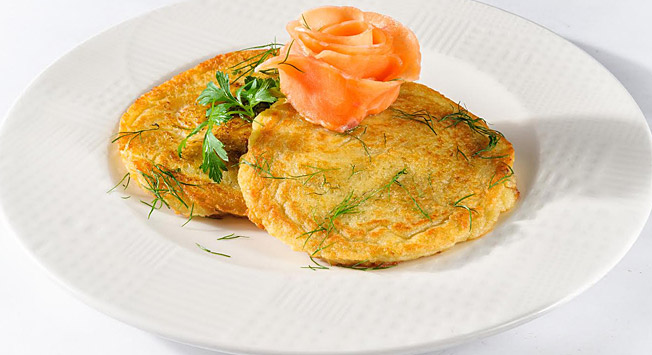 Photo courtesy: Brikas

In the city center, in the Evropa shopping mall, the small Lithuanian restaurant Brikas has managed to find a niche for itself. You can't say you've had lunch here without trying the cold Lithuanian borscht and a whole series of potato-based dishes: The authentic Lithuanian zeppelins (potato dumplings with various kinds of filling); the vedarai, a rosy potato sausage; plump potato pancakes. As regards drinks, potato goes well with cereal and cranberry kvas and home-made mors (a drink made from cranberry juice).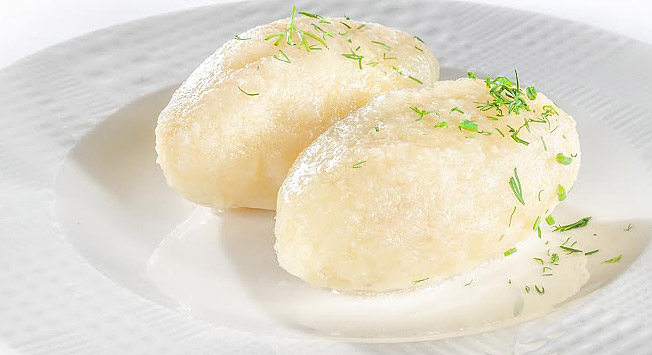 Lithuanian zeppelins (stuffed potato). Photo courtesy: Brikas

Yet another place to entertain your stomach is the Czech tavern U Gasheka ("At Hasek's"). As a first course you can choose Czech soup with home-made sausages or a thick mushroom or potato puree soup in a bowl made of bread. The hearty main courses are heavily based on meat and potatoes and include classics such as Czech beef goulash with dumplings; a svíčková, baked beef with sour cream; various kinds of baked dishes or big dumplings stuffed with meat or mushrooms. The wide choice of Czech beer and the many complicated appetizers that go with them are also guaranteed to make the mouth water. A three-course lunch costs on average less than $20. And while the meat is being fried and the sauces are being stewed, you can distract yourself from your stomach's rumblings by reading the funny quotations from Czech writer Jaroslav Hasek's works written on the restaurant's walls.
German sausages at Auntie Fischer's
In the city center, 15 minutes from the island of Kneiphof and not far from the lost royal castle, drop into the German restaurant called Tyotka Fischer ("Auntie Fischer's"). The place is named after the owner of Wolfsklamm (Wolf's Gorge), a tavern that was popular in Königsberg as early as the beginning of the 19th century.
Tyotka Fischer will leave meat eaters in seventh heaven: You can warm up your stomach with a thick rügen, a cheese soup with bacon and sausage, and try as a starter a traditional German quiche made of meat, chicken, or fish with aromatic onion and a tempting crust. However, there's no question that the main dishes are the classic home-made German sausages, together with sauces, warm sauerkraut or potatoes. There are also more solid dishes: Hamburg-style chicken, Bavarian rissoles with spicy sauce and the famous Königsberger klopse, Prussian meatballs served with capers in a white sauce.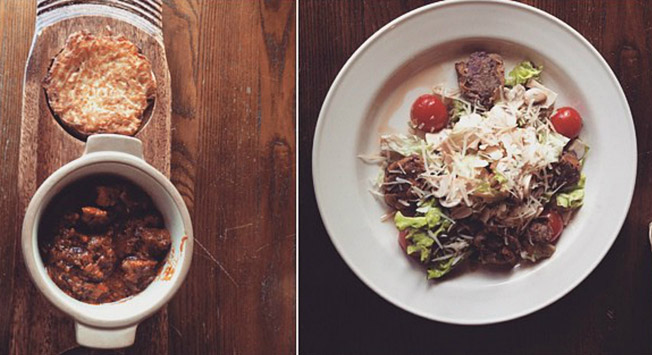 Photo courtesy: Auntie Fischer's

Wash down this meaty bonanza with home-made cranberry drinks and kvas, house beer cocktails or fresh draught beer. At Tyotka Fischer the approach to cooking is based on German accuracy, so be prepared to wait as long as necessary. The prices are a bit higher than the city average, but the size of the portions will be a pleasant surprise even for the most demanding stomach.
Sea air and grilled meats
Continue your exploration of the peculiarities of Baltic cuisine in the modest seaside towns of the Kaliningrad Region. In Svetlogorsk's central square, located on one of the inclines leading down to the sea, is a restaurant called Polyandiya. Here half of the menu resounds temptingly with Polish names. After a dip in the cool Baltic Sea there's no better time to enjoy a hot, rich flyaki (a Polish soup made of beef tripe) or a żurek (a soup with eggs, sausage slices and spices, served in a bowl made of bread with seeds):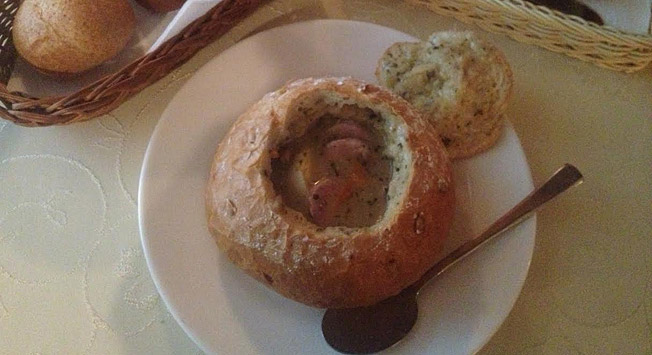 Photo courtesy: Natalia Makarchuk for RBTH

Although it's not rare for Poles to have a nourishing soup as the sole course in a lunch or dinner, it is also worthwhile trying a second course. Among the hot dishes are all kinds of befsztyki (minced steaks) and karkówki (a grilled carbonade), and also the symbol of Baltic cuisine: bigos (cabbage stewed with meat and prunes). A separate part of the menu is devoted to those dishes which are prepared on an open fire, which are especially delicious when combined with fresh sea air. This list also features Polish sausages, in addition to Polish or Lithuanian beer. The homely, modest dishes and the simple interiors of this small house near the sea add a mood that is in full harmony with the simplicity of the cooking. The prices are comparable to those in Kaliningrad: $15-20 for a full lunch.

An appetite for almond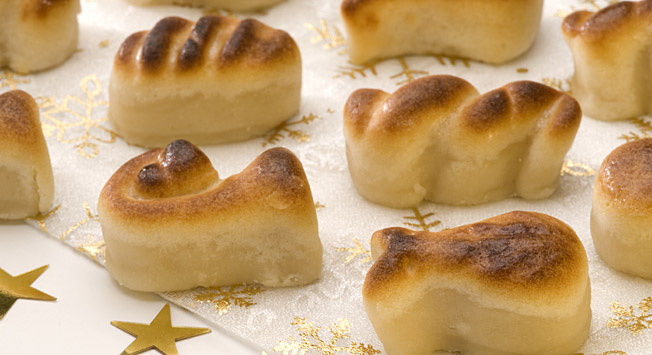 Photo credit: Shutterstock/Legion-Media

Gourmets will be unable to resist bringing back home from Kaliningrad some sweet presents: Marzipans. In the 19th century, Königsberg's marzipan, considered the equal of that produced in the German city of Lübeck, was adored by sweet-toothed Europeans. It's the rose water added to the dough that makes the taste of Königsberg's marzipan so unique, together with the characteristic rosy crust of the candies. In the city's Martsipanovy Domik shops you'll find marzipans of various German confectionery brands: Candies and bars with different kinds of filling, small candy figures, marzipan dough and even marzipan drinks. One of these shops is located right in the terminal building at the city's Khrabrovo airport, so even at the very last moment you can fill a bag with fragrant almond sweets.
All rights reserved by Rossiyskaya Gazeta.