The cuisine of Kazan's Tatars is a history book of Eurasia presented in the form of a menu. Tatar cuisine is a culinary journey in time, from the Finno-Ugric peoples to the Golden Horde, with occasional visits to the Khazars and the Bulgars.
1. Kystyby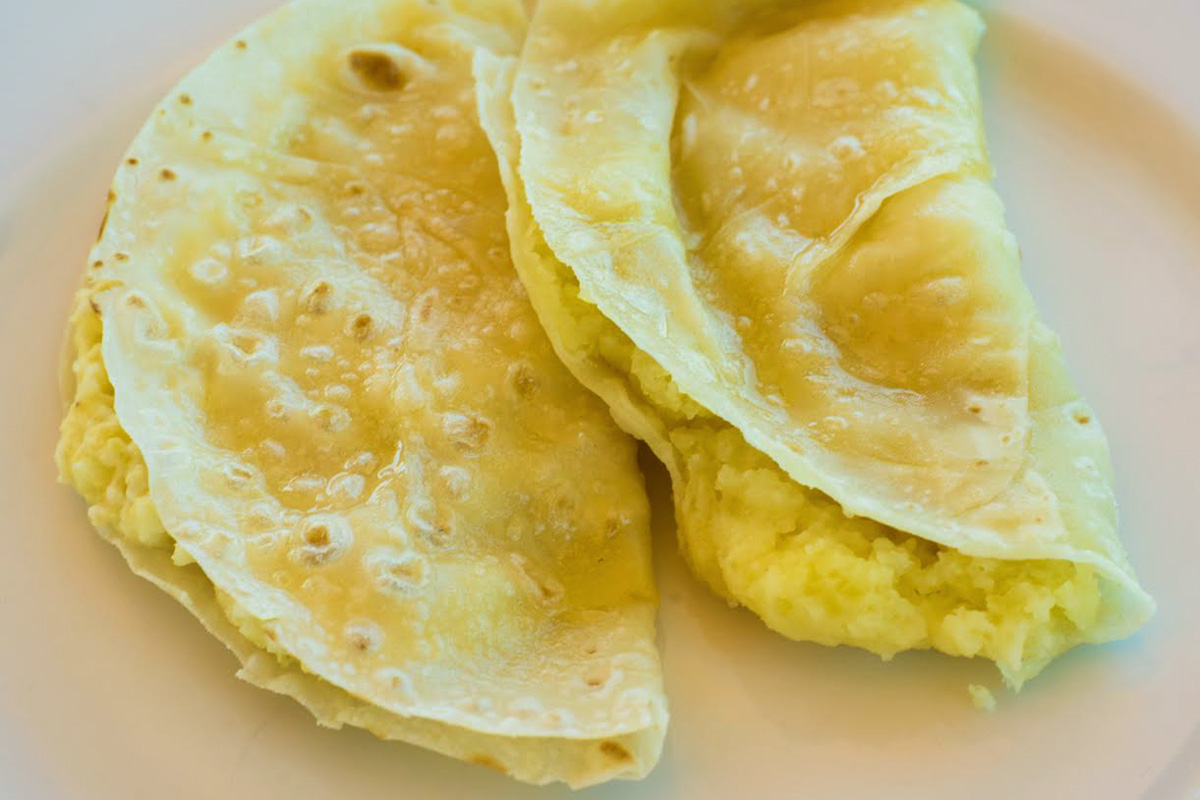 Photo credit: Marina Mironova This dish is worthy of the verbal torture that a foreigner experiences when trying to pronounce its name. It is a delicate stuffed flatbread folded in the form of a soft half-moon and a relic recipe that comes from the forests, fields and archeological burial mounds of the mid-Volga region. Unleavened flatbreads are baked on a dry pan, greased with melted butter and then stuffed with millet porridge or mashed potatoes. It has a velvety texture and a pure refined taste. Whereas chefs spend years trying to achieve such a level of simplistic perfection, Tatar women are seemingly born with this skill.
Try it at the Tatar Estate Restaurant. Kystyby is baked in an oven here and this method of preparation adds an almost exotic taste that heightens the senses.
2. Echpochmak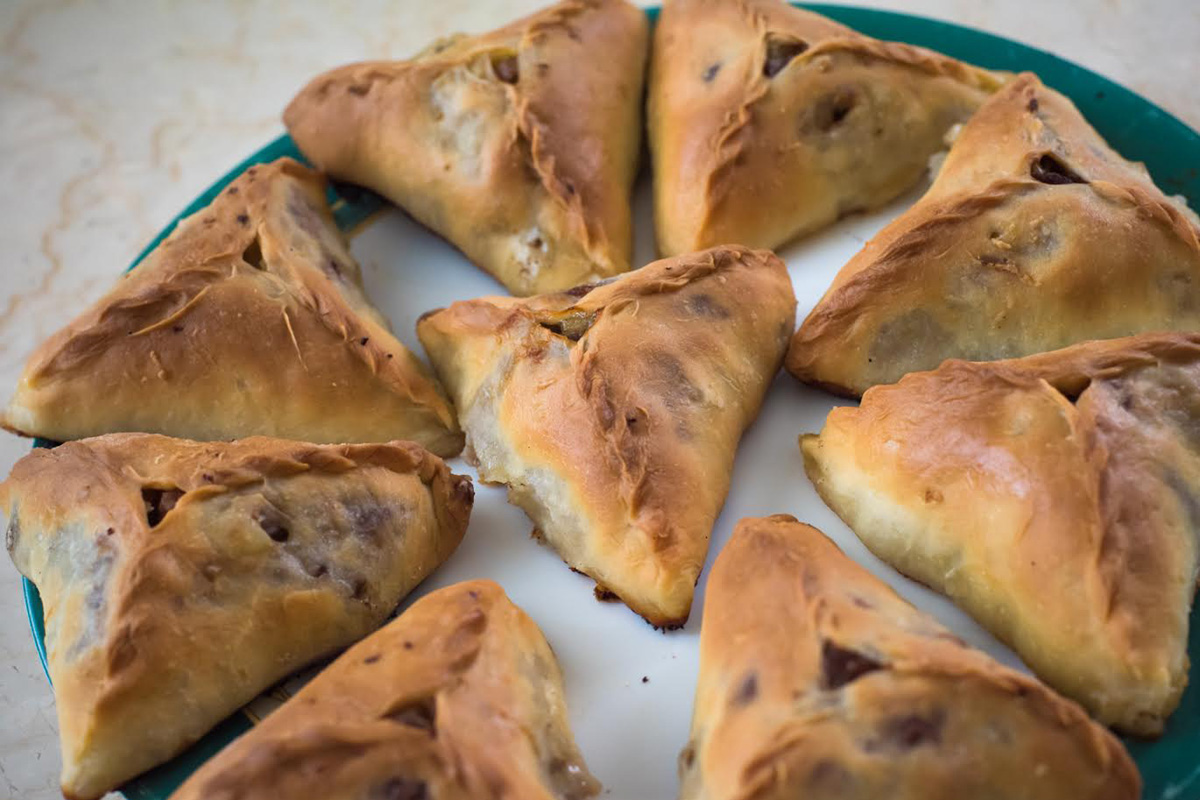 Photo credit: Marina Mironova Echpochmak, or "triangle," is both the alpha and omega of Tatar cuisine. This is the first food you should try to get acquainted with the local cuisine. It is a very simple pastry at first glance: Yeast dough, meat, onion, cubed potatoes, pyramid-shaped and baked in the oven.
But the secret is in the details. It is very tricky to get the dough just right so that the triangles have a crunchy crust despite the juicy stuffing inside. Old Tatar women will tell you that an echpochmak must be cooked with love and this is why you shouldn't eat them in a restaurant. My research proves that they are right.
A classic echpochmak is hefty, aromatic and hot and stays warm inside for several hours. The triangles are stuffed with different kinds of meat, with the best combinations being beef and duck and mutton and goose. When the pastries are almost ready, a drop of thick broth and a piece of butter are added through a special hole on the top to enhance the flavor of the stuffing.
Where to eat: ideally a hospitable Tatar family will invite you to their home and you can try it there. Alternatively you may book a table at The House of Tatar Culinary Art. Their echpochmaks are as close to what an old Tatar woman would cook at home as you can find.
3. Kazylyk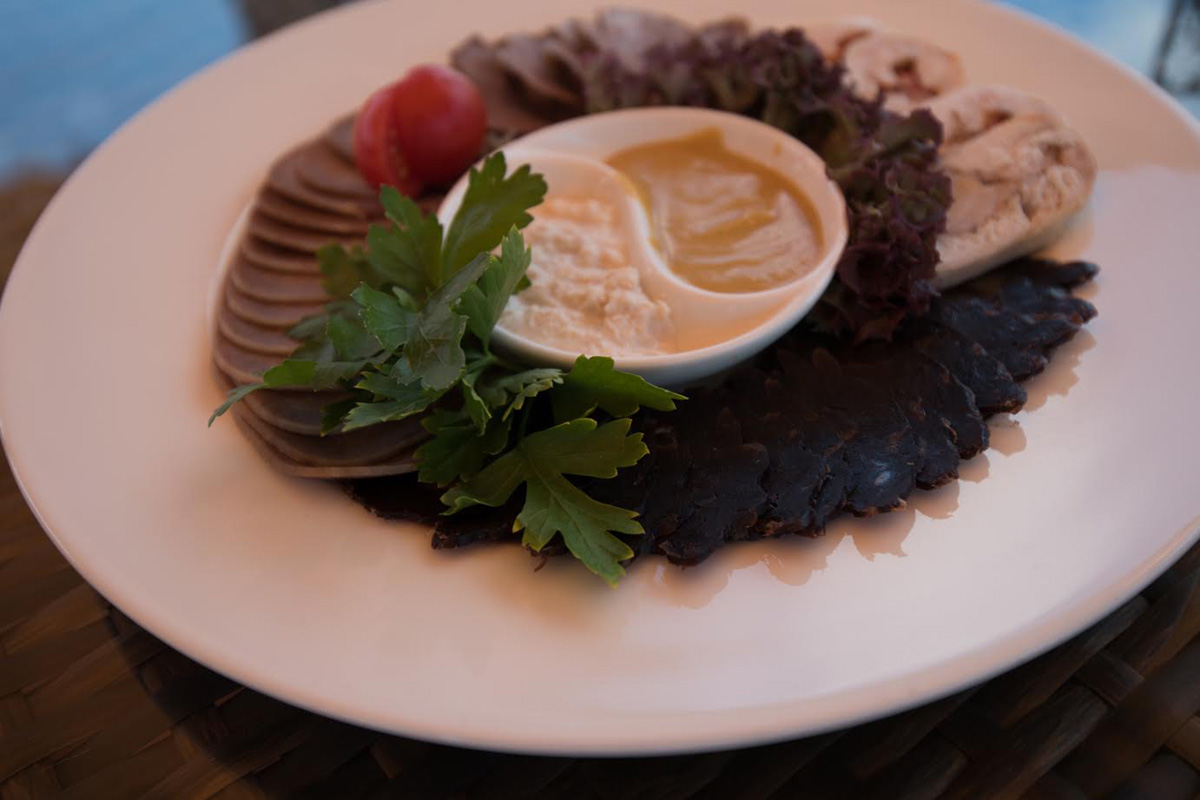 Photo credit: Marina Mironova Kazylyk is a very thinly sliced air-dried horse sausage prepared with meat, salt, pepper, some steppe sun and wind and two months of aging in a cool place. Tatars inherited this recipe from the Golden Horde, Eurasia's most restless people, who came to the Volga region in the 13th century.
It is hard to mess up a kazylyk, so order it in any restaurant, food store or market place.
4. Kaklagan kaz (air-dried goose)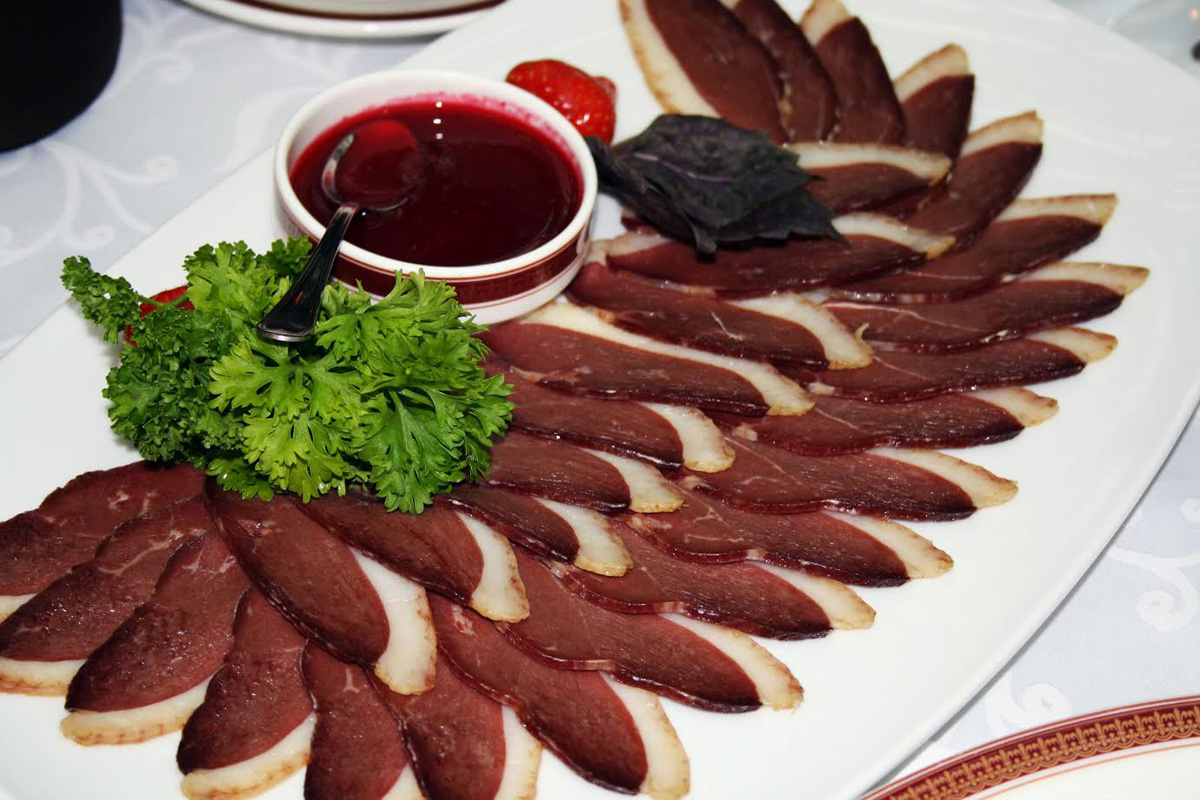 Photo credit: Marina Mironova If Kazan had a gastronomic coat of arms, it would feature an air-dried goose against a background with a golden triangle of echpochmak. Kaklagan kaz is as symbolic for Tatarstan as jamon is for Spain. The best places to get gooses in Tatarstan are from the villages of Imenkovo or Kulbash.
The most important factor in raising a tasty goose is a good diet. Geese should be fed millet, barley and sugarbeets. The process of drying is an ancient one, and while simple, it demands time and patience. The goose is gutted, rubbed with salt, wrapped in wax paper and hung for 3–4 months in a cool place where there is no direct sun or wind. During that time the goose absorbs aromas and healthy fats. The color of the meat becomes dark red, similar to the color of Spanish ham and the taste becomes refined with a sweet and salty taste to it.
Where to eat: In restaurants or at a market place. It is also worth going to the new Kazan shopping center where farmers sell their homemade products.
5. Zur-belish with goose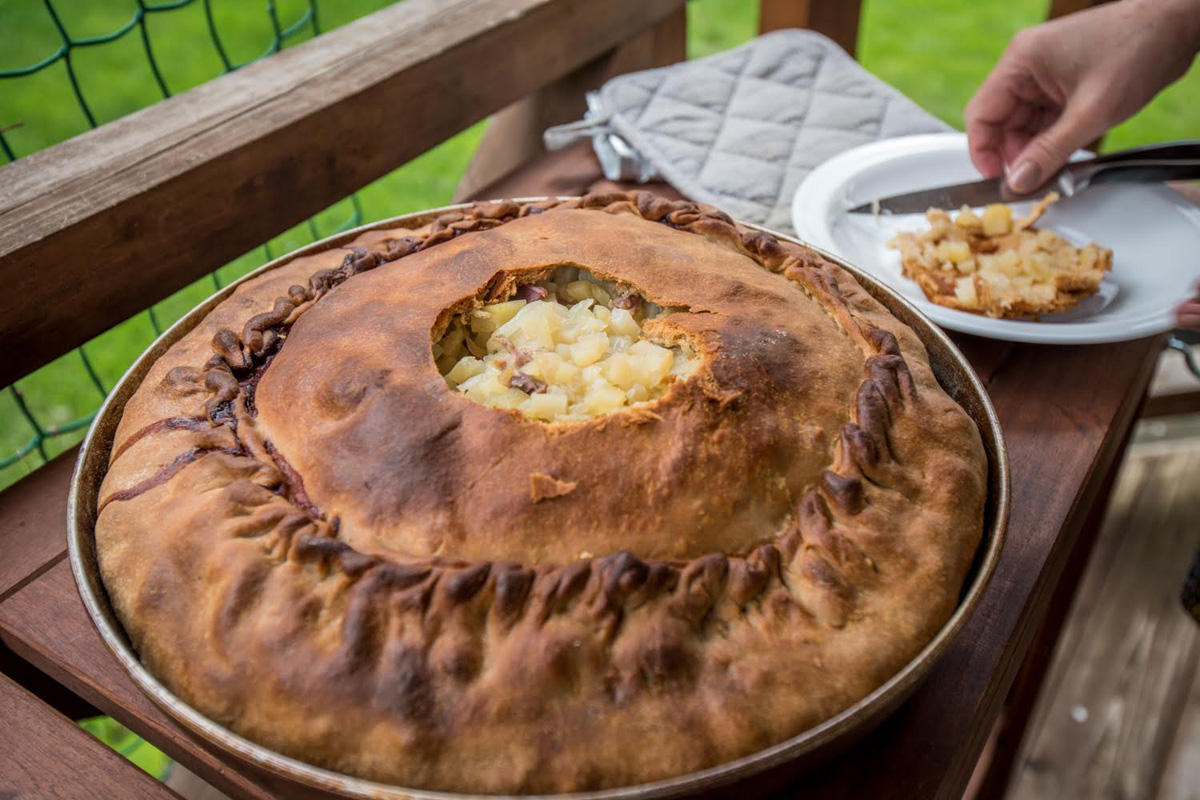 Photo credit: Marina Mironova Belish is a small pastry. Zur-belish is a large pie. And zur-belish with goose is a true feast. This kind of pie is usually prepared only for family celebrations and very special guests.
A round and well-baked closed pastry that is the size and form of a giant soup bowl, it spreads the heat around while being prepared in the oven. Belishes are made of unfermented dough, because regular yeast dough won't survive the intense heat required for its preparation. Goose meat and giblets, potatoes and onions are stewed inside the pastry.
Little spice is used in Tatar cuisine. This is due to historical habits borrowed from the nomads using a policy of "zero kilometer food": This is when food is cooked only from products that can be sourced in the closest neighborhood to the kitchen.
Where to eat: At a guest's home or at a food fair in Kazan. Check the calendar of events at gokazan.ru to see what's on offer.
6. Talkysh kaleve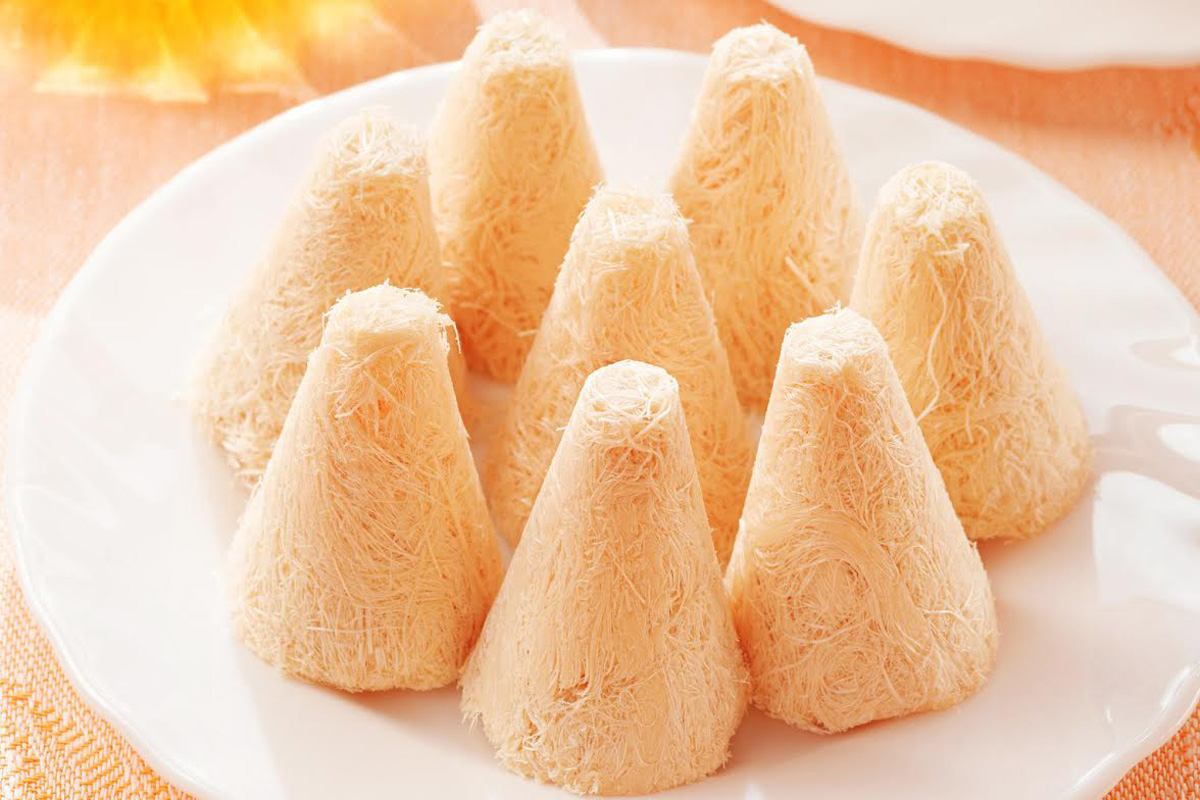 Photo courtesy: Bakhetle Tatarstan was once a transit center of cultures, knowledge and recipes of the east and west, north and south and Kazan was a major stop on the Great Highway, a major tea trade route stretching from China to Europe. Therefore it is unsurprising that tea drinking in Kazan is not just a tradition, but also takes on philosophical elements, such as how to drink, with whom, and most importantly, with what.
One of the most delicious and complex Tatar deserts is talkysh kaleve. This Turkish recipe was brought to Kazan in the 19th century by the Tatar Borkhan, an ancestor of the Saifullin family. In the 1990s Niyaz Saifullin started producing talkysh kaleve on a mass scale, a sugary empire that has no competitors because of the complexity of the process.
Two experienced masters stretch the honey and sugar candy mixture and transform it into white fragile threads until this hot mass turns into a web of threads. The web is powdered with a mixture of melted butter and flour so that the threads don't stick to each other and immediately form miniature cones while the mixture still has the right temperature. This is a work of art for discriminating sweet-toothed foodies.
Where to eat: At Tatar restaurants or the chain store Bakhetle.
All rights reserved by Rossiyskaya Gazeta.