After sunset: Exploring Moscow's late night art scene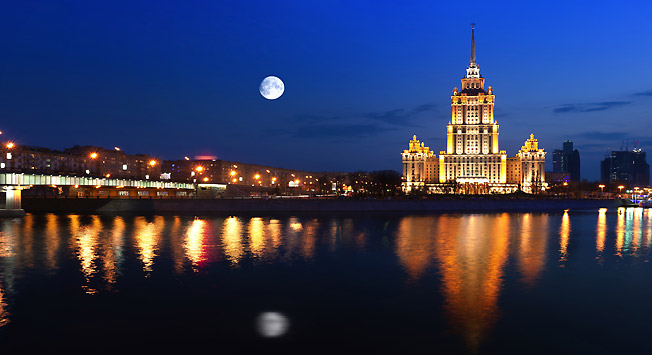 Moscow's evenings are full of life and movement, and their rhythm is radically different from the city's daytime. And while the city has great nightlife in the form of bars and restaurants, it's worth it to shake things up once in a while. Why not pop over to one of Moscow's museums or galleries after work one of these days, rather than taking your usual seat in front of a bartender?
All museums run by the Moscow Department of Culture are open until 21:00 on Thursdays and every third Sunday of the month the entrance is free. Many are open even later on the weekends.

Garage Modern Art Centre

Photo credit: TASS/Mikhail Pochuev
Established in 2008 by Darya Zhukova (oligarch Roman Abramovich's girlfriend), this center is currently located in Gorky Park. Having hosted unique exhibitions by international art darlings Michel Gondry and Marina Abramovich, the new space will be inaugurated with shows by Russian Erik Bulatov alongside New York-based Rirkrit Tiravanija. Garage promotes the idea of modern art through exhibitions, supplemented by research and an archive of printed, photographic and video materials. It has a café and bookshop on the premises.

Hours of operation: Monday - Thursday 11:00–21:00, Friday- Sunday 11:00–22:00
Entrance fee: 100 – 300 rubles (1,5$-5$)
http://garageccc.com/en
Vinzavod

Photo credit: TASS/Mikhail Metsel
Post-industrial Vinzavod (which means wine factory) is Russia's largest modern art center and its premises host the art galleries Regina, XL and Proun, but also designers' studios, the art-cafés "Tsurtsum" and "Khitrye lyudi" (Sneaky People), fashion showrooms, unique souvenir shops and more.
The complex is located in seven industrial buildings that date back to the end of the 19 th century, including a former wine factory, underground warehouses and laboratories. Since the museum is in the center, the originality of its location and its professionalism in organizing events have made this place one of the most popular art-galleries in Moscow and the country as a whole.

Hours of operation: 11:00–21:00 (some galleries close at 20:00 ); closed Mondays
Entrance fee: free – 300 rubles (5$)
http://www.winzavod.ru/eng/
'Krasny Oktyabr' (Red October)

Photo credit: TASS/Alexandra Krasnova

Despite its Soviet name and red brick building, this former chocolate factory 'Krasny Oktyabr' (Red October) is one of Moscow's main bohemian hangouts. It is located on Bolotny Island and features wonderful views of the Kremlin and the Cathedral of Christ the Saviour. It is connected to the mainland by the pedestrian Patriarshy Bridge.
Krasny Oktyabr hosts a large art community: fashionable clubs, restaurants, offices, art galleries and exhibition halls are all concentrated here. The long list of residents includes the Strelka Institute of Media, Architecture and Design (and a popular bar of the same name) and the Lumière Brothers Center for Photography, which occupies an old mansion on the Bolotnaya Embankment. Its focus is to show, popularize and preserve the Soviet and Russian photographic heritage.



Photo credit: TASS/Artem Geodakyan

In the center there is an open photographic library and the PhotoBookPoster bookshop, which has what is probably the best choice of books on art and the history of photography, postcards, posters and magazines in the capital.

Hours of operation: 11:00–21:00 (some galleries close at 8pm )
Entrance fee: 200 – 300 rubles (3$-5$)
www.redok.ru (in Russian)
http://www.lumiere.ru/ (in Russian)

Bulgakov Theatre-Museum

Photo credit: TASS/Sergei Bobylev

This unique cultural center was founded by 20th-century Russian writer Mikhail Bulgakov's fans. It includes a museum, an exhibition hall, a theater, a café and a photo studio. The originality of the museum is in its digital exhibition of more than 500 photographs and documents related to the writer's life and work. You can attend a late-night staging of one of Bulgakov's works or take a surrealistic audiovisual excursion that surrounds visitors with mystical sounds among literary interiors.

Hours of operation: Monday- hursday 13:00–23:00, Friday-Saturday 13:00–01:00
Free entrance
http://dombulgakova.ru/ (in Russian)
Multimedia Art Museum (MAMM)

Photo credit: TASS/Sergei Fadeichev

This huge multimedia complex spread out over seven floors hosts some of the most important photo exhibitions, performances and art courses in Russia. It also holds workshops where you can create works of art with your own hands in master classes. The MAMM is also a kid-friendly space: children particularly seem to appreciate the "Camera obscura" class where they can take photos and develop, print and dry them on their own.
In addition to classic Russian photography, MAMM makes sure to leave room for modern art. Those that have exhibited their works here include internationally renowned artists such as Rebecca Horn, Marc Quinn and Damien Hirst.

Hours of operation: 12:00 – 21:00; closed Mondays
Entrance fee: 50 – 300 rubles (80 cents - 5$)
http://mamm-mdf.ru/en/
Gallery 'Na Solyanke'

Photo credit: TASS/Sergei Savostianov

Here you can see some unusual works by classical Russian artists and some rarities from private collections and museum archives, as well as creations by up-and-coming artists. The gallery also features amateur photography, works by filmmakers and animators and outsider art. The tone for the halls is set by the exhibitions of famous artists such as Bill Plympton, Yuri Norstein, Sigalit Landau and Jeremy Deller.

Hours of operation: Tuesday - Thursday 14:00–22:00, Friday 12:00-00:00, Saturday and Sunday 12:00 - 22:00; closed Mondays
Entrance fee:100 – 200 rubles (1,5$-3$)
http://solgallery.ru/en/
All rights reserved by Rossiyskaya Gazeta.