5 reasons to visit Sortavala, Russia's New Year capital in 2016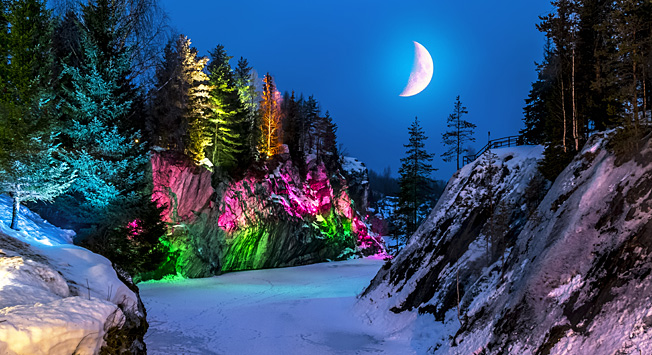 Flying over a marble quarry, ice-skating in an underground cave, 3D pictures made out of wood, Northern lights, power stones, a sea of snow, friendly huskies and other reasons to visit the south of the Republic of Karelia.
The small old town of Sortavala (992 kilometers from Moscow), with its Finnish and Swedish past, has been granted the status of Russia's New Year capital for 2016. Located on the border with Finland, it is the closest neighbor of the island-monastery Valaam in Lake Ladoga, which is only accessible by boat on a trip that takes a few hours. Sortavala is surrounded by cozy lake valleys, forests that hide rocks and small islands. On frosty and clear days the Northern Lights smile in the sky over Sortavala. What kinds of impressions will remain with travelers that visit?
1. Art center of Kronid Gogolev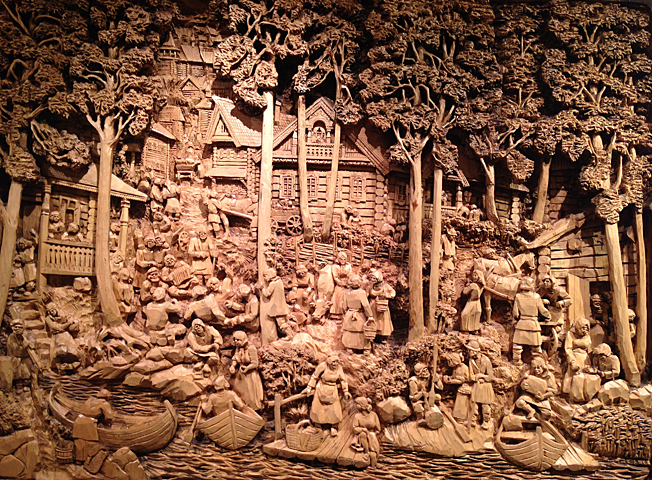 Photo credit: Yulia Shandurenko
Walking along one of Sortavala's triangular squares you will pass this small gallery. Its 3D pictures carved out in wood by a local artist are probably the best works of Karelian art and make this gallery well worth a visit. The sculptural reliefs of Kronid Gogolev are made of linden boards using a monolithic technique without anything attached by glue. These works are pierced by the spirit of the Russian North: look into the carved details showing scenes from the Karelian and Finnish epic poem of Kalevala and find out about the lives, nature, and architecture of old Northern cities and villages.
2. Ruskeala Mountain Park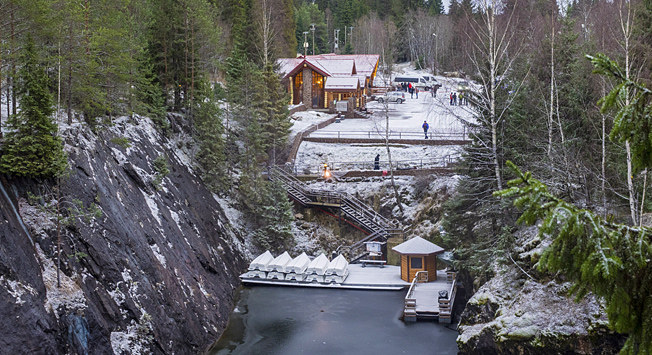 Photo credit: TASS/Ruslan Shamukov
Petrified in stone approximately 30 kilometers from the city of the same name is the main tourist site of southern Karelia – Ruskeala Mountain Park. At one time marble was mined here, but today people ride trolleys (mechanized bungees) over the dark emerald water of the Ruskeala quarry all day long. They also walk along special eco paths, go down into mine shafts that are reminiscent of trolls' dwellings, ice-skate over the icy bottom of the cave, go dog sledding and examine how rocks are lit with different colors by night. The marble of Ruskeala traveled far beyond the borders of Karelia and became part of some of the most legendary places of St. Petersburg (270 kilometers from Sortavala). This marble was used to plate the front of St. Isaac's Cathedral and coat the floors of the Kazan Cathedral, the windowsills of the Hermitage, the facades of Mikhailovsky Castle and even the underground halls of St. Petersburg metro stations Primorskaya and Ladozhskaya.
3. Vinter's Dacha Park-Hotel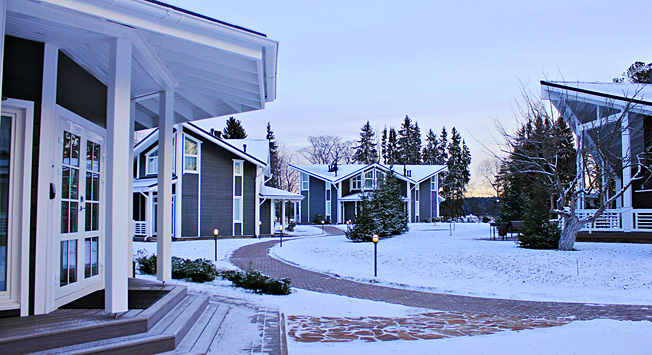 Photo courtesy: Vinter's Dacha Park Hotel
Thanks to the Finnish doctor Gustav Vinter a local culture of country recreation was thriving on the point Taruniemi within the city boundaries of Sortavala in the 19th century, which included games in the open air and boat tours on Lake Ladoga. Today there is a premium class hotel in a Scandinavian style that is organically built into local nature. The hotel is found on the territory of his former dacha and features acclimatized plants from all over the world that Vinter himself created.
The volcanic and forest landscapes of Vinter's Dacha add to diverse recreation options here: eco tourism, museums, active rest and a special winter menu offering deep water whitefish from Lake Ladoga spiced with onion and herbs, smoked lake trout and Karelian herbal teas. Listening to the silence, breathing the healthy Northern air and sharing winter joys on Instagram from your trip is possible anywhere at Vinter's Dacha with the use of their free WiFi.


4. Ladozhskaya Usadba Tourist Complex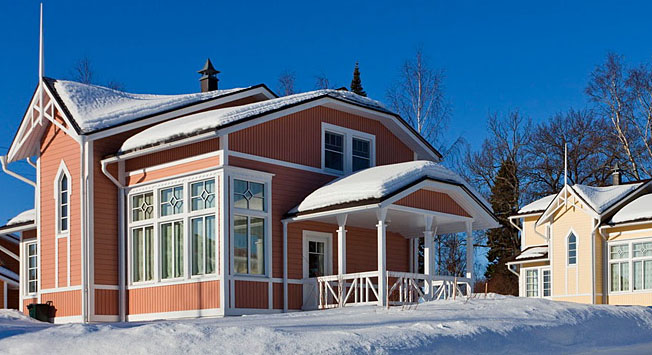 Photo courtesy: Ladozhskaya Usadba tourist complex
This is another touristic oasis of premium class with a historic background. Ladozhskaya Usadba (estate) in the area near Sortavala was reconstructed in 2011. It used to be the estate of the wealthy Finnish family, the Nissinens, who owned land here and even had their own steamship in the 19th century. The winner of the Luxury Hotel Awards 2015, this estate in the Northern Art Nouveau style offers wealthy travelers more than recreation in the form of their premium cottages and gourmet delights at their restaurant. There is also a sauna complex for those that value healthy recreation in a luxurious setting and those that want to be active can go fishing, tour the islands of Lake Ladoga and check out the hotel's own history museum.
5. Karelian cuisine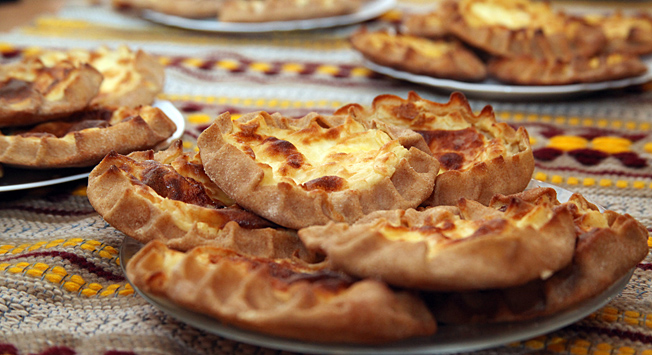 Photo credit: Photoxpress
Southern Karelia is an excellent place for a foodie tour. Local food is diverse and nutritious. Fatty and tasty Northern salmons are put in hearty fish soups or are marinated, salted and served as a separate dish. Baked foods such as small open pastries made of rye dough and unusual fillings called kalitki make for very good appetizers. These can all be washed down with berry juices or robust liquors made of northern wild berries such as cloudberry and cranberry.
All rights reserved by Rossiyskaya Gazeta.