'ZaVolga': A hidden oasis on the outskirts of Samara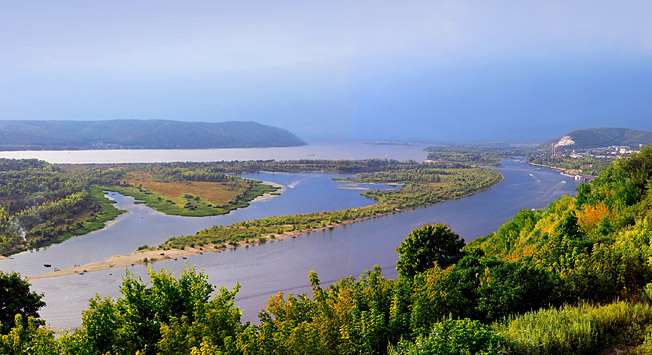 Russian camping is trying to shed its former image of being wild, rough and difficult. Not far from Samara, a new community of DIY campers has been born where more comfortable conditions and fresh food are the norm. They say that the Volga here emits a special energy.
The Volga region (or Povolzhye) is one of the hottest places in Russia in summer, with the average temperature being about 25 degrees Celsius during July and August. So, one major problem there in summer is how to combine work and rest. Lucky are those that live in Samara – the biggest city in the area. Situated on the Volga River's left bank, the city's right side is perfect for camping. Locals call it "Zavolga" (meaning a place beyond the Volga River).

Getting to "ZaVolga"
In this area there is also a do-it-yourself camping area called ZaVolga. My lifting off point here is a boat dock, of which there are several in Samara. At the docks there are numerous motorboats. What first captures my attention is the fact that every single boat has its own name written on two sides of the boat's body: boatmen say that it brings good luck. These titles range from common names such as "Anna" or "Maria," to others that joke around like, "Guys, take it to full speed!" One boat-owner mentioned that he named his boat "Alexander" in honor of his father and godson.
One way of getting there is to hire a boat to take you for about $11, which can be expensive for local inhabitants if using these services on a regular basis. Many people that set up camp on the right side of the Volga usually own a motorboat so that they can come and go as needed.

What to expect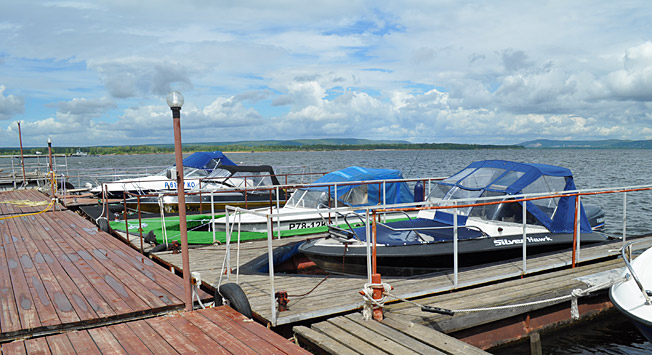 Photo credit: Victoria Drey for RBTH
It can be quite expensive to dock your own boat here, so hiring a boat probably is the preferred option for short-term visitors. You have to bring everything in yourself: tents, food, drinking water, frying pans and cooking utensils. If you want it you have to bring it in yourself. Guests must keep their campsites orderly and clean and should not bother other campers.
Campers are encouraged to bring their own flag to represent their camp: this can be their country of residence or otherwise.
There are plenty of activities for visitors including water skiing, kayaking, tubing, banana boating, night swimming and night fishing. Several times per summer a boat race passes by the settlement.

Life in ZaVolga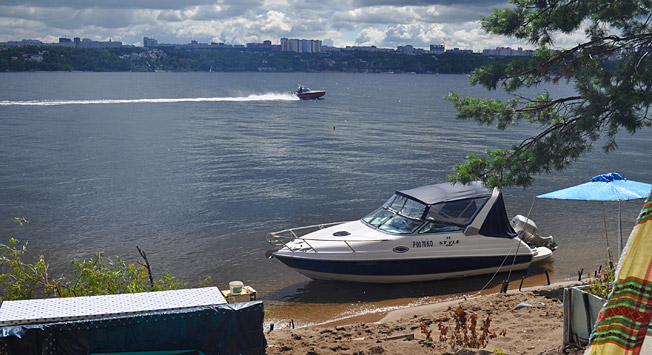 Photo credit: Victoria Drey for RBTH
In General ZaVolga consists of two areas. The first one is sandy where people swim, sunbathe, and usually set up their kitchens. The other area has grass and soft earth – this is where campers pitch their tents. When I first arrive, I am a little confused by the weather conditions. It is like there are two climates here. There is always a slight wind in the sandy area and the strong sun shines there only until about 16:00. But up above where people sleep tends to be hot and dusty.
ZaVolga is not just a usual camping place with numerous tents and campfires. People set up camp sometimes for 2-3 months and do so thoroughly. Campers pitch not only tents, but also set up camp kitchens, tables for cooking and eating, shady awnings and sometimes even traditional Russian banyas (bathhouses). In recent years this has become really popular here. People build banyas with all the improvised means that they can find: old wooden planks, plastic banners and whatever they manage to bring in.
The camp also features small gardens and flowerbeds, bringing a cozier touch. Moreover, some campers plant gardens where they grow parsley, dill, green onion, arugula and lettuce.
While not exactly "glamping" (a term that describes luxurious camping) this is a special kind of Russian camping. A holiday at ZaVolga brings people close to nature but at the same time they do everything to make such recreation comfortable and cozy.

Food
People here hardly ever eat canned food. Instead campers often cook homemade pies, patties and pancakes over a campfire, as well as soups, grilled meats and salads. One so-called "campwife" told me that if people in the camp eat canned food they will not be respected by the others. The goal after all is to get close to nature and nature does not come in a can.
Tea is another favorite thing for ZaVolga campers. People here usually add the leaves of apple trees, which grow on the earthen part of the bank, or dried currant leaves to regular tea. The flavors are incredible.
Of course, camping in Russia without fishing is not camping. From time to time fishermen catch huge zanders and pikes that may weigh up to 12 kilograms. They then cook their catches in various ways on the campfire: fish soups, fish fries, smoked or dry.

ZaVolga for kids
Most camp families have at least one child, so ZaVolga is definitely kid-friendly. The river water is much cleaner than in the city and adults build sandboxes, swings and playgrounds for their children, as well as courts for volleyball and other sports.

All rights reserved by Rossiyskaya Gazeta.