How Mesoamerican idols turned up in Russia's most European city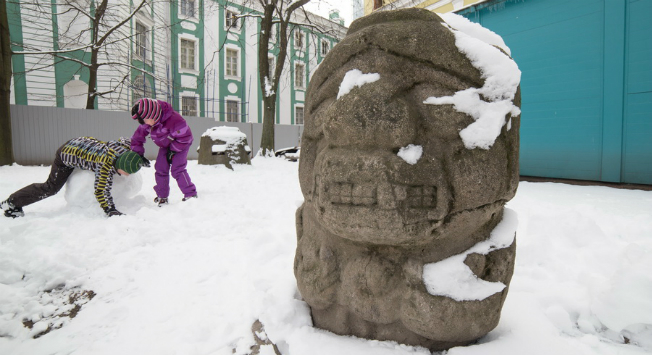 In the very heart of St. Petersburg six ancient stone idols have been dug into the ground to form a hexagon with a flowerbed in the middle. How did they make it to Russia and why do they fascinate tourists and locals alike?
An elderly lady approaches one of the idols – the scariest one, with razor-sharp fangs – strokes it with her wrinkled hand and mutters something, as if begging for a favor. The idols are slightly powdered with snow. It is a frosty winter, so the cold drives her away.
Children gamboling nearby roll a huge ball of snow around. If you put one such ball on another and add a smaller one on top of them, you will make a snowman. Equipped with a nose made of a carrot or a piece of wood, this could turn into a similar idol, if only a temporary one – in spring it will melt away.

Why are they worshiped?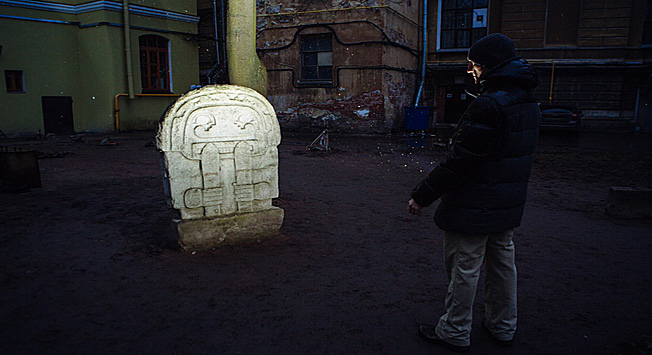 Photo credit: Grigory Kubatian
The Russians are a superstitious people. As soon as residents of St. Petersburg learned about these stone monsters with their fangs and bulging eyes the statues were visited first by curious passersby and then followed by true believers. Before the introduction of Christianity in the early Slavic state of ancient Rus the population worshiped similar idols. Forest tribes would carve theirs out of wood, while those who lived in the steppes created stone figures. All of them were just as silent, menacing and enigmatic as these ones.
St. Petersburg with its European-style palaces, bridges and imperial planning is known as Russia's cultural capital. Its residents are well educated and well bred, although with a historical predisposition to cosmopolitanism and mysticism. St. Petersburg's inventory of sacred objects includes authentic Egyptian sphinxes on the embankment, Chinese guardian lions, the Copper Horseman, the eternal flame in the Field of Mars and antique statues in the Summer Garden. This list can be extended to a few dozen popular urban sculptures whose bronze noses have been polished with innumerable rubs "for luck."
Generally, these shiny specimens grab the attention of both residents and guests of the city. Meanwhile, the Mesoamerican gods, unfathomable and ugly, lurk in the shadows of an unremarkable yard, with many still unaware of their existence.
What is known about them?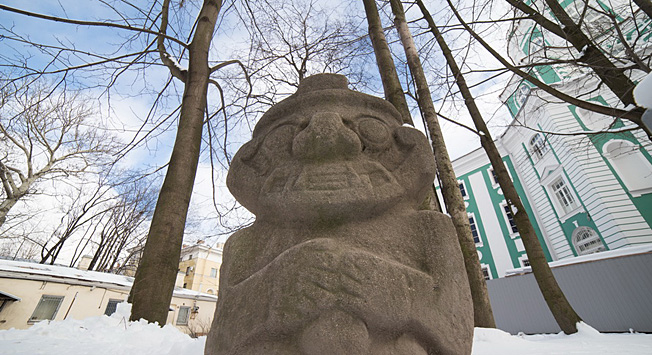 Photo credit: Grigory Kubatian
News of the idols has spread largely through social networks. Some say the idols represent Aztec gods including Xipe Totec, the flayed god of agriculture and Huixtocihuatl, the lady of salt. Yandex, Russia's largest search engine, has labeled the monuments as Aztec on its maps. Other connoisseurs insist that these are Mayan idols from the Yucatan Peninsula, brought by German naturalist Baron Wilhelm Friedrich von Karwinski von Karwin on one of his merchant ships prior to the 1905 Russian Revolution. The ship was caught in a storm, so some of the idols drowned. The remaining ones were installed outdoors in the backyard of Kunstkamera, Russia's oldest museum.
The idols are sometimes approached by elderly citizens who pray for material well-being. Occasionally, they leave a few coins as an offering for the gods. Some members of the younger generation adhere to the belief that the Mesoamerican gods do not tolerate any cheating or lying in their presence and punish those who do so. This is why young girls bring their boyfriends here to have serious heart-to-heart conversations.
The most ridiculous superstition associated with these idols is that sprinkling them with blood can help you overcome an incurable disease. These rumors have been actively spread by guides who make their living by giving tours of the "mystical" side of St. Petersburg. Surprisingly, many people have fallen for this legend; therefore it's impossible to know how many fingers have been sliced open in the silence of this yard.
Do they really have any magical properties?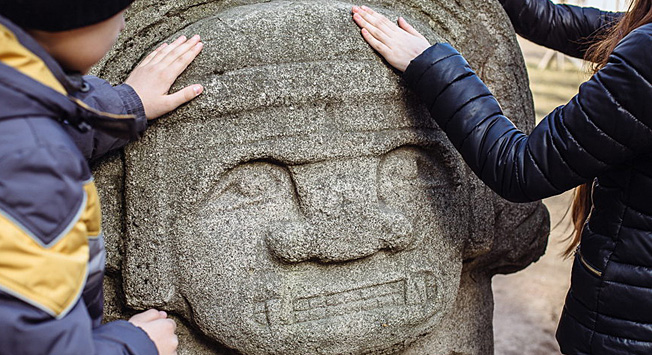 Photo credit: Ulyana Makhkamova
"It is complete nonsense!" an employee of the Kunstkamera Museum told us. "The so-called stone gods are nothing of the sort. In fact, these are replicas made of concrete. They do not even have any historical value, let alone mystical properties."
The research associates here have almost lost their minds with the endless interpretations and journalists' inquiries about the priceless ancient statues, which incidentally are kept outdoors in rain and snow.
As a matter of fact, replicas of these statues from the Valley of San Agustin were made in Germany based on molds and sketches made by the German ethnographer Karl Theodor Stoepel. They were brought to St. Petersburg in 1913 especially for the Kunstkamera Museum, as it was lacking any exhibits from South America at the time. However, World War I soon broke out, followed by the Russian Revolution of 1917, the Civil War, World War II and the Siege of Leningrad – there were more pressing issues than these idols.
They were kept in a storeroom until the 1960s, when some of them were put on display in museum exhibition halls. The remaining ones were put in the backyard to liven things up. Nevertheless, masters of extrasensory perception keep coming to St. Petersburg on a pilgrimage to the "Spot of Force." They often fail to detect anything special, with many visitors remarking that it's a void with no force or special energies.
All rights reserved by Rossiyskaya Gazeta.