More than just food flat lays: Moscow's restaurants with snap-worthy interiors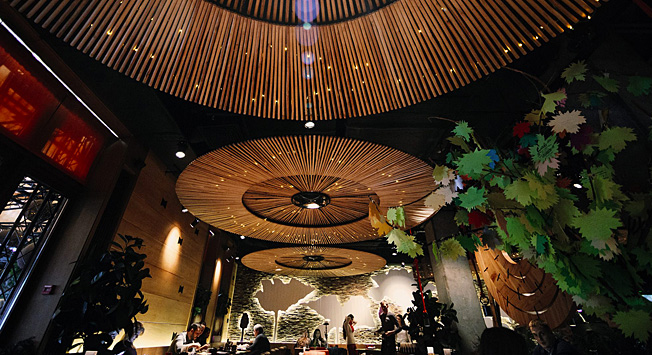 Travelers love taking snaps of pieces of art they see on their plates but more and more of us are taking pictures and selfies of the cool interiors where we enjoy our meals. Here are Moscow's coolest restaurants that are a feast not only for your stomachs but also your Instagram feeds!
I Like Wine
Everyone loves a glass of amazing wine accompanied by an imaginative dish that makes the mouth water all while enjoying the company of friends. But that little extra kick you get from a one of a kind interior makes the evening all the more memorable. I Like Wine is a small space in the historical center of Moscow, a loft-like interior with half-bare brick walls, which date back to pre-revolutionary times and are seeping with history. The wine bar's award-winning lighting system makes it incredibly intimate and the bathroom cubicles in the shape of giant wine barrels mean that lots of photos of the interior get uploaded alongside wine and food flat lays.
The good people at I Like Wine have two other projects that are no less imaginative when it comes to interiors. Beer & Brut just a few doors down has a piano for a sink, the main wall has everything you would find in your grandpa's attic stylishly combined in one 3D collage and some of the tables didn't get the memo that their legs should be facing downwards not upwards. Then there's I Like Wine, their firstborn, with its 2D chandeliers, carpets on the wall reminiscent ofthe good old Soviet days and walls adorned with book shelves.
Brasserie Most
Famous French chef Regis Trigel's vision of his country's cuisine is not the only thing that keeps patrons keep coming back. Locals and foreigners know Brasserie Most for the miraculous atmosphere of Louis XIV's palace in Versailles with its marble countertops, fluorescent lamps, panoramic windows and small tidbits that show that the management pays extremely close attention to detail.
Strana Kotoroi Net
The name of this restaurant located in the heart of Moscow translates from Russian as "A country that doesn't exist", a reference to the USSR and Russia's imperial history. The decorative solutions reflect that: the second you step in you feel like you're being transported to a fairytale country in the distant past or a happy future. Apart from savoring a combination of Russian, Middle Eastern and Pan-Asian cuisines you can also have loads of fun taking selfies with highlighted installations of tree silhouettes, slogans on the walls, huge chandeliers in the form of wooden discs and giant flowers.
Mandarin. Lapsha i Utki
Famous Russian restaurateur Alexander Rappoport seems to have a magic tough when it comes to opening one trendy and fashionable spot after another. As the name suggests, this place is all about duck and noodles (50 types of noodles to be precise!). Visitors also highly praise the cocktails and marvel at the eclectic interior, that some describe as a Shanghai corner in Moscow. Trendy lighting, sci-fi geisha graffiti on the walls and well-placed bric-a-brac all make for a great background setting for your duck or noodles. Or both.
Turandot
Turandot – or Turandot Palace as it's officially called - is a true to testament classical beauty. A trip there feels more like a museum visit than a meal. Guests of the palace are welcomed into the lobby designed as an Italian Renaissance-styled inner court under a glassed ceiling before choosing between one of the 12 differently styled halls. The central hall, for example, features a two-storey rotunda with doors of banqueting halls opening into it. The porcelain hall, as the name suggests, represents a porcelain cabinet from the XVIII century. The private cabinets are all designed in different styles, ranging from "Chinese Silk Road" to "Garden of Eden" to "Gilded Cage". A pre-meal walk around will surely inspire you to take a few pictures of the staircase, above which there are two precious Aubusson tapestries from the XVIII century representing idyllic scenes based on Boucher's sketches. Basically, make sure your phone has lots of free storage space before visiting this one.
White Rabbit
White Rabbit made last year's list of the world's top eateries published by prestigious British hospitality industry trade journal Restaurant Magazine. This had much to do with Vladimir Mukhin, White Rabbit's chef that the magazine lauded as one of "a new wave of Russian chefs," adding that he "is embracing the vast country's amazing natural produce". Aside from the food, the interior and ambiance plays an important role in the restaurant's now cult status. It's really quite simple: located under a glass dome on a 16th floor of Smolenskiy Passage means that the city itself provides the backdrop for your meal. When the city is sunny you get Moscow's rooftops in your pictures as well as one of the Seven Sisters and when it's dark, the lit up sky scrapers of Moscow City feature colorfully.
All rights reserved by Rossiyskaya Gazeta.