Tinder: Should you use it when traveling to Russia?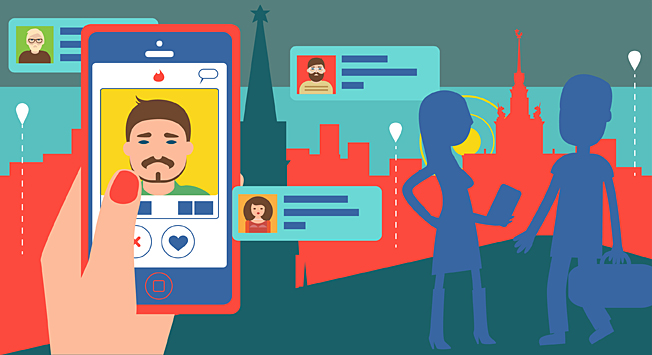 People use travel apps to meet up with locals, get free city tours and visit cafes and bars they would never find themselves. Some stick to conventional services like Couchsurfing, while others try apps like Tinder. RBTH talked with some that had used Tinder in Russia.
The internet is full of stories of people who use Tinder to explore local cultures by meeting up or just asking for tips on what to do in town. A study conducted by the travel website Expedia and Tinder found that American travelers preferred using dating apps on the road when they were traveling in a group. However, solo travelers can get just as much out of using them.

Travel as a local
Peter from the Netherlands (the names have been changed) visited Moscow more than a year ago. He didn't know what to expect. When he arrived, he saw all the important sights around Red Square quite quickly. He didn't know what else to do and decided to go on Tinder. Peter was matched up with a Russian girl and they spent a night in a bar.
"It was fun," Peter recalls. "Tinder just happens to work well in Russia, unlike some other countries." In his experience it was surprisingly easy to meet people on the app.
Alan from the UK, who moved to Russia for work, has also been using Tinder, but the language barrier turned out to be a challenge sometimes. Alan wasn't using the app only for travel purposes, but he put "looking for people to explore Moscow with" on his profile. His efforts were met with mixed success. Once Alan did meet with a girl to check out a gallery and some architecture. Part of it was so she could practice her English, but she was a beginner and he barely understood her.
"She had a lot to say, but not so much that I could understand," Alan says.
Viktoria from Moscow was a Tinder guide twice. The first time she was matched with a French-Japanese visitor who made it clear that he had a girlfriend and was there only for a city tour. And he got just that: Viktoria walked around with him in the streets and parks of downtown Moscow for a few hours, showing him the main tourist sights, but also some places only locals go to.
However, the second time was embarrassing. Viktoria was matched with an Italian who asked her to keep him company in the Kremlin Armory Museum. Five minutes after they entered the museum, the man suggested sitting down. Why come to the museum and just sit there? Viktoria thought. He then asked if he could kiss her and her answer was no.
"Why?" he said. "Is it because we're in the Kremlin?"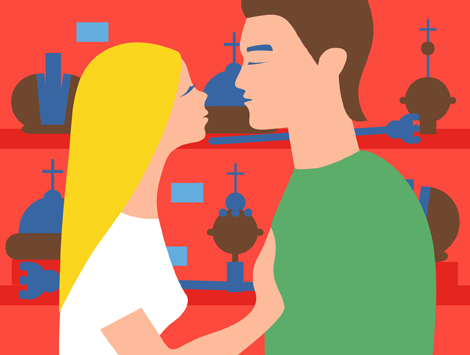 Illustration: Alena Repkina
In fact, it was because Viktoria was only interested in showing him around. This seems to be a major point: making clear if you want just a city tour or a date is crucial.
However, people don't use Tinder when traveling without a reason. Maria from St. Petersburg was matched with a man from the UK and agreed to show him around. In real life, the guy turned out to be a bit younger than he said on his Tinder profile (even younger than Maria). He showed up with a bottle of vodka in a black plastic bag and Maria decided to take him to a rooftop that locals are fond of. They spent all night there listening to music and talking.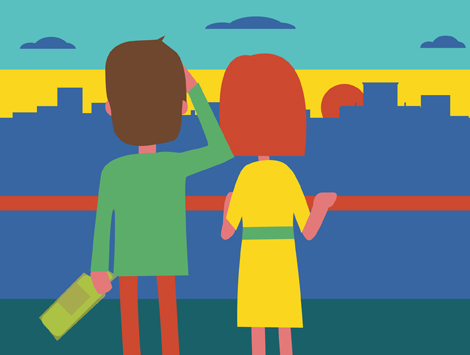 Illustration: Alena Repkina
When the sun was about to rise, the guy tried to kiss his rooftop guide. Maria didn't want a casual relationship and wasn't looking to kiss some random guy. When she said that to him, he seemed to be upset, but luckily it was time to leave. At the end of the evening, the guy confessed that he was hoping to have sex that night and it would have been his first time. Maria told him that it would happen soon with a girl he was in love with and walked the guy to his hostel.
Safety advice
When meeting people you find on any online platform, you should remember some basic safety rules:

1. Meet in public places and ideally have a friend go with you

2. If something concerns you, verify the identity of your match using LinkedIn or Facebook

3. If you're going to a bar, meet up before sunset; it doesn't lead your date on and gives you a chance to say you're meeting friends later if there's a need to end the "date"

4. Avoid giving your address to your "date" by hailing a cab using a mobile app.
All rights reserved by Rossiyskaya Gazeta.