Saint Petersburg for two: 5 romantic spots and events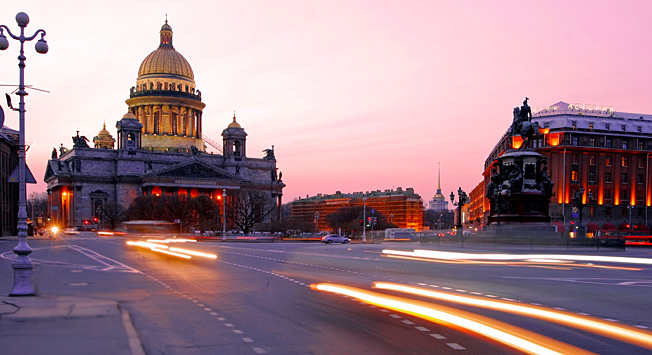 For a long time St. Petersburg had a reputation of being a cold and official city: 1000s of bureaucrats and military officials worked here in the 18th and 19th centuries. High society followed strict rules of etiquette and weren't able to show their emotions in public. But at the same time it was a city where court love affairs were common and where mistresses could receive a palace from the tsar or from counts. For example, the relationship between Tsar Alexander II and Yekaterina Dolgorukova resulted in a palace at 46 Angliiskaya naberezhnaya (English Embankment). Anna Karenina met Alexei Vronsky in Moscow in Leo Tolstoy's classic novel but their love affair developed in St. Petersburg while Karenina's husband was busy with his state service.
Nowadays along with its historical heritage, canals and imperial palaces, St. Petersburg is considered one of Russia's most romantic cities as its architecture contrasts so drastically with the majority of Soviet-era cities. In summer you can rent a boat for an excursion down the canals, organize a date on a roof, walk through the surreal White Nights, but even in February the city has a lot to offer. Here are some places and events that RBTH recommends visiting this Valentine's Day.

1. The Potseluev Bridge (Bridge of Kisses) is a bridge across the Moika River near the Mariinsky Theater. It got its name in the 18th century, because the merchant Potseluev lived nearby and ran a tavern called "Potselui" (a kiss).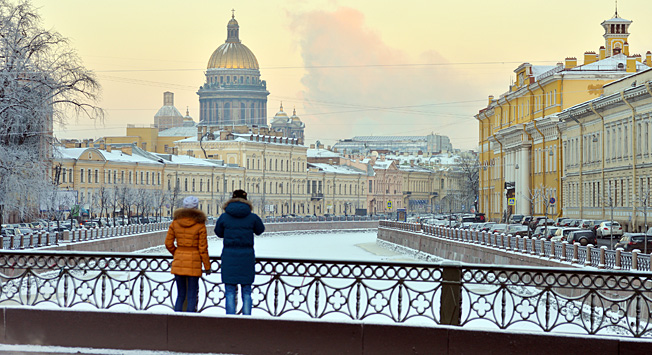 Photo credit: Lori/Legion-Media
Nowadays it is a popular place among newlyweds who go there to take a photo with the St. Isaacs Cathedral in the background, kiss and attach a padlock to the bridge with their names. There is a superstition that the longer the kiss on the bridge, the longer that a couple will be happy.
The nearest metro stations are Sadovaya and Admiralteiskaya. Visitors can combine the bridge with a visit to the Mariinsky Theater or Yusupov Palace, both located nearby. Be sure to book tickets in advance to either of these places.
2. The orangery of the Tavrichesky Garden is a green paradise during the Northern capital's long, cold winters. The official name of the pavilion is the Flowers exhibition hall, which was built in 1900. Previously this area belonged to Grigory Potemkin, the favorite lover of Catherine the Great. The Tavrichesky Garden was laid out in 1783-1800 by British architect William Gould behind the Tavrichesky Palace from which it took its name.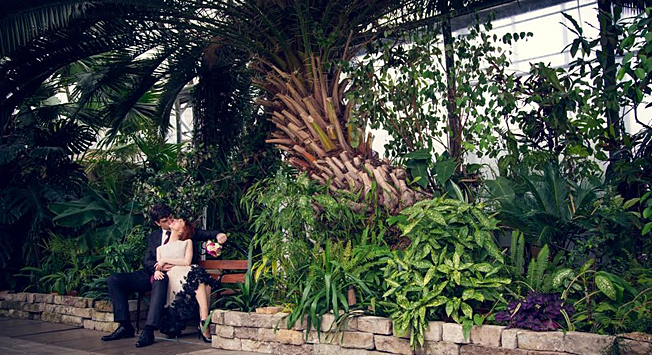 Photo credit: Olga Golovina
The orangery is famous not only for its tropical and subtropical plants and flower exhibitions, but also because several installments of a Soviet-era television version of Sherlock Holmes were filmed here.
If walking from the Chernyshevskaya metro station, take Furshtadtskaya ul. where you will pass Wedding Palace â"–2 (building number 52), considered one of the most prestigious locations for a wedding in St. Petersburg. The sight of the building should test if your "better half" is ready to take your relationship to another level.
The orangery is located at Shpalernaya ul. 43.

3. Pondering the installations at Erarta Museum of Contemporary Art is an original place to celebrate St. Valentines Day. There are seven different installations and within a 15-minute session you can explore the romantic "Cherry Orchard" exhibit, or reach the sky via "Cloud Nine."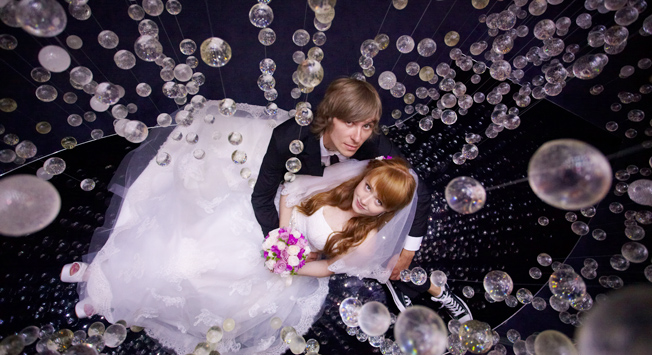 Photo credit: Erarta
If your beloved is interested in modern art, Erarta Museum will offer you paintings, graphics and sculptures by 250 artists from over 20 Russian regions.
The First Festival of kisses at Palace Square is a flashmob set to take place at 18:00 on February 14 on the city's main square.
Organizers promise that hundreds of couples will gather and kiss. If kissing in the extreme cold is not your idea of romantic, then we suggest booking a table at a restaurant nearby.

4. Bellevue Brasserie at Kempinski HotelMoika 22 (Moika River, 22) will offer you a panoramic view of St. Petersburg and Russian and European cuisine. They also have a special St. Valentine's Day dinner with a surprise desert for both him and her.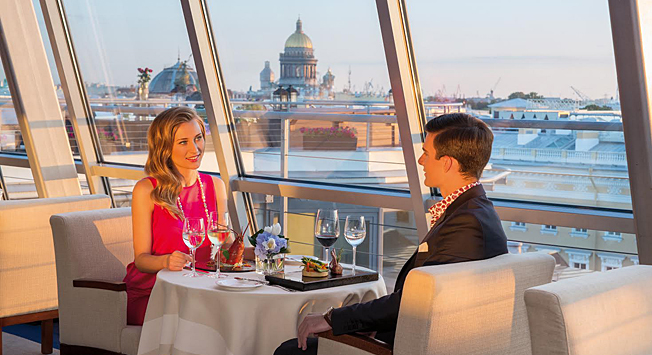 Photo credit: Bellevue Brasserie at Kempinski Hotel
Hamlet & Jacks restaurant (Volynsky pereulok 2), located in a former jewelry workshop, will amaze you with its choice of wine, local food and its huge windows.
If you are up for a laid back evening and some good tea, visit Fruktovaya lavka cafe (Fruit shop) or Khizhina Cha on Bolshaya Konushennaya ul. (15 and 19 respectively).

5. Special music programs on St. Valentines Day will be offered in many concert halls and clubs. Jazz Philarmonic Hall has a special program "Jazz for those in love," while Music Hall's Italian director Fabio Mastrangelo and Cuban percussionist Joel Gonsales invite the public for a performance of classical and jazz hits from the 20th century.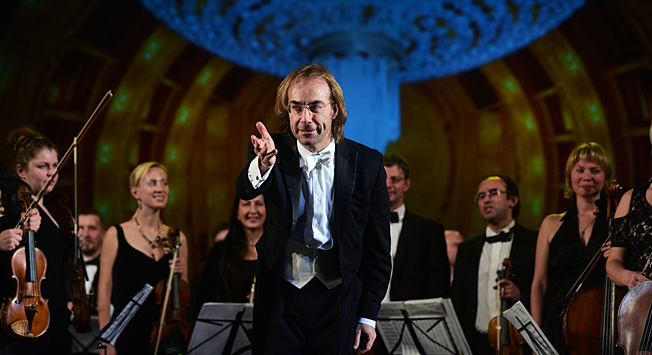 Photo credit: Photoxpress
All rights reserved by Rossiyskaya Gazeta.