Hello Russia: What to see besides the Hermitage and the Kremlin?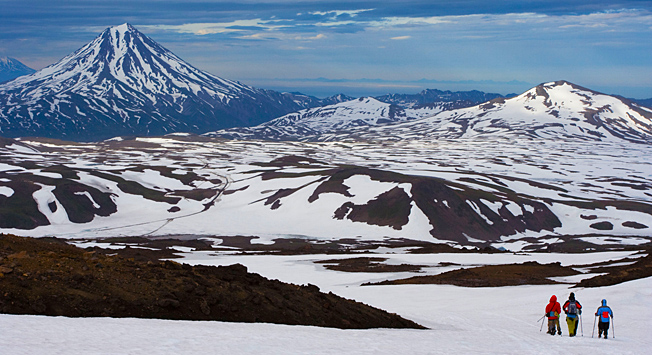 If you want to experience the winter snow and the summer heat in one trip, discover hot geysers and picturesque fishing spots and go to a real Russian spa among other great destinations – now is the time.

Roman Skory, Deputy Head of the Federal Agency for Tourism (Rostourism): If the world still believes in the stereotype that wild bears walk the streets of Russia and that most of Russia is just the frozen Siberian landmass, then why shouldn't we use it to our advantage? A myth could be turned into a tourist brand. These days global trends in tourism shows that people want to explore new places, learn new things, as well as collect experiences and emotions. Our country is absolutely suited to deliver all of that – our experiences are fresh, unusual and diverse.
It's quite common for the average foreigner to know something about Moscow and St Petersburg, but to be hardly even aware of Russia's other regions. Meanwhile Russia is the largest country on the planet and it enjoys the whole spectrum of climatic zones – from the Arctic to the desert – and you can easily experience winter and summer in one trip. Russia's unique geographical position makes it accessible to foreigners from all parts of the world. The English are not far from the European part of the country, whereas a Japanese tourist could land in the Far East in as little as 90 minutes.
Wild nature and an immense variety of flora and fauna is part of Russia's richness. The Far East of the country is anchored by Kamchatka, famous for its hot geysers, towering volcanoes and picturesque fishing holes. Russia's waters are the habitat for seven out of the nine types of red fish known in the world's oceans. The Russian countryside offers unique experiences that can only be found here, such as the inimitable Russian style spa – the banya.
We would like to show foreigners the numerous opportunities available in exploring the Russian regions and the great number of unique possibilities they can offer – from traditional cultural tourism to extravagant and exotic options like visiting a space launching pad or a tour north of the the Arctic Circle. Tours can be arranged for any niche: for example, recently there has been a boom in military and historical routes and battlefield trips.
Economic reasons could also be a solid argument when choosing Russia as a tourist destination. The current exchange rate makes the country quite affordable for many foreigners. Some might be curious if quality has deteriorated in tandem with the falling of the prices? Fortunately no and good tourist facilities can easily be found in the most popular destinations throughout the country. The new resorts in Sochi and the Altai Mountains are considered to be even better than some European holiday spots.
Soon tourists traveling in Russia will be able to enjoy the new mobile application HELLO RUSSIA, which will combine information and navigation services with additional security options. The mobile application can provide all necessary information a tourist may possibly need – from local sightseeing to nearby cash machines and free Wi-Fi zones. The application is fully operational in several languages (Russian, English, Chinese and Spanish) and can function even without an internet connection. In just 10 minutes a tourist will feel at home in a new city when using the app. Such a reliable mobile "friend" provides you with comfort and confidence even in difficult situations: HELLO RUSSIA has an SOS button that can be used in cases of emergency. The application will be available for tourists to use in 76 cities across Russia in 2016.
All rights reserved by Rossiyskaya Gazeta.