Nikola-Lenivets, a village in the Kaluga Region (220 kilometers south of Moscow), is a combination of seemingly uncombinable things: modern art objects, a traditional Russian landscape with meadows, rivers and fields, and crazy off-road driving.
Mostly located on the territory of the Ugra National Park, more than 30 land art objects seamlessly blend into the woods and meadows. Many have managed to survive the summer heat, heavy rain and snow since the first Archstoyanie festival in 2006, but some wooden art objects slowly fade back into nature.
There's a lot of art in this area that covers 980 square kilometers, so here's our pick of the top 7 art objects, as well as useful information for planning your trip.

1. Universal Mind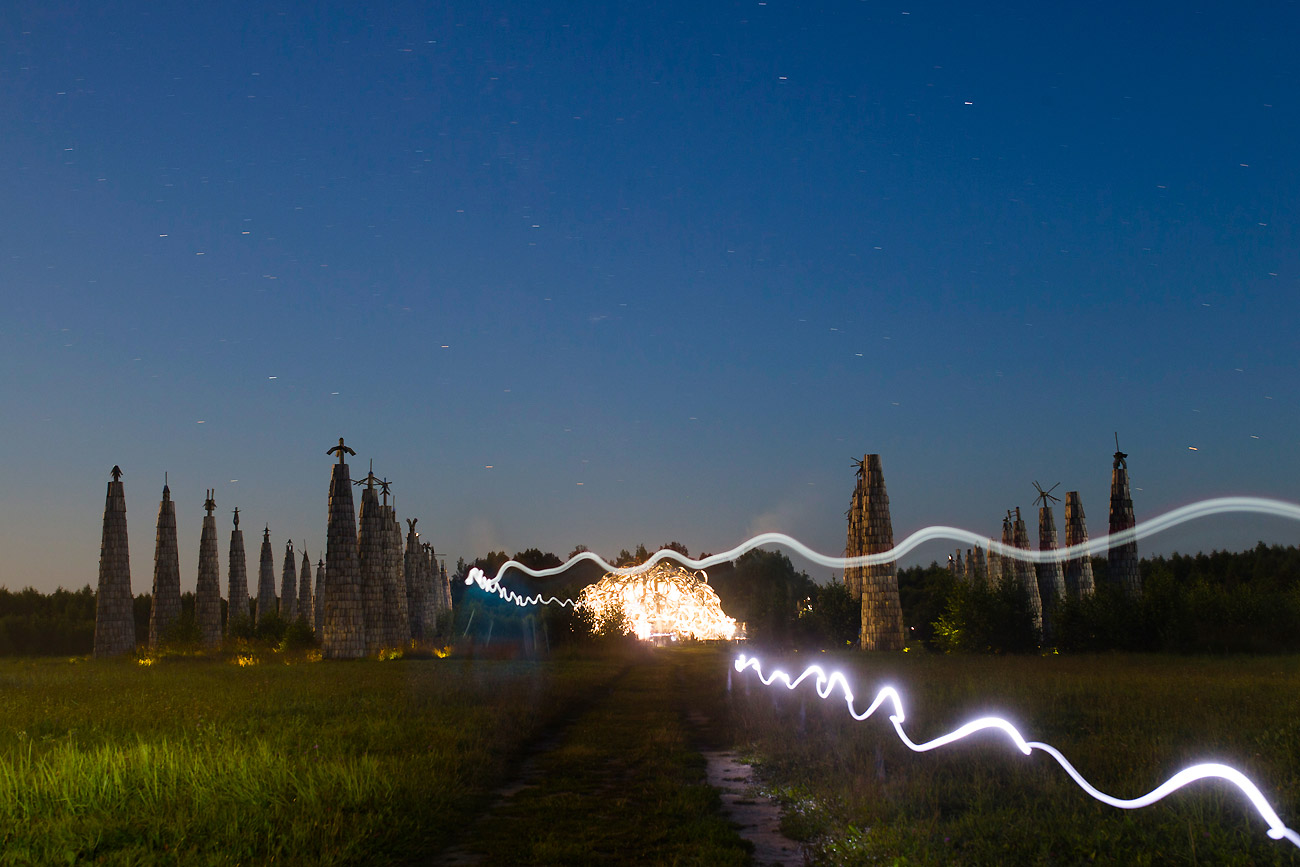 TASS/Sergei Bobylev
Even if you have only one day in Nikola-Lenivets, a visit to the Universal Mind (2012) is a must. Nikolay Polissky, one of the masterminds behind Nikola-Lenivets, has bent iron and wood in a very curious way to create a gigantic brain – or a spaceship – in the field, symmetrically dotted with steampunk wooden rockets.
Wander inside, climb up and take the prefect selfie, but you cannot claim that you've been to Nikola-Lenivets without seeing this art object.

2. Beaubourg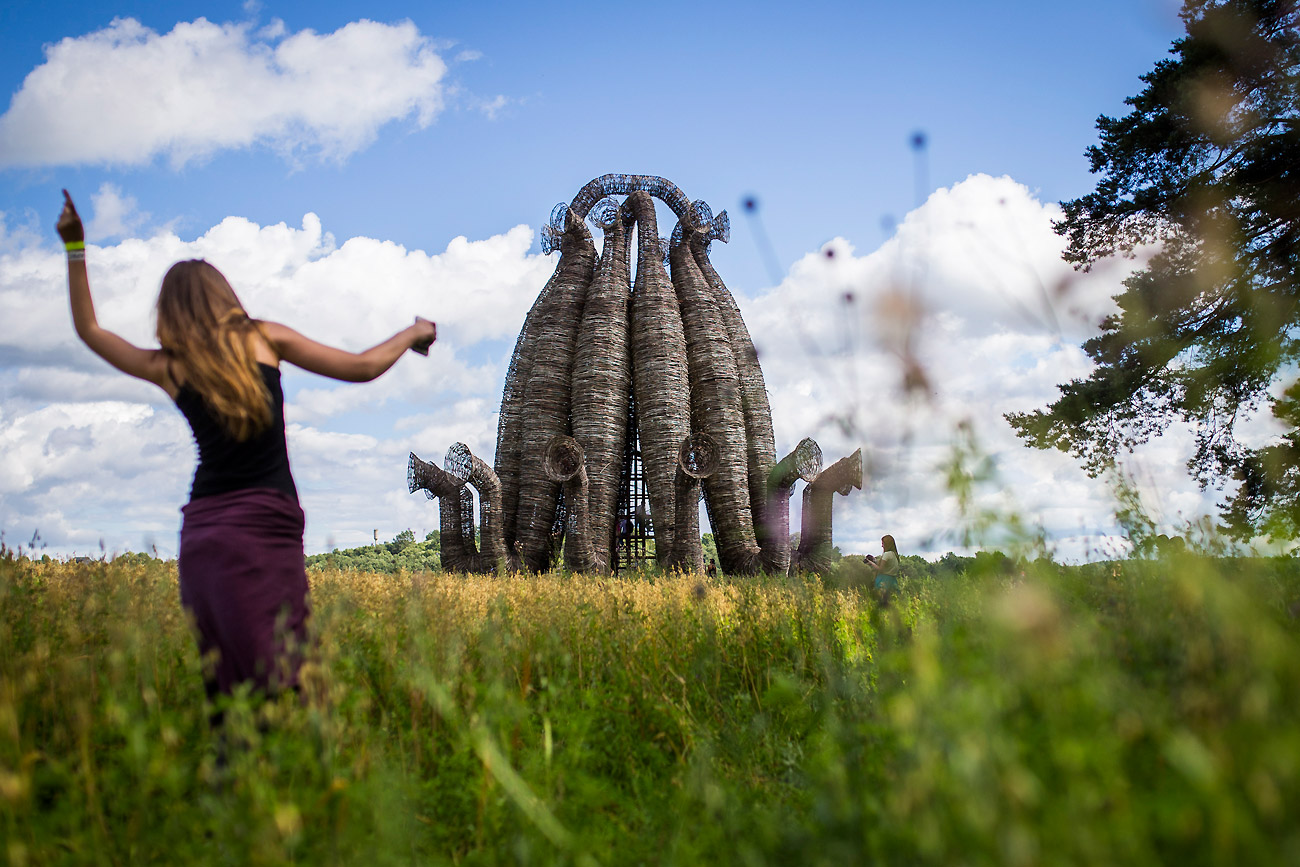 TASS/Sergei Bobylev
Resembling an interplanetary octopus, Beaubourg (2013) is entirely braided with a birch twig and is high as a seven-floor house. When you walk inside Beaubourg's tube-columns, the twig shines through and it seems as if the columns also move.
The art object has the same name as the oldest district in Paris where the Pompidou Center is located. Nikolay Polissky said that a trip to Paris inspired him during the 18 months that it took him to build this art object.

3. The Lighthouse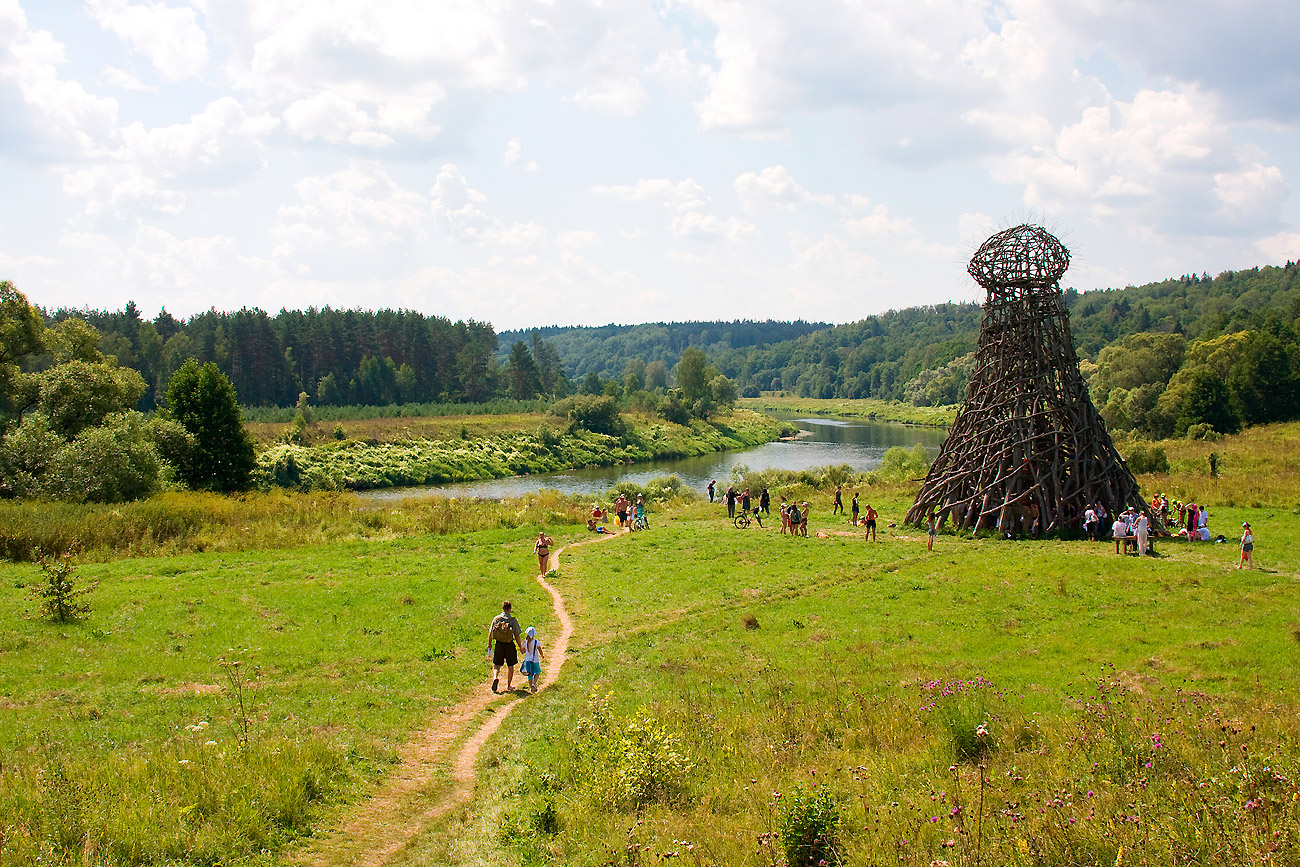 Legion-Media
Although this Lighthouse (2004) by the Ugra River doesn't actually have a searchlight inside, visitors are attracted to it anyway. Those who are brave enough even climb up inside this 12-meter high wooden tower to see the surroundings through the art work's body that are made of elm branches.
Safety tip: don't go in flip-flops or sandals because there are small logs instead of stairs.

4. Storming Heaven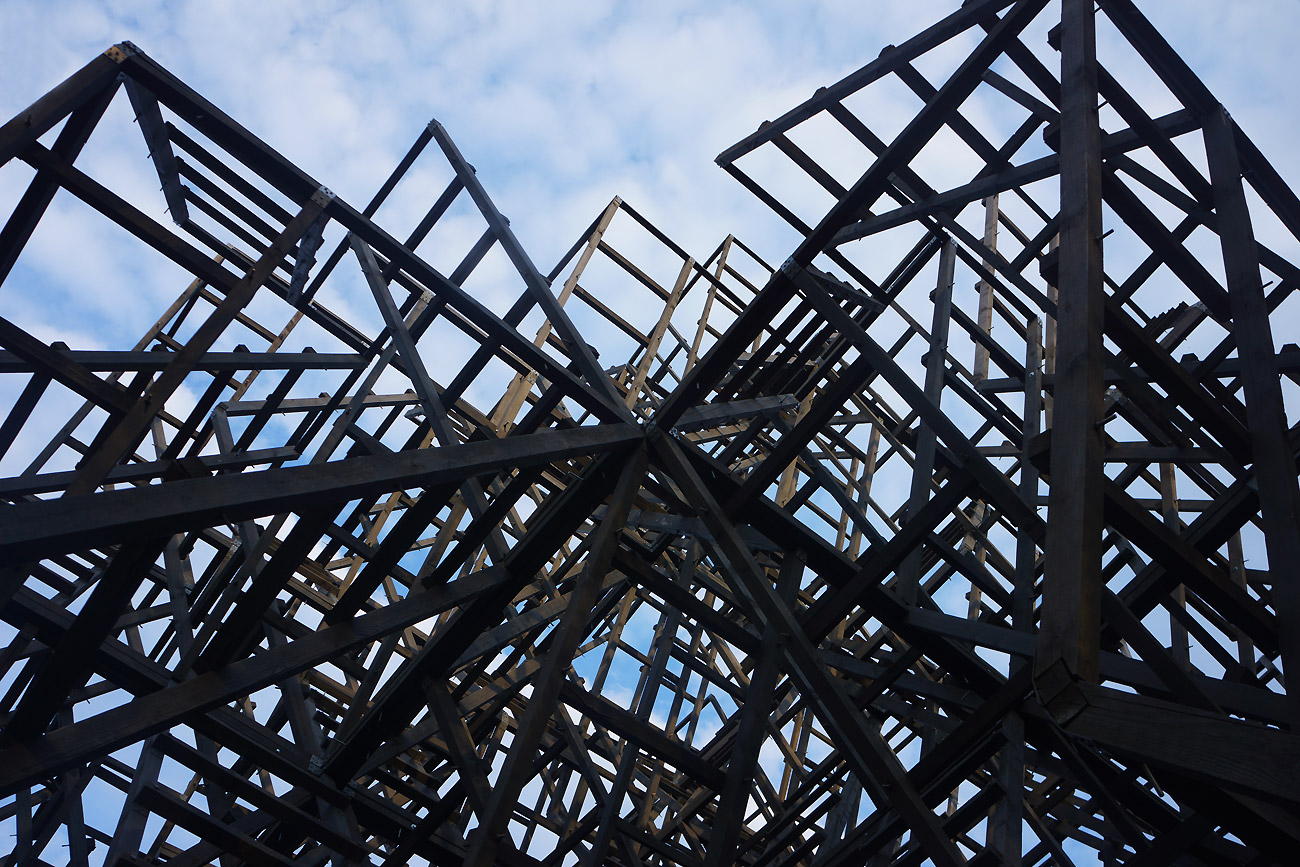 Yulia Shandurenko
Manipulazione Internazionale, the Russian architectural firm behind Storming Heaven (2012), put together numerous wooden ladders, plated them into a tricky combination and allows art-inspired visitors to climb up into this construction, imitating real-life goal getting. Once you try this, you will definitely see this art object's "symbolic expression of the endeavor for the unattainable," as the authors called it.

5. Rotunda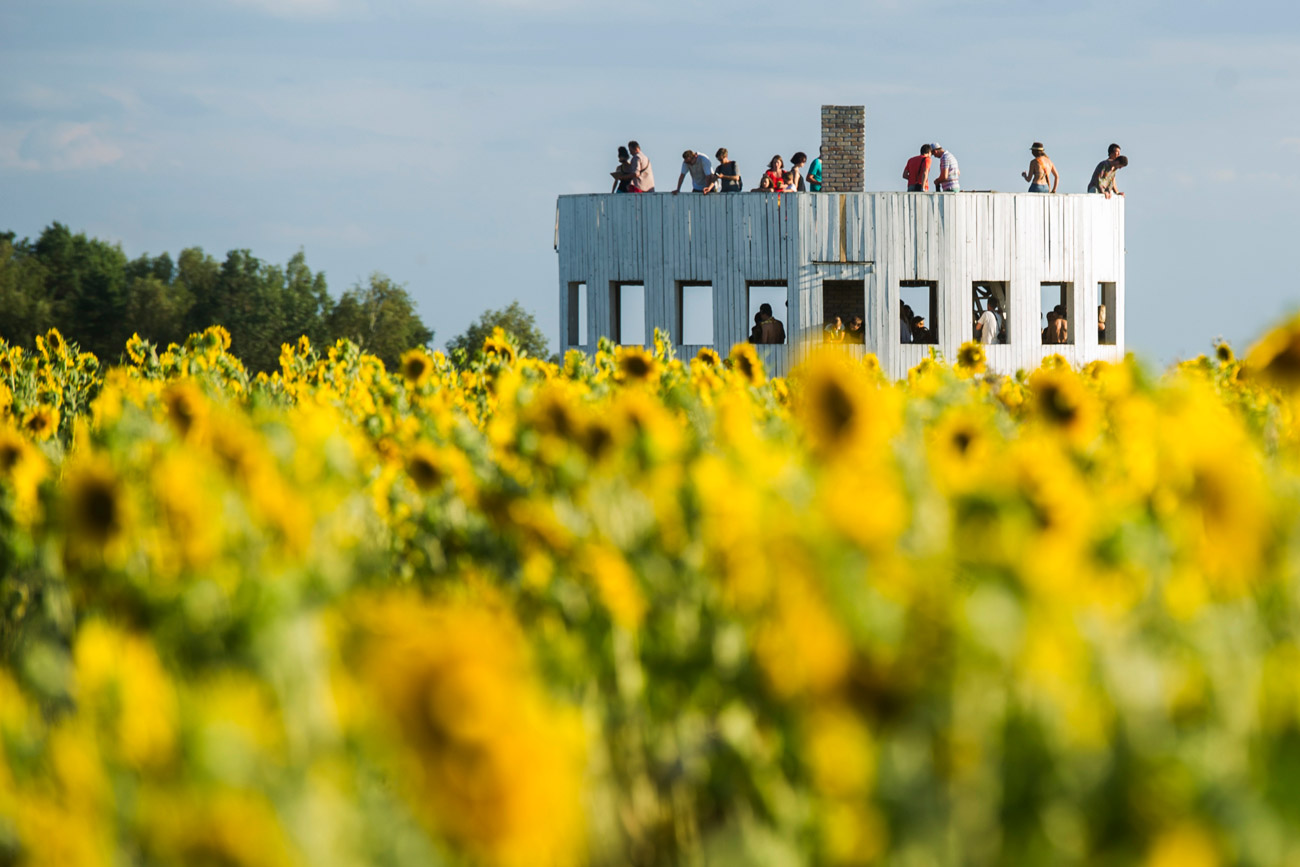 TASS/Sergei Bobylev
Standing alone in the middle of a sunflower field, you can't miss Rotunda (2009), created by Alexander Brodsky. The art work looks like a small white round house, but the wall of the first floor is made out of old creaky doors, constantly opening and closing, which makes you feel as if you are wandering inside a haunted house, and this impression only grows stronger in the evening. A roof deck with a view can be reached by climbing a ladder, but a good amount of agility is required!

6. Arch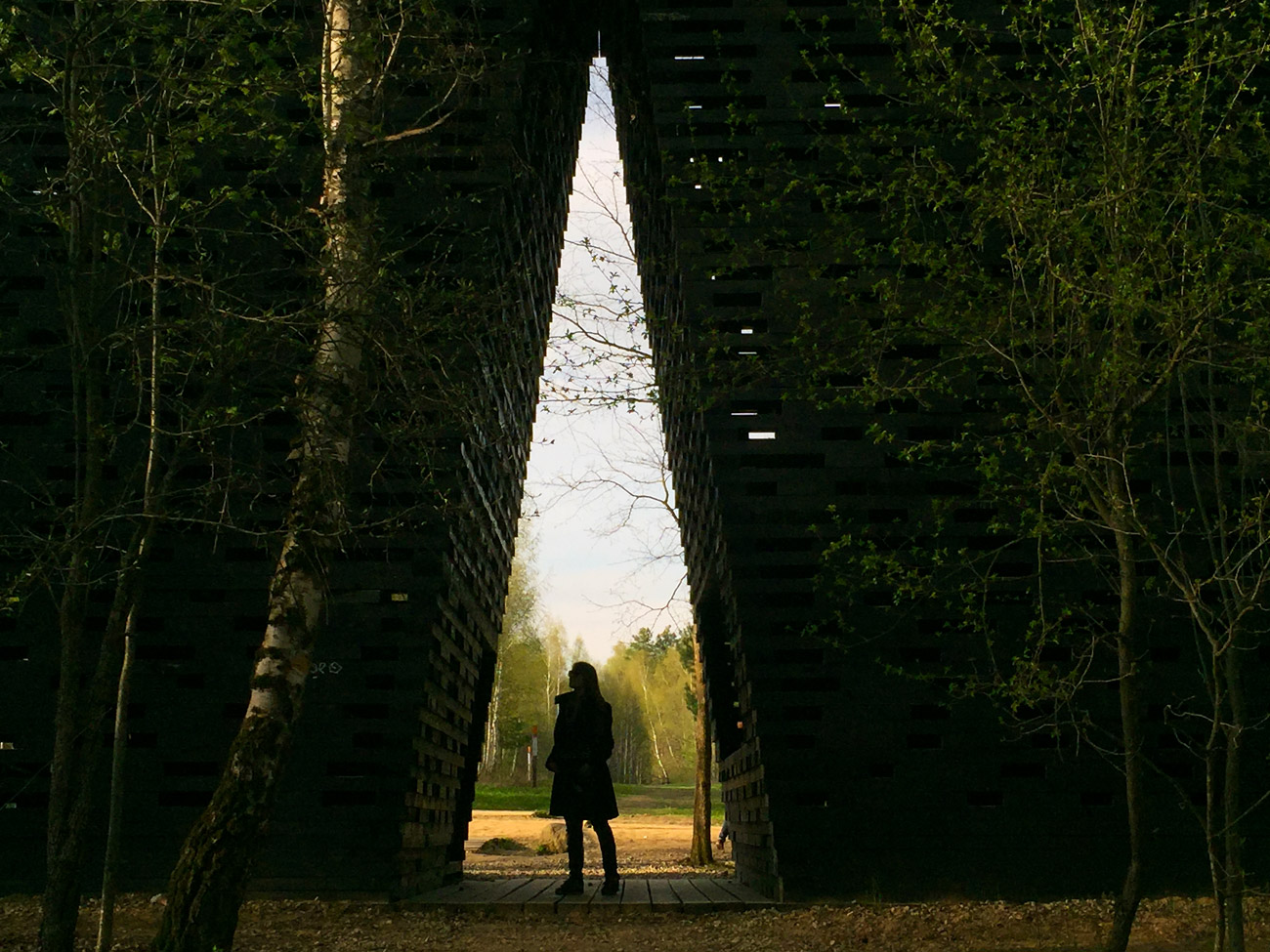 Sergey Slutsky
The Arch (2012) by Boris Bernaskoni is a magnificent black construction consisting of a 6-meter long plank and located on the edge of a forest and a wide field, resembling a portal between worlds.
Take the spiral staircase all the way up to the observation deck or opt for the staircase that takes you down to the private 'artists' room.'

7. Golden Calf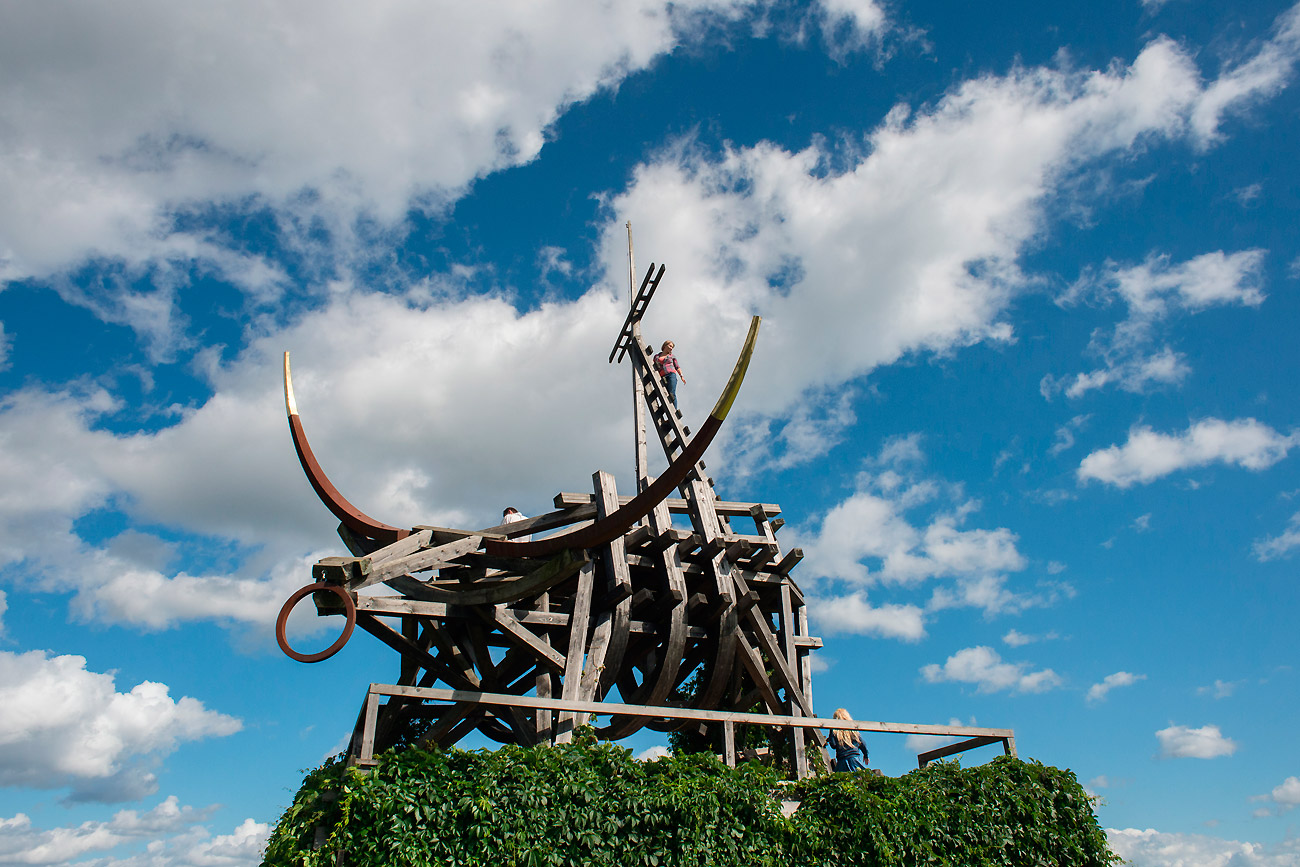 RIA Novosti/Ilya Pitalev
A ship? A temple? Or a bull figure? The Golden Calf (2009) looks like all three of these. On the one hand, the object's creator Vasily Shchetinin found inspiration in the Bible story of Noah's ark. But on the other hand, the Golden Calf is the author's reference to the Wall Street bull. Whichever way you decide to look at it, definitely climb all the way up not only for some great views of the forest and the meadows, but also because the Golden Calf has one little secret that cannot be seen from the ground.

How to get there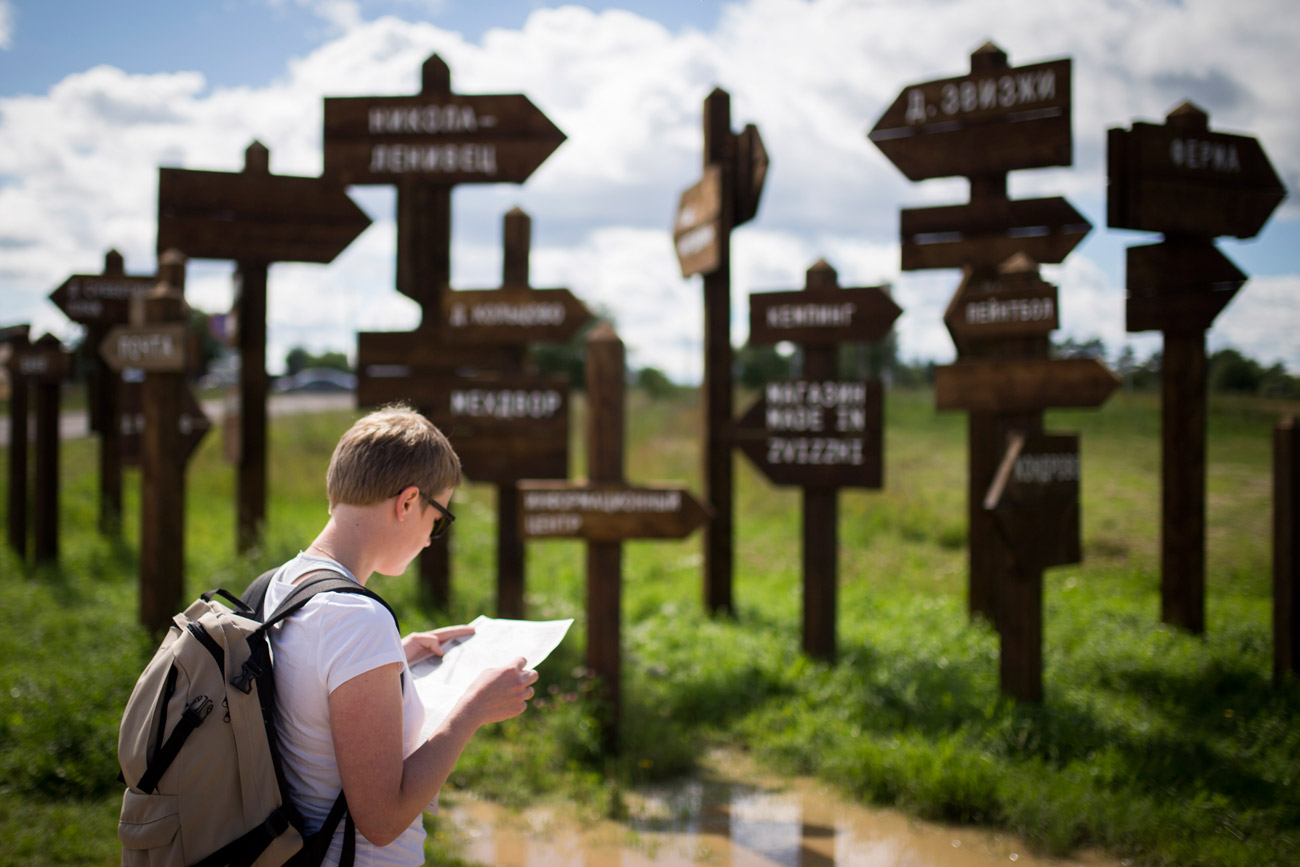 TASS/Sergei Bobylev
The best way to get there is by car. Your GPS will tell you that the drive takes about 3.5 hours from the Moscow city center but don't forget to take into account Moscow's heavy traffic and the poor quality of roads near Nikola-Lenivets. Be prepared that the drive will take anywhere between 3.5 and 5 hours.
There are few parking options in the village but the main guarded parking lot is located by the reception desk. Parking is free if you buy an entrance ticket (200 rubles), or book an accommodation.
Getting there by public transportation is also doable, yet can be quite exhausting. The fastest way is to take the train from Kievsky Railway Station to Maloyaroslavets or Kaluga-1 station, and then get in a taxi (1600 rubles for a one-way ride, cash only).

Opening hours
The art park is open 24/7, all year around. Entrance is 200 rubles, unless there is an event or the annual Archstoyanie summer festival is taking place. Tickets for this event are sold separately and far in advance.

Where to sleep
Sleeping in Nikola Lenivets is a healing experience: there's incredible silence and stars like a million candles from above. The online booking form is straightforward and in English. If you decide to come for the weekend, make sure to book in advance because it tends to get very busy, especially in the warmer months.
If you book an accommodation at Kazarma hostel, keep in mind that the staircases are tiny and narrow, so bulky backpacks and suitcases will have trouble fitting through. Also, hot/cold showers, as well as toilets, are available only in the Koltsovo guesthouse.
During the summer months, you can stay in the Klever or Pizhma houses with electricity, but they have no bathroom and you can only take an outdoor shower in the nearby wooden building. Bringing your own tent or renting one is also an option.
Alternatively, you can opt for spending the night in the city of Kaluga, which is about a 90 minutes drive from Nikola-Lenivets. With a population of 500,000, there are plenty of hotels and apartments in Kaluga, as well as bars, restaurants and cafes. We strongly recommend this option for those who like a comfortable night's sleep after a long day of outdoor fun, as well as guaranteed running hot/cold water, a bathroom and electricity.

Getting around
If you have more than one day, then it is possible to see everything on foot. But if you're pressed for time, we recommend bringing your bike or renting one at the park in order to make sure you see everything there is to see.

Eating
Best to pack your own picnic or bring a barbecue set. If you don't want to carry around extra weight, you can refuel at the scenic lakeside Ugra Cafe or the Ferma salad bar during the summer months. Both places offer local seasonal produce, so the food is super fresh but the variety can be rather limited, and prices don't differ much from Moscow cafes, especially during the Archstoyanie festival.
The Koltsovo cafeteria is open all year around from 9 a.m. till 9 p.m., yet the food is mediocre and not very healthy (heavy mayo etc.).

What to bring
You can bring your own food and barbecue set, but please respect Mother Nature and clean up after yourself. Having your own bike and tent is better than trying to rent these at the park because during summer months they tend to go fast.
Insect repellent is always a good idea and, of course, bring plenty of water as well as sunblock. The weather in summer can be somewhat unpredictable so bring a change of shoes, an umbrella and warm clothing. Needless to say, a good pair of walking shoes is a must.

Payment
For accommodation, bike hire, parking, local excursions and a meal at Ugra Cafe you can pay with card. To pay for other services you need cash. The nearest ATM is in Kondrovo (27 km from Nikola-Lenivets).

Other useful information
Maps with tourist routes are sold at the reception desk for 100 rubles. Cell phone reception varies depending on your telephone operator, but be prepared to be left disconnected in most of the village.
Wi-fi, however, works reasonably well in some places and if you climb up to the top of some art works your telephone might catch a signal. Nikola-Lenivets also offers volunteering projects, and the details can be found on the park's website.
The park is pet-friendly but make sure your furry companions are on their best behavior so as not to disturb others.
If using any of Russia Beyond's content, partly or in full, always provide an active hyperlink to the original material.