Who can visit Russia WITHOUT a VISA in 2023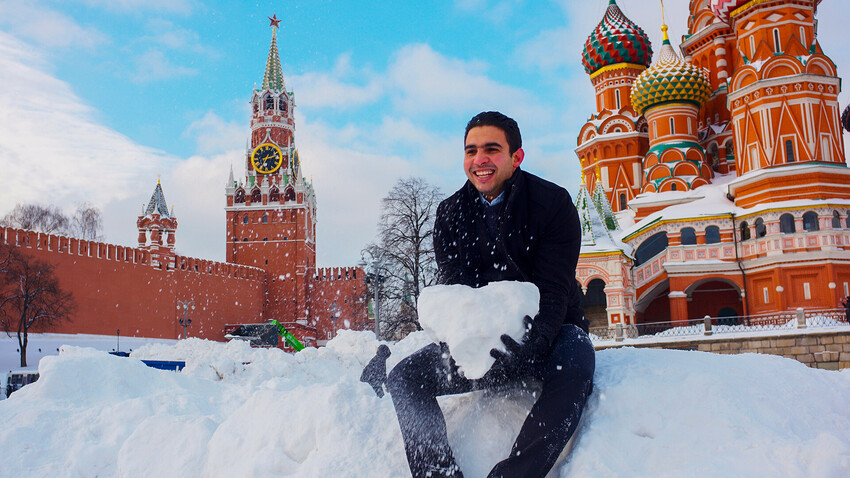 A foreign tourist poses in front of St. Basil's Cathedral in Moscow.
Sergei Pyatakov/Sputnik
Residents of some 25 countries enjoy a visa-free regime with Russia.
The Commonwealth of Independent States (CIS)
Citizens of most of the post-Soviet states can visit Russia without a visa. Countries like Azerbaijan, Armenia, Belarus, Kazakhstan, Kyrgyzstan, Moldova, Tajikistan and Uzbekistan. Although Ukraine is not a member of the CIS, it is included in this list, nonetheless. Notably, a Russian visa is required for citizens of Georgia, Latvia, Lithuania and Estonia, despite these states' Soviet past.
The rules vary as to how long citizens of these countries can stay in Russia without filing additional paperwork with Russian migration authorities. For example, citizens of Belarus can stay in Russia for up to 90 days without registering with a police division which handles migrant-related affairs in Russia.
Citizens of Kazakhstan can stay in Russia for up to 90 days, but the law requires them to register with the police if they intend to stay in Russia longer than 30 days. For citizens of Tajikistan, this registration-free term is reduced to 15 days; for citizens of Moldova this term is even shorter and amounts to 7 days.
Citizens of the above-mentioned countries are allowed to prolong their stay in Russia for up to a year if they receive a work permit or come to study at a local university.
Up to 90 days
Citizens of several other countries are allowed to visit Russia without a visa and stay in the country for up to 90 days during every 180-day-long (6 months) period. Countries like Argentina, Brazil, Chile, Colombia, Israel, Nicaragua, Peru, Venezuela and South Africa fall into this category. However, their citizens are not allowed to work or engage in any commercial-related activities during their visa-free stay in the country.
Foreign travelers from these countries are required to register with the police within seven days of their arrival in Russia.

* Data for the infographics is from November 2022 and was obtained from the Russian consular information website.
* The status of a particular country is subject to change. We advise additionally researching the relevant information in each particular case before booking any trip to Russia.
* Visa waivers may apply for holders of diplomatic or military service passports, select businessmen, air crew members, members of a ship or train crew, professional truck drivers, organized tourist groups and people who have official permission to live in some border regions.
Up to 60 and 30 days
Citizens of Cuba, Montenegro, Thailand and South Korea may also visit Russia visa-free. Cubans can stay in Russia for up to 90 days. Thai nationals can stay in Russia up to 30 days without a visa. Citizens of South Korea are allowed to stay in the country for up to 60 days, citizens of Montenegro – up to 30 days. Сitizens of Serbia have the right to visa-free entry into Russia only if they have a biometric passport issued after 2008.
Residents of Macau are also allowed to enter Russia without a visa and stay for 30 days. Residents of Hong Kong may also travel to Russia visa-free, but can only stay a maximum of 14 days in the country. Chinese citizens, however, require a Russian visa.
Citizens of these countries are all required to register with the police and are not allowed to use their visa-free period to work in Russia.
Citizens of Bosnia and Herzegovina, as well as North Macedonia can also stay in Russia without a visa for up to 30 days, provided they acquire a tourist confirmation or a tourist voucher from a hotel in Russia or a tour operator registered with the Russian Ministry of Foreign Affairs.
Notably, foreign travelers arriving in St. Petersburg on cruise ships and ferries from Helsinki and Tallinn are exempt from visa requirements if their stay in the city is no longer than 72 hours and provided they are sleeping on the ship.
Click here to find out what countries Russian citizens can visit without a visa.
Dear readers,
Our website and social media accounts are under threat of being restricted or banned, due to the current circumstances. So, to keep up with our latest content, simply do the following:
Subscribe to our Telegram channel
Subscribe to our weekly email newsletter
Enable push notifications on our website
Install a VPN service on your computer and/or phone to have access to our website, even if it is blocked in your country
If using any of Russia Beyond's content, partly or in full, always provide an active hyperlink to the original material.