Bring your ladle to the campfire: 3 Siberian recipes for hiking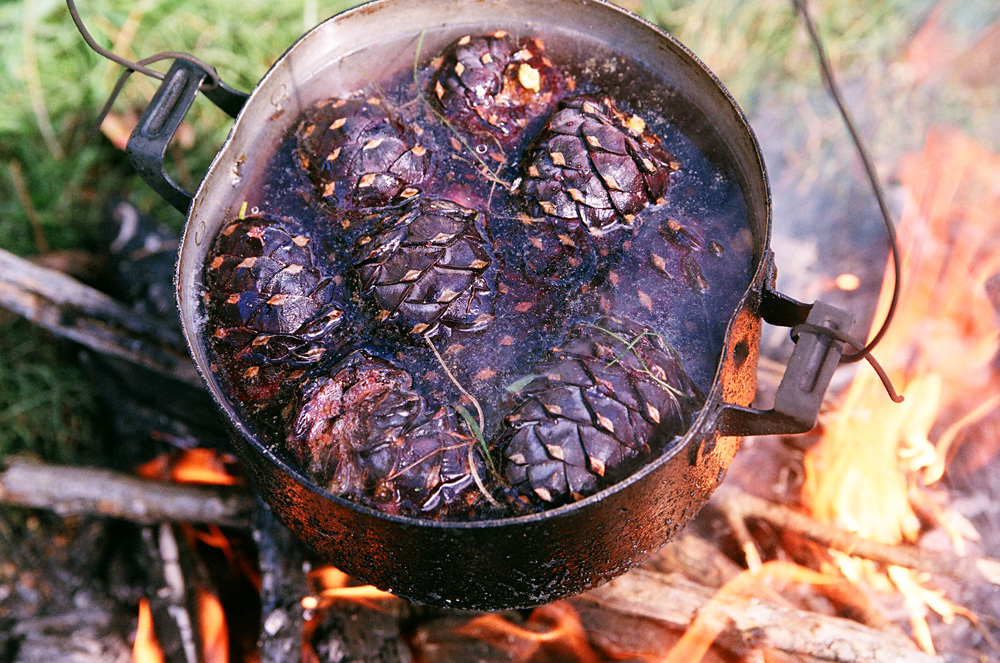 Piping hot Siberian borscht, fragrant rice pilaf with nuts and crispy pancakes – they're not as hard to cook in the wild as you would imagine.
When you hike in the wild with a tent and a backpack, food becomes as important as good shoes and a reliable raincoat. Delicious breakfasts, satisfying lunches and hearty dinners often define the peaceful moods of long campaigns and help hikers psychologically cope with high peaks and tough routes. Anna Gruzdeva has traveled through the mountains and forests of Siberia since childhood and shares the secrets of camping recipes to help you survive a hike through the Russian wilderness.
1. Siberian camp borscht
Cooking time: 20 minutes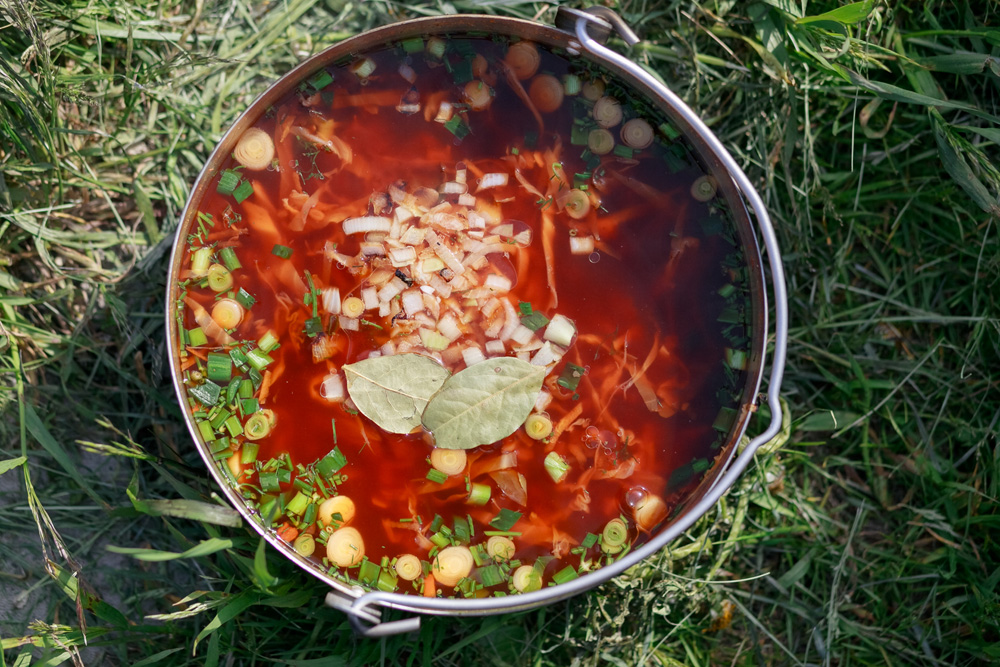 Photo credit: Anton Petrov

Ingredients for 8-10 servings of soup: 6-7 liters of water,10 tablespoons of dried cabbage, 5 tablespoons of dried carrots, 3 tablespoons of dried beets and 100 grams of lentils or pearl barley. Spices: Salt, black or red pepper, paprika, bay leaf, dried parsley and dill. Quickly fry onions and carrots and finely chop 5 garlic cloves. Add dark crackers for a tasty crunch.
What's the catch: Borscht doesn't seem like a good dish to cook during a hike: It's time consuming and requires lots of resources and many ingredients. It is impossible to cook borscht with a nourishing beef broth in the taiga or by the side of a glacier, but you can still make a great vegetarian version.
Before setting out prepare the basic ingredients for borscht in advance by drying the carrots, beets and cabbage. Finely chop the vegetables using a grater and place on a towel on the windowsill to dry. Let them sit for 2-3 days. Another alternative is to dry the vegetables in the oven at 50°C (122°F).
As soon as the beets, carrots and cabbage dry, the soup's "essence" can easily be packed in a small container weighing only about 100 grams – that certainly won't weigh your backpack down.
This borscht has repeatedly rescued our Siberia: Joining the Dots team during long treks with rainy days, tough routes and not enough time for cooking. Just boil the water on a burner or a fire, throw in the mixture of vegetables and spices, add crackers and garlic, simmer for 20 minutes - and a delicious vegetarian camp soup is ready!
2. Plov with fruit and nuts
Cooking time: 1.5 hours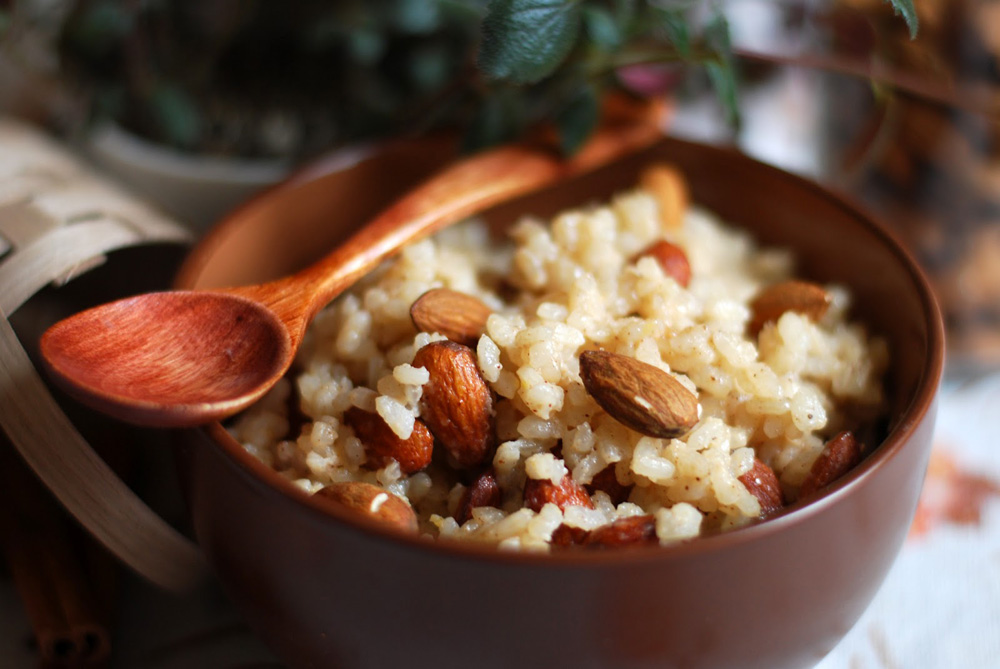 Source: happy-meal-time.blogspot.ru
Ingredients for 10 servings of plov: 3 liters of water, 900 grams of steamed rice (make sure it's firm so it won't get mushy), 100 grams of walnuts, 100 grams of hazelnuts, 200 grams of candied fruit (such as papaya, pear and banana), 150 grams of white raisins, 200 grams of sunflower oil, 10 grams of salt and 50 grams of sugar.
What's the catch: This might not be an authentic version of Georgian or Azerbaijani plov (rice pilaf), but it's perfect for camping and does not sacrifice originality or taste. After hiking difficult trails through the forest and subsisting on a dreary diet of cereals for days on end, a fruity and nutty helping of plov is a real feast.
Pour sunflower oil in a pot, remove it from the fire and add the fruit and nut mixture. Mix well until the oil cools down. The nuts should fry a little and the fruit should become covered in a caramel crust. Put the prepared mixture in a separate bowl and leave the oil in the pot. Pour the steamed rice in, add water and leave it on the fire. Wait until the rice starts to boil and then simmer for 20 minutes.
Add salt and sugar when the rice has cooked a bit. After the water evaporates and rice floats to the top, remove the pot from the heat, cover and wrap in a sleeping bag to steam for 40 minutes. After that add raisins, nuts and candied fruit to the rice, mix well, sprinkle with a little cinnamon and serve to your fellow campers.
3. Forest pancakes for breakfast
Cooking time: 30 minutes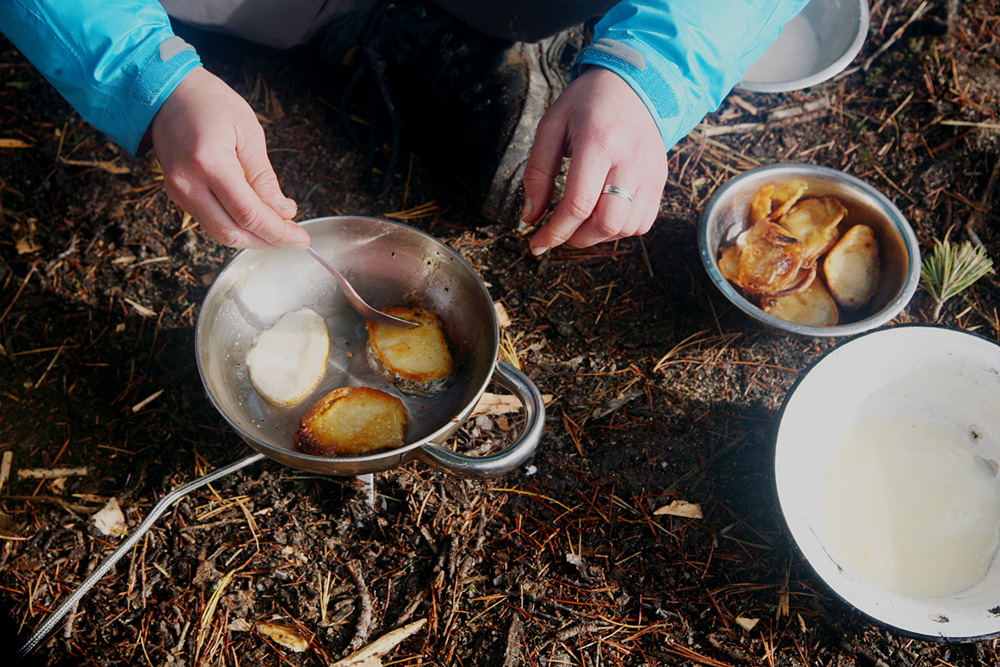 Photo credit: Anna Gruzdeva
Ingredients for 5 servings: 10-12 tablespoons of flour, 2 tablespoons of powdered milk and a small pinch of salt. For a baking powder use 1/4 teaspoon of baking soda and 1/8 teaspoon of citric acid. If you want to sweeten the dough add 2 tablespoons of sugar and a little vanilla. Knead the dough until it's smooth and slowly drips from a spoon. You can also add raisins or chopped nuts.
What's the catch: Usually the dough takes some time, so these pancakes could be made when setting up camp or in poor weather when hiking can be dangerous. Hikers are idle and bored – it's precisely moments like these that pancakes and tea with herbs can become gastronomic lifesavers.
All rights reserved by Rossiyskaya Gazeta.