New Holland was built at approximately the same time as the city itself at the beginning of the 18th century. However, the admission of common people was only permitted beginning in 2011. Over the course of the last three centuries naval forces have kept the island away from prying eyes.
How this restricted island became a modern park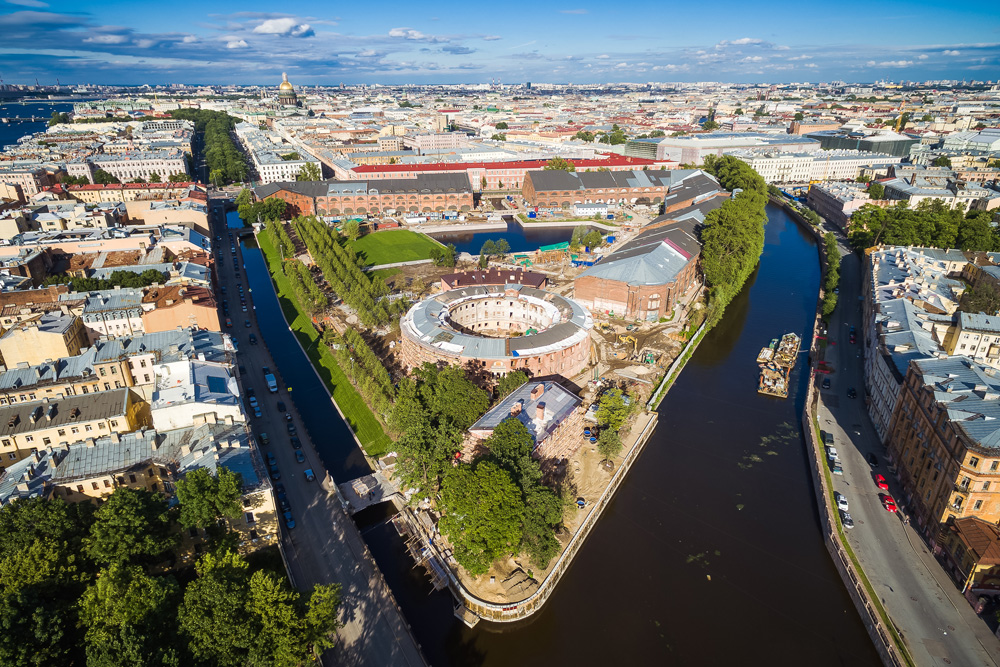 Photo credit: TASS/Stanislav Zaburdaev
Initially the island belonged to the Admiralty, a shipbuilding yard established by Peter I in 1704. During the first few years of operation, the yard resembled a real Dutch dockyard, so it was nicknamed New Holland due to the presence of foreign shipbuilders and manmade canals.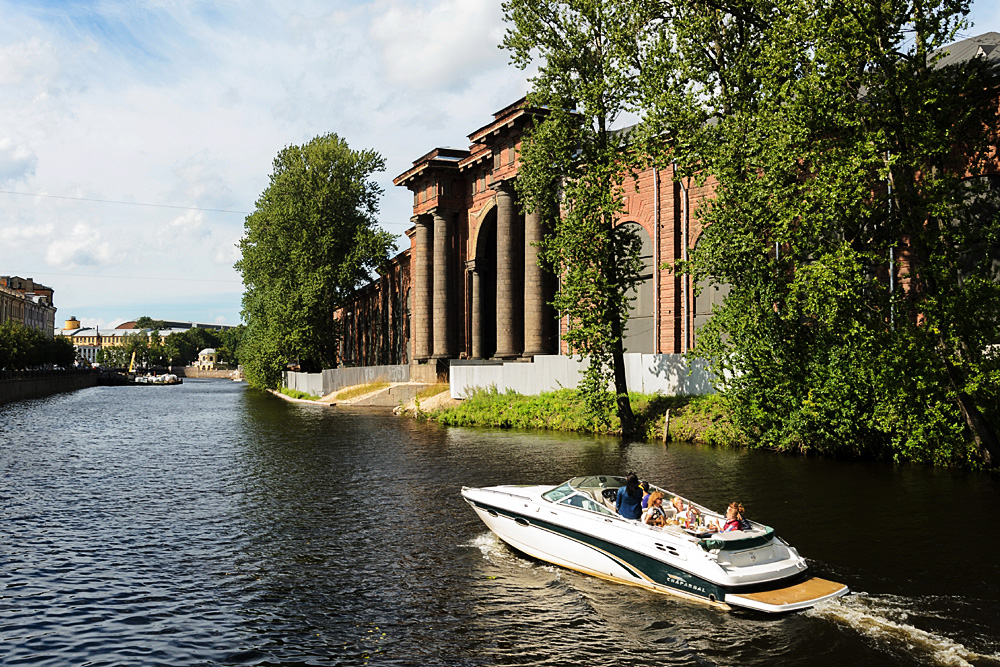 Photo credit: TASS/Roman Pimenov
In the 18th century the island hosted naval warehouses and in the 19th century a naval prison was added. A bit later in 1894, Russia's first – and the world's sixth – trial tank for ship and submarine models was constructed here. Until 2004, New Holland remained a restricted area, as it hosted warehouses of the Baltic Navy.
In 2010, Millhouse, a company owned by Russian billionaire Roman Abramovich, won the competition to reconstruct and repurpose the island for public use. The project was supervised by Darya Zhukova, Abramovich's wife and founder of the Garage Museum of Contemporary Art in Moscow. From 2011 to 2013, the park operated in a test mode during summers only and on August 27, 2016 it reopened to the public after three years of reconstruction.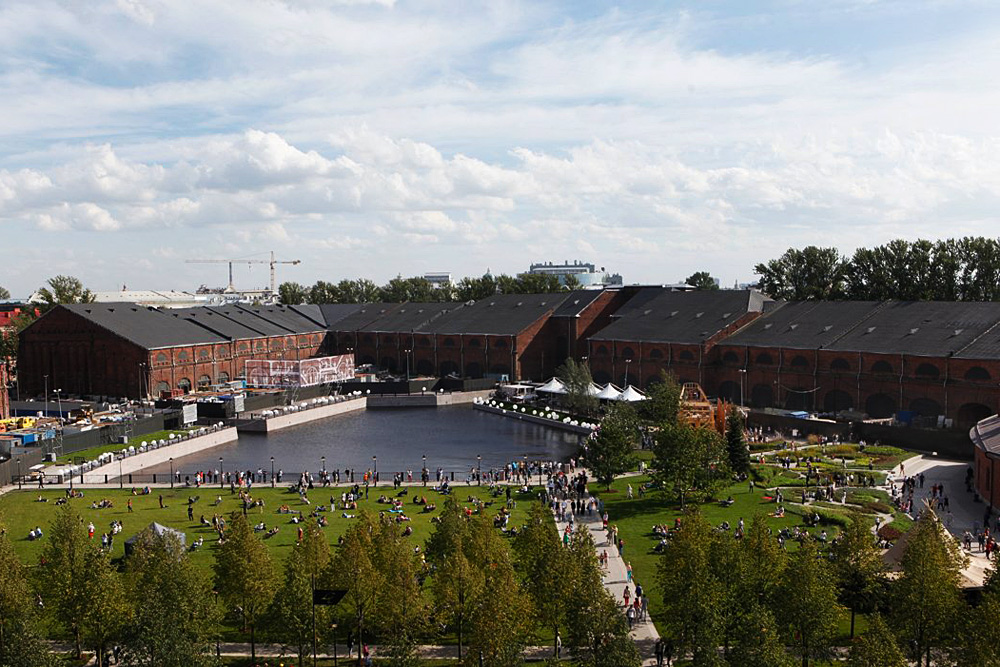 Photo credit: Peter Timofeyev
Sergei Nikolaevich, a resident of St. Petersburg, came to the island from the outskirts of the city with his son to attend the opening.
"In June, we visited Gorky Park in Moscow, and we were amazed to see people run around on green lawns and play volleyball and badminton," he says. "It's an environment where you truly feel at ease. Of course, New Holland is smaller than Gorky Park, but it's the first space in the city where visitors are allowed to do so many things."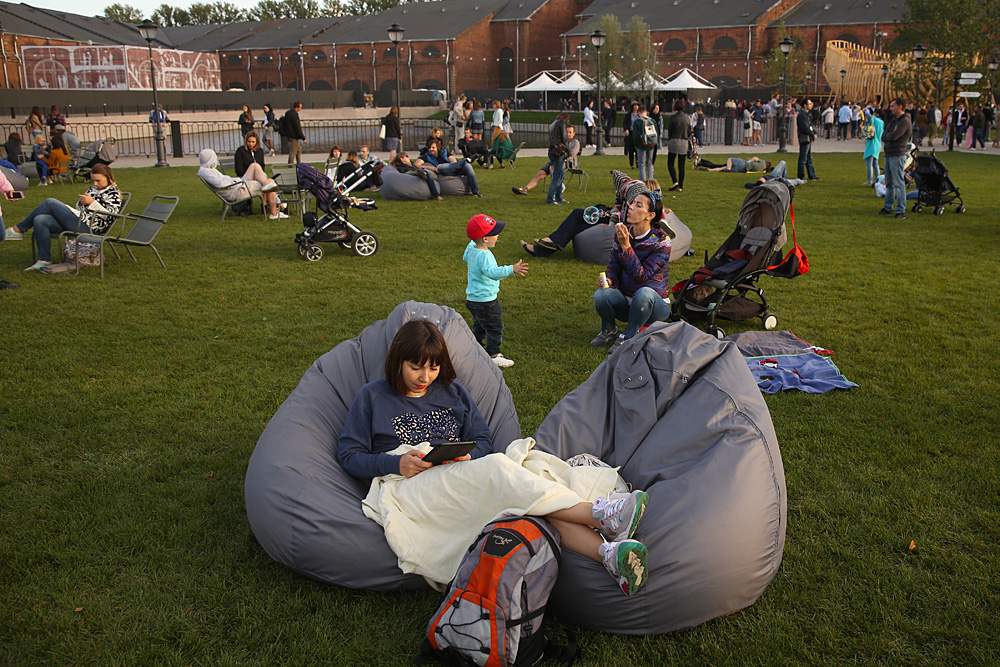 Photo credit: TASS/Peter Kovalev
John Mann, a spokesman for Millhouse, stated that the investors involved in the project allocated 6 billion rubles ($92 million) with plans to complete the facilities by 2025.
What to see in New Holland
Photo credit: TASS/Peter Kovalev
Today, the island features a wooden playground for children in the form of a historic frigate called Peter and Paul. Adults can enjoy the exhibition Experiences of the Imaginary containing works by contemporary artists. They have been selected by Zhukova's Garage Museum and are on display in a pavilion until September 25.
When the weather cooperates city dwellers will be able to lie on the grass, walk around the green zone, play frisbee, petanque and badminton, and have picnics on chairs resembling those found in the Luxembourg Garden in Paris.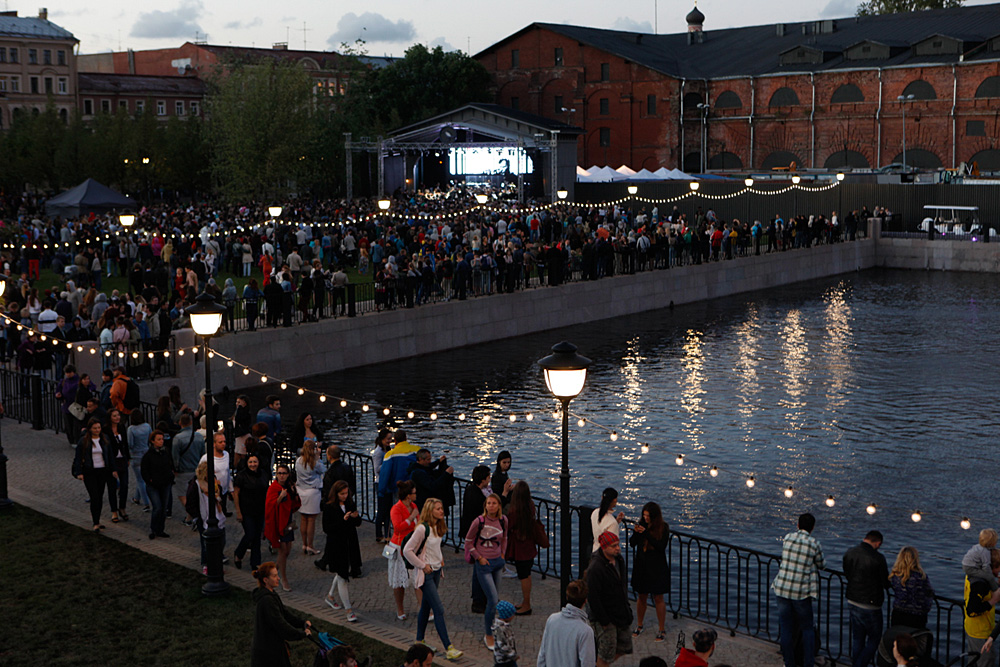 Photo credit: Peter Timofeyev
Ekaterina Dementyeva, editor in chief of Afisha Daily, a culture and lifestyle portal, believes that St. Petersburg was in a desperate need for such a place as this.
"St. Petersburg's classical attractions are so impeccable that they can remain unchanged for decades on end – but a bit of modernity has to be injected from time to time, too," Dementyeva says. "Once, it was unspeakable to walk around the Berlin Tempelhof Airport – but it's possible now. Likewise, this restricted island, which used to serve military purposes, is now a park. Moreover, Tempelhof is nothing more than a field, while New Holland is incredibly beautiful. Besides, it is the first dedicated 'hipster' district with corresponding cafes, people and art. Whatever your own views are, after the glamor of the imperial side of St. Petersburg and the intensity of the Hermitage, it can be a refreshing change of pace to munch on a pastry in the company of some very hip individuals."
September will feature table tennis and petanque tournaments, festivals of kites, baroque music and public art. In November, the island's first edifice, the blacksmith's shop, will reopen with a new purpose. It will shelter the park's first restaurant. For now, there are only two food stalls in New Holland, as well as a few creative spaces.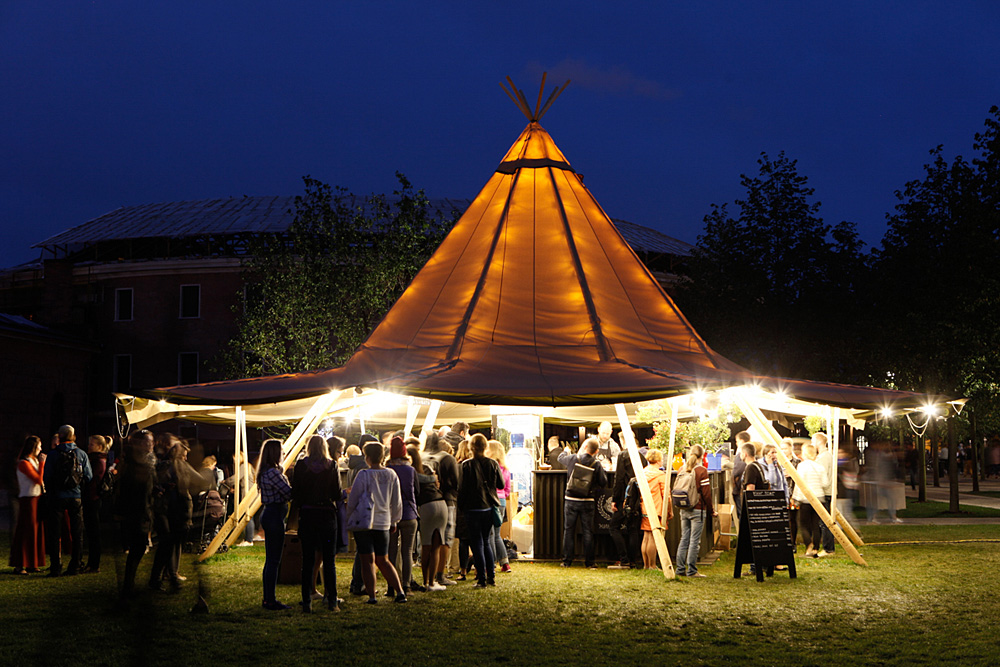 Photo credit: Peter Timofeyev
As winter creeps in, the lawn will be turned into a skating rink and the Christmas holidays will usher in spectacular light displays and real fir trees decorated by local volunteers. The full list of upcoming events can be found on the park's website.
How to get to the park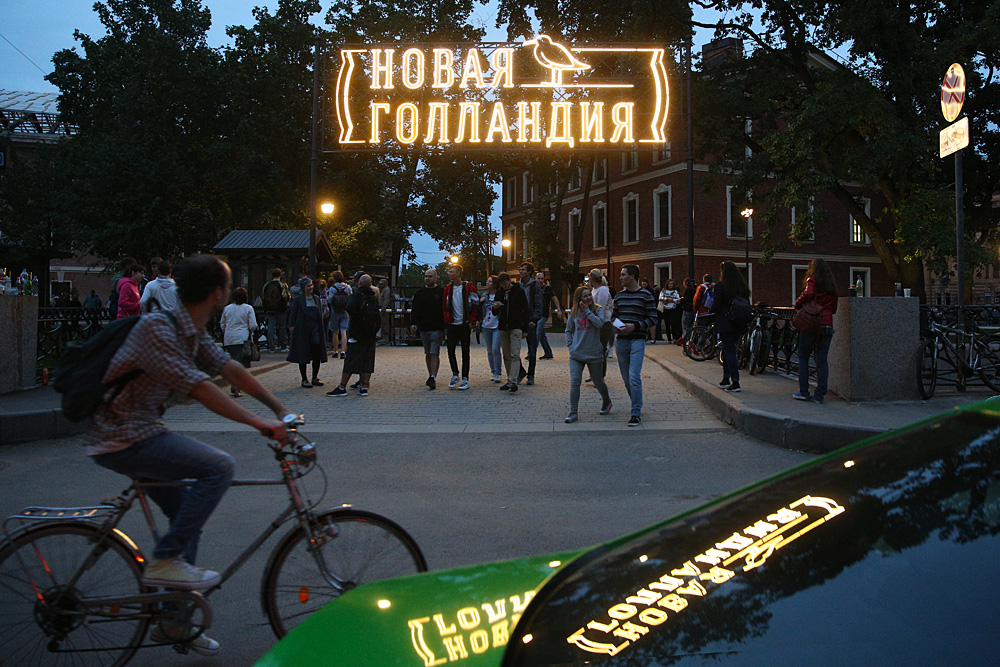 Photo credit: TASS/Peter Kovalev
It's best if you combine a visit to the island with an unhurried stroll around the city center. The closest subway station is Admiralteyskaya (1.9 kilometers or a little over a mile) and the next closest is Sennaya Ploshchad (2.4 kilometers or about 1.5 miles). The best view of New Holland can be enjoyed from the Moika Embankment.
Another way to get to the park is via St. Isaac's Cathedral. From there take Konnogvardeysky Boulevard, which then becomes the Admiralty Canal.
Please note that bringing your own food and drinks to the island is prohibited. For a full list of New Holland's rules for visitors, click here.
All rights reserved by Rossiyskaya Gazeta.