Revival of extremism in Eurasia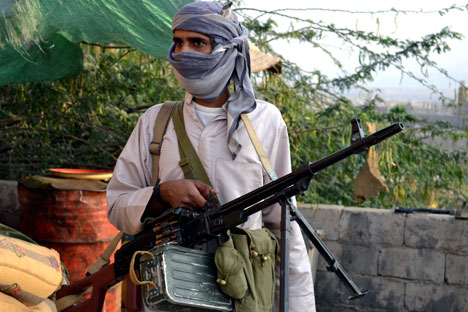 Efforts of the radical islamic organisations to strengthen their constituency is a bigger concern for the countries of Eurasia including Russia. Source: ITAR-TASS
Though Central Asian states continue to uphold secular politics, the efforts of radicals to strengthen their constituency is undoubtedly a bigger concern for Russia.
Recent developments suggest that extremist organisations like the Islamic Movement of Uzbekistan (IMU) and Hizb ut-Tahrir are attempting to proliferate in Central Asia and Russia, and spread radicalism in Eurasia. They adopt many novel ways like converting the youth in prisons to extremist propaganda or influencing migrant workers in Russia and Kazakhstan in the teachings of Islamic extremism. These organisations evolved in the aftermath of the Soviet collapse, but later shifted their bases to areas in Pakistan and Afghanistan. Though the Central Asian states continue to uphold the secular nature of politics an enact laws to defend it, the efforts of the radical organisations to strengthen their constituency is undoubtedly a bigger concern for the countries of Eurasia including Russia.
Last month the Uzbek authorities arrested fifteen women in Fergana oblast. These women were holding weekly meetings about spreading extremist message of Hizb ut-Tahrir and carrying out work of male members who were in prisons for the same activity. These women were supplied with money and extremist literature through a branch of the organisation in southern Kyrgyzstan. Kyrgyz officials revealed last month that the prisons have become a major recruiting ground for extremists. Emil Jeenbekov, head of the Kyrgyz Interior Ministry 10th Directorate Administration for Countering Extremism, pointed out that "The prison population, which includes many young people, has become another target for extremists in their bid to fortify their ranks." As there are many young detainees and convicts in prison without any strong ideological conviction, it becomes easy for the recruiters to exploit their volatile mind and draw them to the fold of extremism. Kyrgyzstan hopes that donor agencies would help to establish working facilities in prisons in order to engage these youth, and keep them busy and away from destructive thoughts. Last July, the leader of IMU, Usman Ghazi declared jihad against Kyrgyzstan with the purpose of establishing a caliphate in the region. These elements also try to exploit other fault lines like border disputes between Uzbekistan and Kyrgyzstan to promote their radical agenda.
Kazakhstan held a conference on February 26-27, 2013 on this particular theme of fighting extremism. In the past few years, Kazakhstan too has become a victim of extremism with home grown organisations like Jundullah Khilafat orchestrating terrorist attacks with support from likeminded organisations from border areas of Pakistan and Afghanistan. Despite the Kazakh President, Nursultan Nazarbayev enacting a law in 2010 to the effect of nullifying all extremist activities and organisations, extremism has not disappeared from the country. This conference, attended by about 50 law enforcement and local government officials deliberated on "the prevention of violent extremism and terrorism, as well as the identification of factors which lead to radicalism and intolerance in society."
The link of these organisations to like minded organisations in the North Caucasus in Russia is another growing concern. These organisations are not confined to these countries alone; rather they have attempted in developing links with radical organisations in Dagestan, Chechnya, Xinjiang and other parts of the world. Dagestan in recent years has witnessed intense ferment and perhaps become one of the most violent regions of Russia. Domestic unrest or underdevelopment cannot be blamed as the main propellers of violence, rather it is radical interpretation of religion, and the exclusivist notions like Caliphate, propagated by radical leaders like Doku Umarov and his Central Asian and Afghan counter parts that have fuelled extremism in many parts of Eurasia.
In one of well noted cases in 2011, Russian police arrested an Uzbek national Farrukh in Moscow. Though Farrukh was posing himself as an immigrant worker, he was the head of an IMU cell and engaged in spreading radicalism among the migrant workers from Central Asia. He had developed connections with extremist organisations in Kyrgyzstan, Kazakhstan, Tajikistan, Afghanistan and Pakistan. Migrant workers have increasingly become target of extremists. One of the higher Uzbek official observed, "It is in those countries (Russia and Kazakhstan) that IMU activists have more and more often recruited new followers among Central Asian migrant workers." Though all migrants cannot be put into the same category, it becomes difficult to differentiate between them. As religion becomes a binding factor among people, the extremists use it to exploit the migrants and use them in orchestrating terrorist attacks in Russia and Central Asia. Recent reports suggest that dreaded organisations like IMU are increasing their hold in areas like Fergana valley.
The unstable situation in Afghanistan has played a big role in sustaining the rising menace of extremism and terrorism. Though countries of Central Asia profess secularism and ban these organisations, the instability in the war-torn country of Afghanistan provides these organisations enough geographic space to strive and train followers, and also finance their activities from illegal drug trafficking, under the tutelage of the Taliban.
A volatile Afghanistan has provided a fertile ground for the breeding of radical ideology and their proliferation to Central Asia and beyond. One of the statements of the former Kyrgyz President, Kurmanbek Bakiyev at a meeting of Collective Security Treaty Organisation (CSTO), of which Russia and most of Central Asian countries are members appeared timely. Bakiyev stated that, "The situation in Pakistan is very grave; the situation in Afghanistan is serious … if the conflict against the Taliban deepens further in Afghanistan, which direction will people head in? God help us, they will move toward Tajikistan, Kyrgyzstan, Uzbekistan, and beyond."
Though regional organisations like Commonwealth of Independent States, CSTO, Shanghai Cooperation Organisation have expressed resolve to fight extremism and terrorism, the recent developments bring the urgency for tighter coordination among the countries of the region. As these menaces defy boundaries of nation states and ignite primordial instincts among followers of religion to ferment violence, a mix of hard and soft approach is needed to tackle them. Besides a strong state apparatus to counter violence, a subtle approach in educating the followers the true import of religion is necessary.
All rights reserved by Rossiyskaya Gazeta.