Russia, India abstain from voting for UN arms trade treaty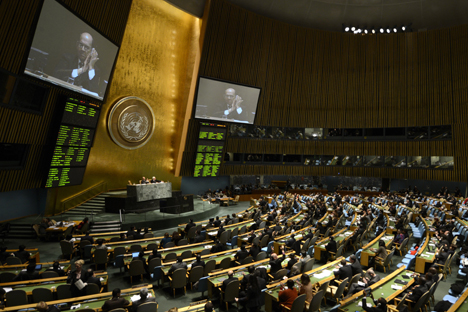 UN General Assembly approves arms trade treaty. Source: AFP / East News
The United Nations General Assembly overwhelmingly approves Arms Trade Treaty, even as 23 countries abstain from voting.
Russia, China and India were among 23 countries in the United Nations General Assembly that abstained from voting for arms trade pact that seeks to regulate the global conventional weapons trade believed to be worth $70 billion. 155 countries voted for the treaty, which linked sales in conventional weapons to the human rights records of the buyers.
Iran, North Korea and Syria voted against the treaty.
The treaty covers export, import, leasing and transit of conventional arms and calls for the creation of registers of arms transactions in the signatory states. Other provisions include a ban on transfer of arms if the seller has evidence that the weapons would be used in acts of genocide or crimes against humanity, serious violations of the Geneva conventions or attacks on civilians.
Sujatha Mehta, head of the Indian delegation at the UN said the treaty "was weak on terrorism and non-state actors and these concerns find no mention in its specific prohiIbitions." This was in direct contrast to the statement made by U.N. Secretary-General Ban Ki-moon who said the treaty "will make it more difficult for deadly weapons to be diverted into the illicit market and ... will help to keep warlords, pirates, terrorists, criminals and their like from acquiring deadly arms."
Mikhail Ulyanov at the Russian Foreign Ministry had earlier called the treaty "a weak, carelessly formulated document" that requires finalisation. "We suggested taking things slowly and refraining from approving or recommending an inadequately though-out text. Instead of approving it, the General Assembly could have reported that certain progress had been achieved but talks were still under way, and the mandate of the conference needed to be extended for two or three weeks, for it to reconvene in November or December and continue its work", he said.
All rights reserved by Rossiyskaya Gazeta.