India steps up diplomatic engagement with Russia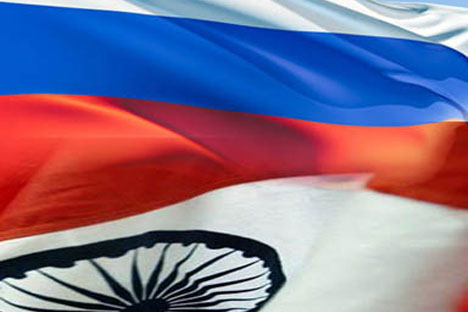 India has an institutionalized mechanism of holding annual summits with Russia. Source: Press Photo
Security, trade and international diplomatic issues will be on the Indo-Russian agenda this month as 3 senior Indian ministers visit Moscow.
Indian Home Minister Sushil Kumar Shinde is in Moscow on for an important bilateral visit. But he is not the only Indian minister to engage Russia in a stepped-up process to engage with Russia. Two more key Indian cabinet ministers are headed to Russia later this month to signal the start of a diplomatic season with Russia.
Commerce and Industry Minister Anand Sharma is set to arrive in Russia on April 12, followed by External Affairs Minister Salman Khurshid who will be in Moscow on April 29, diplomatic sources told this writer today.
Shinde reached Moscow on Tuesday for a four-day trip during which he will discuss with his Russian counterpart key issues involving the interior ministries of the two countries, including counter-terrorism and counter-narcotic drugs measures that India and Russia are likely to embark upon jointly, a senior Indian diplomat abreast of Indo-Russian bilateral affairs told this writer on condition of anonymity as the official is not authorized to speak to the media.
Indian Commerce Minister's Russian Agenda
Anand Sharma will reach Moscow even as Shinde remains on the Russian soil. During his April 12-13 visit, Sharma will be interacting with his Russian counterpart and senior Russian officials on giving an upward trajectory to the Indo-Russian bilateral trade. Senior officials of the two sides have discussed the trade issue several times in the past few months and the consensus is that the Indo-Russian bilateral trade is much below its true potential.
The two countries have a modest trade of less than $12 billion at present and have set a target of $20 billion by 2015.
The Indian commerce minister's parleys with the Russian officials would be geared to find a quick solution to the problem of lagging trade. The two sides are expected to zero in on a series of incentives for the private sector and iron out the old warts that have been hampering the pro-active involvement of the private sector in both countries. Issues like improving air connectivity and trade incentives are likely to figure in Sharma's talks with the Russian officials.
Incidentally, Sharma is likely to visit Russia twice again later this year.
Khurshid's Moscow Visit
External Affairs Minister Salman Khurshid will reach Moscow on April 29 from Kazakhstan. Khurshid's agenda of talks with his Russian interlocutors will be by and large diplomatic and strategic. He will also be preparing ground for the next round of Indo-Russian Inter-Governmental Commission (IRIGC) which will take place in Moscow this time. The IRIGC meeting is likely to be held in the third quarter of this year.
The three Indian ministers' visits to Russia will in a way prepare the ground for Indian Prime Minister Manmohan Singh's visits to Russia later this year. Manmohan Singh will visit Russia twice this year, first to attend the G-20 summit to be held on September 5-6 in St. Petersburg. Singh's second visit to Russia will be for the 14th Indo-Russian annual summit. Though the dates of the summit are yet to be finalized, it is expected to take place toward the year end.
The Indian outreach to Russia signifies the high importance that India attaches to Russia – one of the only two countries with which India has an institutionalized mechanism of holding annual summits, the other country being Japan.
All rights reserved by Rossiyskaya Gazeta.