India, Russia create emergency situations commission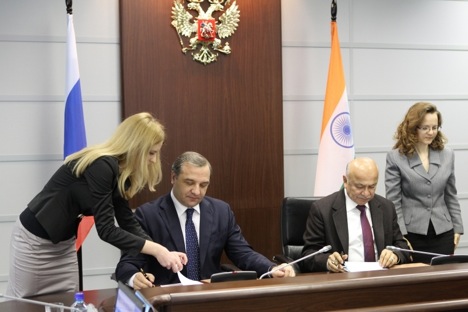 The Russian-Indian commission will inform everyone about the direct threat to natural catastrophes and work out proposals to train specialists. Photo: Vladimir Puchkov (L) and Sushilkumar Shinde (R). Source: Embassy of Russia in the Republic of India
The countries will cooperate in scientific research and studies, as well as in forecasting and gathering information during natural emergencies.
Russian Emergencies Minister Vladimir Puchkov and Indian Home Minister Sushilkumar Shinde signed a document to create a Russian-Indian commission on emergency situations. "We should work out a simplified model for providing aid to each other... It is true that our Indian colleagues do not like to ask for aid and we also do not like. However, during large-scale disasters - floods, tsunamis and earthquakes, specialists' joint efforts help minimize the losses," Puchkov said.
Puchkov expressed hope that this mechanism would start operating within weeks.
In addition, Puchkov proposed to his Indian counterpart a mechanism to work on developing systems of space monitoring, observation and laboratory control.
The Russian-Indian commission will inform everyone about the direct threat to natural catastrophes and work out proposals to train specialists. Russia and India will also exchange information about research studies and plan research projects.
"Russia and India are two great states which have very much in common, including similar problems in the area of fighting against disasters," Puchkov said during the meeting with Shinde, according to the website of the Russian Emergencies Ministry. "Earthquakes, floods and other large-scale disasters occurring in different countries are evidence of how necessary and important the joint work of our ministries is," the Russian Emergencies minister added. "Each country has to make more efforts and spend more funds on eliminate the effects of emergency situations. Therefore I consider it very important to join efforts to efficiently and quickly respond to disasters."
Shinde, who is the first of three Indian ministers to visit Moscow this month, said "India pays close attention to its ties with Russia and since our last meeting our relationships have evolved into strategic partnership." The Indian home minister added that Russia had the latest monitoring and forecasting system and that India "would like to learn many things" from its ally.
The countries will cooperate in scientific research and studies, as well as in forecasting and gathering information during natural emergencies. In addition, India is planning to establish a centre similar to the National Crisis Management Centre of the Russian Emergency Situations Ministry. The ministries also plan to consolidate their cooperation and adopt each other's practices.
Commerce and Industry Minister Anand Sharma will arrive in Moscow tomorrow, followed by External Affairs Minister Salman Khurshid who will be in Moscow on April 29.
Activists break into Shinde's house in New Delhi
While Shinde was meeting his counterparts from the Russian Emergencies Ministry, around 150 protestors broke into his New Delhi home. The protestors, members of the Jat community, were demanding the right to be legally registered as members of India's so-called Other Backward Castes. Such a classification would give members of the community access to the Indian Government's affirmative action programmes.
The protestors broke past security cordons, unaware of the fact that Shinde is in Moscow. They broke wooden panels and glass doors of the house, the Delhi police said.
Sources close to the Delhi police told RIR that the Indian Home Minister was apprised of the developments and called the city's police commissioner Neeraj Kumar from Moscow, demanding that action be taken. The Delhi Police arrested 142 protestors.
All rights reserved by Rossiyskaya Gazeta.