Alleged US spy arrested in Moscow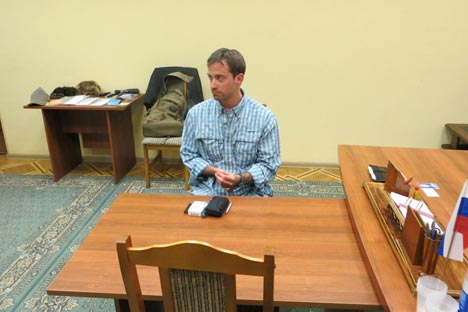 Ryan Christopher Fogle. Source: FSB
Russia's Federal Security Service (FSB) says it apprehended an American spy in the process of recruiting a Russian agent.
Russia's Federal Security Service (FSB) announced on May 14 that it had arrested an American CIA officer in the process of recruiting a Russian special services agent.
"The FSB's counterintelligence service detained a CIA agent, who was working in Moscow as third secretary of the U.S. Embassy's Political Department," the FSB's Public Relations Center told Interfax.
The agent was identified as Ryan Christopher Fogle. After the arrest, Fogle was taken to the FSB's reception office "and handed over to U.S. Embassy officials following formal procedures."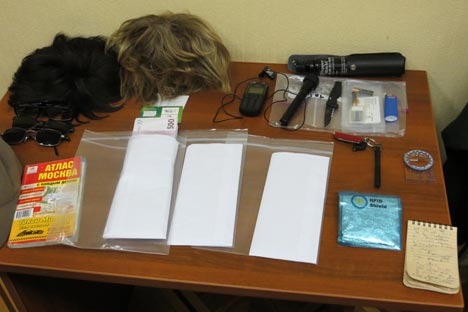 The items confiscated in the arrest of Ryan Christopher Fogle. Source: FSB
Technical devices, a large amount of cash in Euros and disguises were also confiscated during the arrest.
Fogle also possessed a letter that offered the Russian officer up to $1 million per year in compensation and asked him to set up a new Gmail account to accept the offer.
U.S. Ambassador to Russia Michael McFaul said via Twitter that the embassy had no comment at this time. The embassy's press service also confirmed that the U.S. mission in Moscow would not comment on the situation
"The CIA has made several attempts lately to recruit officers of Russian law enforcement services and agencies, which were tracked and monitored by the FSB's counterintelligence service," said the FSB's Public Relations Center.
The press service of Russia's Ministry of Foreign Affairs announced that the Ministry had called McFaul to come in on Wednesday to discuss the detention of the U.S. Embassy employee.
Based on reporting from Interfax and Gazeta.ru.
}
The letter confiscated in the arrest of Ryan Christopher Fogle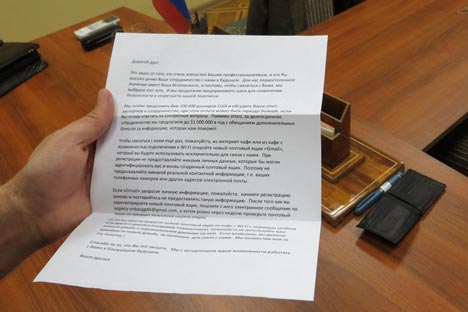 The letter of American CIA officer. Source: FSB
Dear friend,
This is a prepayment from someone who is impressed with your professionalism and who would think highly of your cooperation with us in the future. Your safety is our primary concern, that's why we chose this way to contact you. And we will continue to take measures to maintain the security and confidentiality of our correspondence.
We are ready to offer you U.S. $ 100 000 and discuss your experience, expertise and cooperation, and the payment can be much more if you are willing to answer specific questions. In addition, for long-term cooperation, we offer up to $ 1 million a year with the promise of additional bonuses for information that will help us.
To contact us again, please visit an internet cafe or a coffee shop with Wi Fi and create a new Gmail account which you will use exclusively for communication with us. Do not provide any personal information that could identify you and the newly created mailbox during the registration process. Do not provide any real contact details, i.e. your telephone number or any other email addresses.
If Gmail asks for personal information please start registration process again and try not to provide such information. Once you register a new mailbox, send an e-mail to unbacggdA@gmail.com, and after a week check the mailbox for our response.
(If you register a new mailbox from a cafe with Wi Fi using a netbook or other device (eg, tablet), please do not use your personal device with your personal data. If possible, you should purchase a new device with cash to communicate with us. We will refund you for this purchase.)
Thank you for what you're reading. We look forward to working with you in the near future.
Your Friends
The original letter can be read in Russian at RT.
All rights reserved by Rossiyskaya Gazeta.