Russian higher education fair returns to India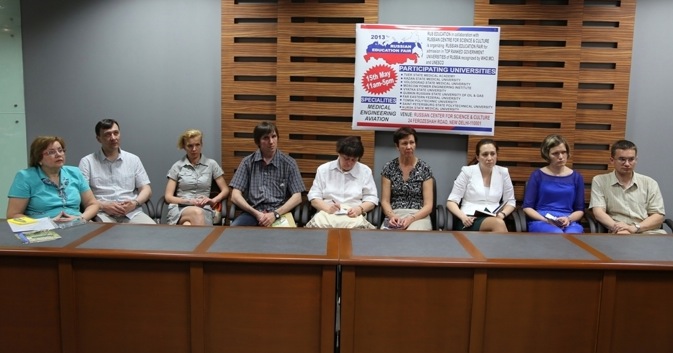 Representatives of ten universities from eight Russian cities have arrived in India to participate in the annual Russian Education Fair 2013. Source: Alexander Tomas
The annual fair offers counselling and on-the-spot admissions to some of the leading Russian institutes.
It is that time of the year when young aspirants are preparing for university education. There are crucial decisions to be made for a good course, in a reputable college, and at a suitable location. For Indian students willing to extend their quest beyond the country, Russia offers several viable options.
Representatives of ten universities from eight Russian cities have arrived in India to participate in the annual Russian Education Fair 2013, being held in the metro cities of Delhi, Kolkata, Chennai and Mumbai.
These government universities are hoping to enrol 300-400 Indian students into a number of undergraduate and postgraduate programmes in medical, engineering, technical and humanities streams. Most of the courses are available in Russian as well as English medium, however in some cases, a one-year preparatory course in Russian language is required.
"I want to go to a foreign country to study and eventually stay there," says Chainika Sial, an Indian school student. "My friends come to exhibitions like this for the same reason." She says she hasn't made up her mind yet – she's still got more than a year to apply to universities, so she has time to make her choice. "The most attractive options for me are Russia, China and Germany," she says, adding: "the Chinese language is too difficult, and many Indian people are unwilling to spend their time on the language."
This exposition is a forum for universities to reach out to potential candidates and for students to interact directly with the counsellors. Students seek guidance for selecting the right course and college, as well as several clarifications about living in Russia. Their queries range from coping with a culture and climate which is very different from their own, to concerns about safety. The organizers of the fair are geared to answer all such doubts and also facilitate the admission procedure. "The counsellors can give a clear picture of what to expect. We also encourage the students to talk to alumni of Russian colleges. Our aim is to inform and help students through all formalities. We also provide visa counselling," says Elena Burman of RUS Education, which is working in collaboration with the Russian Centres for Science and Culture (RCSC) in India to promote Russian higher education.
There is a strong impetus from the Ministry of Education and Science of the Russian Federation to increase the country's share in the global education market. "Russia has aligned its higher education system with the Bologna Process, by converting to a two-tier system," Tatiyana Shipilova, head of the Institute of Russian Language, RCSC, points out. This is in step with the government's intent to modernize the curriculum and boost the export of its educational services.
Russian universities are offering a lucrative package of easy access to world-class instruction at subsidized rates. "The best part is that we don't have to prepare for another entrance test. They accept students on the basis of marks in class 12th," says Parthiv an attendee at the fair. "The total expenditure for a medical course from Russia, including course fees, accommodation, travel and medical insurances, is less than that of a private college in India. This is because you don't have to pay any capitation fee. It is also cheaper than elsewhere in the West due to the low cost of living in Russia," explains Shipilova. This is one of the main reasons that most Indian students going to Russia are enrolled into medical programmes.
"Tver State Medical Academy has been the most popular choice over the years," Burman says. Other medical academies participating in the fair are of Volgograd, Kazan, and Kursk. One of the leading educational and research centre, Moscow Power Engineering Institute, is offering courses in power, electrical, and radio engineering fields. The second ranked technical university of Russia, Tomsk Polytechnic is also here. Another incentive for opting for Tomsk is an opportunity to stay nearby the city's wooden architectural heritage. Vyatka State University and Moscow State University of Printing Arts are providing humanities programmes.
The Far Eastern Federal University has its new $2-billion campus to boast of besides excellent technical education. The academy is hoping that foreign students will choose to live in the extreme climate of Russky Island due to the state of the art infrastructure which was built here for the last year's APEC summit. Another participating institution from the Far East is the Pacific National University situated in Khabarovsk.
Almost all of these institutions have been training international students since the 90s. They have efficient student support systems. Through this exposition the Russian universities are hoping to draw fresh batches of Indian students.
All rights reserved by Rossiyskaya Gazeta.