Russia and India on same page in Central Asia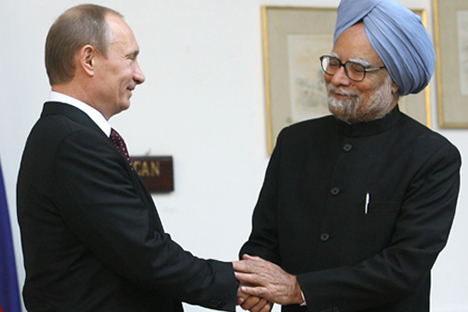 Moscow has not resented Indian moves in Central Asia which is in the immediate neighbourhood for Russia and an extended neighbourhood for India. Source: Press Photo
New Delhi is in harmony with Moscow on Ayni base in Tajikistan. Both countries agree on a bigger role for India in former resource-rich Soviet republics.
India is playing out its foreign policy in Central Asia in close coordination with Russia and this includes New Delhi's sole military base abroad: Ayni in Tajikistan.
A key Indian official, who is not authorised to speak to the media, told this writer on condition of anonymity that India's moves in Central Asia are made only after consulting the Russians.
New Delhi has emerged as one of the major players in Central Asia, though unlike Beijing, it has not pumped in billions of dollars into the region. India's total trade with Central Asia is a modest $800 million, compared to China's trade quantum of $29 billion with the region.
China, which has become Central Asia's largest trade partner, has actually alarmed governments of the five nations in the region -- Kazakhstan, Kyrgyzstan, Uzbekistan, Turkmenistan and Tajikistan. Officials of these countries have told their Indian interlocutors in private conversations that they are not happy with the way China has made rapid forays into the region and have asked India to step up its presence in all Central Asian Republics (CARs).
For their part, the Russians too have told India to enlarge its presence in Central Asia.
India, however, is making a slow but steady incremental progress in its engagement with the region as, unlike China, it does not have billions of dollars to pour into CARs.
Moscow has not resented Indian moves in the region which is in the immediate neighbourhood for Russia and an extended neighbourhood for India. This is evident from the fact that India is still maintaining its Ayni air base in Tajikistan, though there have been all kinds of negative reports about the base in the media.
The Indian official described such media reports as "fanciful pieces of fiction". Though the official declined to go into many details about the Ayni air base, he said India was in complete harmony both with Tajikistan and Russia on this.
Uranium and Hydrocarbons
A major reason for Central Asia's strategic significance is its considerable deposits of uranium. Though virtually all Central Asian Republics have known reserves of uranium, Kazakhstan is the only member of Nuclear Supplier's Group and India has already sealed a pact with the country for supply of uranium. Talks have also begun with Tajikistan for a similar deal, but negotiations are yet to begin with other countries in the region.
India is also getting its act together for tapping the huge hydrocarbons potential in Central Asia. In Kazakhstan, ONGC Videsh Limited (OVL) has acquired a 25 percent stake in the Satpayev block. Besides, a petrochemical complex and gas-based fertilizer plant is under consideration. In Uzbekistan, OVL and Gas Authority of India Limited (GAIL) are in talks for expanding their footprints.
All rights reserved by Rossiyskaya Gazeta.