Ramzan Kadyrov urges youth to stay away from Syrian conflict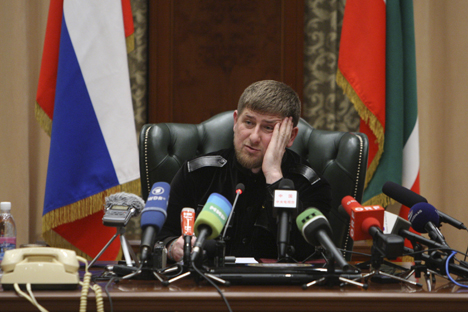 Kadyrov: "There is a campaign – well-planned by external forces - to topple (Assad's) regime, destroy the country, eliminate its military." Source: Reuters
The Chechen leader said he has ordered Chechen officials, clerics and public figures to "constantly educate the youth about the real nature of Syrian events, to prevent possible recruitment of young people for participation in the war."
Chechnya's Kremlin-backed leader has launched an education campaign to persuade local youth not to take part in the Syrian conflict, he said in an interview published in Russian media on Saturday.
Ramzan Kadyrov, a one-time separatist-turned Kremlin loyalist, told Russian media he has ordered Chechen officials, clerics and public figures to "constantly educate the youth about the real nature of Syrian events, to prevent possible recruitment of young people for participation in the war."
He said his government is also "educating" young Chechens about the role of "external forces" in Syria's civil war, which has already claimed more than 93,000 lives according to the latest UN figures.
Kadyrov said "five or six" Chechens have already been killed in the conflict, but did not elaborate.
He admitted several more Chechens remain among the predominantly Sunni insurgents fighting Assad's regime, which mostly consist of Alawites, a Shia sect which has dominated the religiously diverse Middle Eastern nation.
Kadyrov insisted that the Syrian war is not about jihad.
"There is no holy war in Syria," he said, according to a transcript of his interview published on his government's website. "There is a campaign – well-planned by external forces - to topple (Assad's) regime, destroy the country, eliminate its military."
His comments echo Russian President Vladimir Putin's stance on the conflict.
Moscow remains Assad's biggest political ally and continues to supply weapons to his military. Putin has repeatedly criticized the West for supporting the enemies of what he describes as Syria's "legitimate" government.
The pugnacious, bearded Kadyrov has plenty of experience in opposing Islamist militants in his own republic.
A teenage boxing enthusiast, he joined anti-Kremlin Chechen separatists in the mid-1990s along with his father Akhmad, a prominent cleric with one of the powerful Sufi brotherhoods that have traditionally held sway in Chechnya.
But after their clan fell out with other insurgents inspired by the radical Wahhabist ideology, the elder Kadyrov headed Chechnya's pro-Kremlin government in the early 2000s and was instrumental in largely putting down the rebel movement there. He was later killed in a bomb attack.
Human rights groups and critics have long accused Ramzan Kadyrov and his local forces of abductions, extrajudicial killings, torture and other grave human rights abuses. But the Kremlin has credited him with restoring peace in the war-ravaged province and returning tens of thousands of refugees to Chechnya.
First publsihed in RIA Novosti.
All rights reserved by Rossiyskaya Gazeta.