Reduction of arms in South Asia: A role for Russia?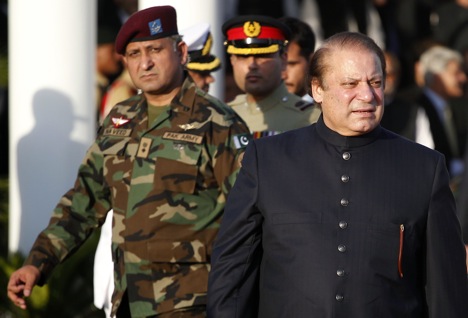 Nawaz Sharif wants India and Pakistan to follow the US-Russia model in arms reduction. Source: Reuters
The Strategic Arms Reduction Treaty between the US and Russia can serve as a model for India and Pakistan to reduce their arsenal. Moscow could also initiate the process of economic integration between the nuclear-armed rivals.
Pakistani Prime Minister Nawaz Sharif in a recent statement called for reduction in the defence budgets of India and Pakistan and diversion of funds for economic development. He referred to the model of arms reduction between Russia and the US which could be followed between the South Asian rivals. Pakistani news daily The News International on August 5 cited Sharif as saying that "Pakistan and India may also cut their defence budgets like the US and Russia to the collective betterment and prosperity of their people."
The Soviet Union, and later Russia, and the US, the two most powerful countries in the globe, during and after the Cold War took joint initiatives to reduce arms. Under the Strategic Arms Reduction Treaty (START), signed at the fag end of the Cold War in 1991 (though entered into force into 1994 and remained active till 2009), both countries reduced thousands of war heads including nuclear war heads from their defence forces as the world became de-ideologized and globalized with borders becoming more flexible.
The two countries have differences on a number of issues, including this particular issue of arms reduction, but the ground reality shows that the joint initiatives have worked. Under the New START, signed in 2010, both the countries have to cut their nuclear arsenals to 1,550 warheads by 2018, the lowest level since the 1950s. Nawaz Sharif's reference to Russia-US initiatives, hence, may not be considered a pure aphoristic value but guidance for the two South Asian neighbours with a past laden with wars and destruction. Sharif rightly made the case that "We (Pakistan and India) have been piling up weapons for the past 60 years; instead of spending so much on arms, we should focus on investing on social infrastructure for the benefit of our people."
Perhaps the India-Pakistan rivalry may not be equated with Russia-US rivalry in a straightjacket fashion, but there are semblances indeed. The Cold War had witnessed the two countries amassing massive weapons sufficient enough not only to annihilate both from the face of the globe, but also the whole globe multiple times. India and Pakistan do not have the wherewithal of the superpowers but nonetheless both are, like the former two, were/are guided by security dilemma. The security dilemma, a well known concept in international relations theory as an offshoot of realism, is mainly predicated on mistrust and feeling of insecurity one country shelters in relation to another country, which may be a neighbour or not.
India and Pakistan despite being developing countries with a huge percentage of the population living the below poverty line have spent significant chunks of GDP in defence. While in 2012 India spent 2.5 percent of its GDP (about $46 billion), Pakistan spent 2.7 percent of its GDP (about $6 billion) in defence.
Sharif's emphasis on economic cooperation with India, Afghanistan, and Central Asia assumes special significance in view of increasing Russian interest in the region. In May this year, Russian President Vladimir Putin declared the situation in Afghanistan as "matter of direct concern for our national security." While India-Russia equations are on an even keel, the recent Russian endeavours to move closer to Pakistan put it in a suitable position to play an economic anchor in South and Central Asia. Sharif during his talk emphasised on the regional connectivity and stated how Pakistan can play a key role in a regional framework of cooperation. He pointed out the recently announced Gwadar (Pakistan)-Kashgar (China) economic corridor, and how it can be prove beneficial for India, Afghanistan and Central Asia. The location of Pakistan between India and Afghanistan and Central Asia, and its leverage in Afghan politics make it a significant candidate in the regional matrix in which two major players India and Russia have stakes.
The coming closer of India, Russia and Pakistan will be beneficial for all the three countries. As Pakistan is grappling with terrorism and economic crisis, which Sharif acknowledged during his talk, and which he argued "need to be prioritised" as issues of urgent focus, India and Russia can support Pakistan and help it address the menace of terrorism in its soil, and revitalise its economy.
The past few months have witnessed high level visits between Russia and Pakistan, resulting in Russia's increasing involvement in the country particularly investment in heavy industry and energy. Under the project CASA-1000, Russia is interested to link energy supply in Kyrgyzstan and Tajikistan to Afghanistan and Pakistan to minimise the effects of an acute energy crisis. The prospective building of the rail and motor roads from Tajikistan to Pakistan under Russian auspices will increase trade and connectivity in the region, and help prospects of Eurasian integration.
Some of the grand projects like North-South corridor and pipe line projects like TAPI can take practical shape with the cooperation among the three countries. As Russia will soon assume the presidency of the Shanghai Cooperation Organization, it can take active steps to further integrate India and Pakistan with the body as permanent members, which will further cement ties between the three, and help solve regional problems including protracted problems between India and Pakistan.
Defence preparedness may be an essential ingredient of a modern nation-state. But the question of how much defence is true defence always remains unanswered as security dilemma is a major driving force behind the conduct of nations. Besides, in the globalised world when economic diplomacy reigns supreme with military might taking a secondary role, India, Russia and Pakistan can work in tandem not only for regional peace and stability, but also for economic development. As Eurasia is interconnected throughout, the process of economic integration is not a pipe dream but a practical possibility. Russia under Vladimir Putin can play a key role towards this Eurasian integration with India and Pakistan as two important stakeholders.
Dr. Debidatta Aurobinda Mahapatra is an Indian commentator. His areas of interests include conflict, terrorism, peace and development, Kashmir, South Asia, and strategic aspects of Eurasian politics.
All rights reserved by Rossiyskaya Gazeta.