Economic slowdown in BRICS temporary – Kanwal Sibal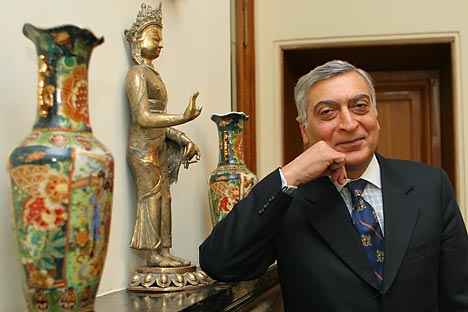 Kanwal Sibal. Source: Sergei Kuksin/Rossiyskaya gazeta
The former Indian foreign secretary believes the BRICS countries need to work together at the upcoming G20 summit in St Petersburg
Claims suggesting that the BRICS grouping (consisting of Brazil, Russia, India, China, and South Africa) is past its heyday are absolutely absurd and the economic slowdown in the grouping has a temporary character, former Indian Foreign
Secretary Kanwal Sibal said in an interview with Itar-Tass.
Sibal, who served as ambassador to Russia between 2004 and 2007, admitted that some of the BRICS nations had come to grapple with problems in their economies but said China continued demonstrating high rates of economic growth along with it and India was showing persistent 5 percent growth.
The other three countries - Brazil, Russia and South Africa - show convincing results along a range of other criteria and the economic growth slowdown has a passing character there.
Sibal recalled that BRICS is something greater than just an economic union if one adopts the standpoint of the member-states. The grouping is a political amalgamation and a forum, the format of which enables the five countries representing different continents to discuss international problems. The latter factor explains the importance of BRICS, Sibal said.
The former Indian foreign secretary believes that it is extremely important for BRICS at the moment to work together at the G20 summit that will be held in St Petersburg September 5 and 6.
The problems that are high on the summit's agenda include the reforming of the international financial system where a considerable overbalance exists in favour of the West exists at present, and counteraction to the militarist policies of the West implemented through military interference in the affairs of other countries, Sibal said.
He believes that multilateral cooperation in the areas where the five countries have traditionally strong positions should take on a priority character now. The case in hand is natural resources, agriculture, innovations, as well as progress in research and technologies in general.
First published by Itar-Tass (http://www.itar-tass.com/en/c32/853722.html)


All rights reserved by Rossiyskaya Gazeta.