Vladimir Putin calls for caution on Syria in NY Times op-ed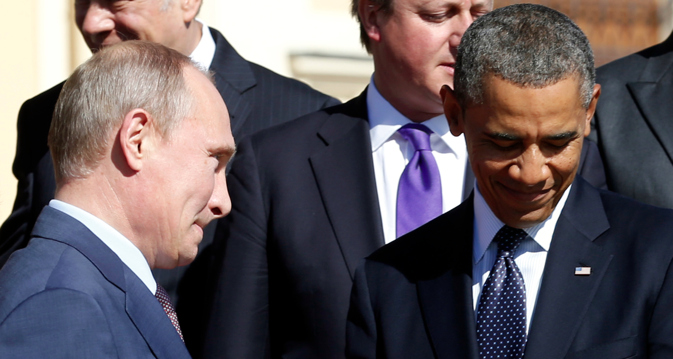 Vladimir Putin made an attempt to reach out to the American people. Source: Reuters
In an article titled "A Plea for Caution From Russia," the Russian president says a fresh strike against Syria could lead to more violence, terrorism and instability. He also says the UN should not be bypassed
Russian President Vladimir Putin, in an unusual move, reached out directly to the American people by writing an opinion article in the New York Times on Wednesday night.
In the article titled "A Plea for Caution From Russia," the Russian president warned against a potential strike by Washington on Syria, saying such a move could lead to a fresh wave terrorism and violence and even further destabilize the Middle East and Arab world. "Mercenaries from Arab countries fighting there, and hundreds of militants from Western countries and even Russia, are an issue of our deep concern," Putin said. "Might they not return to our countries with experience acquired in Syria? After all, after fighting in Libya, extremists moved on to Mali. This threatens us all."
Putin spoke about how his country and the United States were allies in the war that defeated Nazism. "Relations between us have passed through different stages," he wrote. "We stood against each other during the cold war. But we were also allies once, and defeated the Nazis together. The universal international organization — the United Nations — was then established to prevent such devastation from ever happening again." He maintained that no one should bypass the United Nations. "No one wants the United Nations to suffer the fate of the League of Nations, which collapsed because it lacked real leverage. This is possible if influential countries bypass the United Nations and take military action without Security Council authorization."
On the issue of chemical weapons being used in Syria, Putin said that there was no doubt that poison gas was used in the country. "But there is every reason to believe it was used not by the Syrian Army, but by opposition forces, to provoke intervention by their powerful foreign patrons, who would be siding with the fundamentalists," the Russian president wrote. He added that the world shouldn't ignore reports that militants are preparing an attack against Israel.
Taking a swipe at America, the Russian president mentioned the country's campaigns in Afghanistan, Iraq and Libya. "It is alarming that military intervention in internal conflicts in foreign countries has become commonplace for the United States," he said questioning whether this was in America's long-term interest and adding that he doubted it. "Millions around the world increasingly see America not as a model of democracy but as relying solely on brute force, cobbling coalitions together under the slogan 'you're either with us or against us.'"
This week Russia proposed that Syria could try to avoid an American attack by handing its chemical weapons over to international control. Something that Syria in principle agreed to and was met with interest from the US.
The Russian president also called out US exceptionalism, with reference to Barack Obama's speech made to the nation on Tuesday. "It is extremely dangerous to encourage people to see themselves as exceptional, whatever the motivation. There are big countries and small countries, rich and poor, those with long democratic traditions and those still finding their way to democracy. Their policies differ, too. We are all different, but when we ask for the Lord's blessings, we must not forget that God created us equal," Putin wrote.
All rights reserved by Rossiyskaya Gazeta.