Russian women unexpected victims of the war in Syria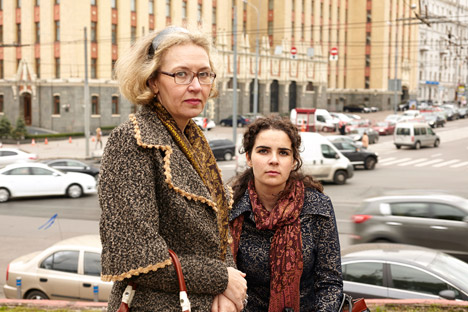 Nadezhda (L) and her daughter from Latakia. Source: Elena Pochetova
The Russian wives of Syrians told RIR reporters about their problems and experiences.
The civil war has had a disastrous impact on the lives of Russian women living in Syria. Everything has changed for them — their daily life, relationships and future plans. Some families have experienced the tragedies of death and separation.
Nadezhda (has two daughters and lives in Latakia):
"Syrians' attitudes toward me have not changed, but life has changed dramatically — the day begins and ends with a summary of the news. We are not focusing on life now, but on survival. At the same time, I realized that I used to love the country, but now I have fallen in love with the people, who are fighting back against the evil that is trying to drag them into the abyss. If the government falls, there will be no future in the short term for me, for my family, or for the Syrian people."
Larissa (has two children, lived on the coast, has been living in Russia now for a year):
"My relatives treat me the same as they always did. We always, by and large, have had a warm relationship. They even understood when I had to leave the country. My relationship with our neighbors hasn't changed either. The owner of the gym where I used to work out refused to take money from Russians, because Russia vetoed all anti-Syrian resolutions. At the cultural center where I taught Russian classes, the attitude toward me even improved. They became more respectful toward me."
"Different people have different opinions about what has happened, so I did not talk about politics with some friends. But I stopped driving by myself to the city — at least to the Sunni areas. If the regime falls, I think my family would have to leave Syria, at least for a while until things calm down. I pray that it will be possible to leave, because my husband and grown children are still there."
Yelena (has two sons, lives in Latakia):
"I guess I was lucky: The attitude of Syrians toward me has changed for the better because of the events in Syria. They have thanked me personally for the help Russia has given, and, in some stores, they have tried to give me free merchandise. They are such an emotional people... But, in one store in the Sunni area, when, I believe, Russia used its veto for the first time, a young salesman asked, 'Where are you from?' I said that I am from Russia. Then he looked at me, smiled and said: "Yes… You are not to blame...'"
"Everyone is always discussing what is going on in the country and, sometimes, even in raised voices, because stress, fear, pain and just a state of constant uncertainty is in the air, but we have learned to live with it."
"I am not a politician; I'm a woman and, first of all, a mother. And sometimes I'm scared. My youngest son is 5 years old. He may not have a future if the regime changes, because the war will drag on for years."
Nina Sergeeva (lived in Latakia, now lives in Russia):
"I was chairman of the Coordinating Council of Russian Compatriots, and I can say that, regardless of where Russian-speaking wives of Syrians live in Syria, the events of the last two years have been a great challenge for them. Normal life has been destroyed; they fear for their lives and the lives of their loved ones; and they worry about the fate of the country that has become their second home."
"The specific circumstances of individual women and the attitude of the Syrians toward them depend completely on the city and area of the city they live in, what position their husbands and his friends have taken in the conflict, and which side their grown children support. It always happens this way: You basically become responsible for the position taken by your country, and Russia has taken a firm position in the conflict that is not supported by all of Syrian society."
"Of course, it is dangerous if the neighbors that you have known for many years begin to treat you with hostility, but this can be solved by moving to another area of the city or the country. Of course, it hurts when your in-laws no longer recognize you as a relative, but you can leave. However, what if your husband or son starts to see you as a political opponent? Can a woman leave herself? I know stories of families where such conflict ended not only dramatically, but tragically: Husband have killed wives, sons have renounced their mothers. And, when you see this, it becomes clear that society is sliding into a bottomless abyss as it wages this civil war."
All rights reserved by Rossiyskaya Gazeta.