BRICS moving from an economic to a political agenda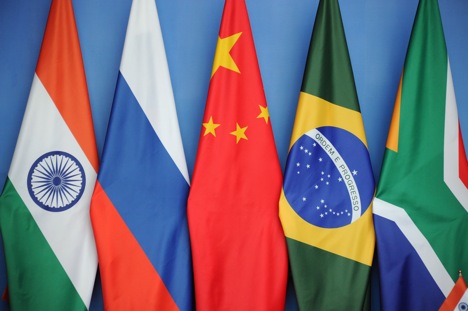 Military and political cooperation within BRICS is a distinct possibility. Source: Kommersant
The Syrian crisis has pushed the group's members towards a dialogue on military and political alignment.
Syria, a currency fund and a BRICS bank were on the agenda for Russia's National Committee for BRICS Studies meeting dedicated to the Committee's second anniversary and to presentation of a document titled 'Russia's Strategy within BRICS: Aims and Instruments.'
At the meeting, State Duma Deputy and Chairman of the Russkiy Mir Foundation Vyacheslav Nikonov said military and political cooperation within BRICS is a distinct possibility. He expressed confidence that, although the group was established to pursue economic development before anything else, the BRICS member nations could now expand the range of their discussions. "No military or political cooperation was envisaged before the Syrian situation but it cannot be ruled out now. The unified position of the BRICS and its partners has played an important role in the search for a peaceful settlement of the Syrian conflict," Nikonov said.
Russia's Ambassador-at-Large and Coordinator for BRICS Engagement Vadim Lukov agreed with Nikonov's views. He said international politics would be discussed at a BRICS Foreign Ministers' meeting on the margins of the UN General Assembly in New York in late September. "Naturally, the Syrian question will be discussed too," he said.
Ambassador Lukov added that the member countries would gradually realise that institutionalisation was needed and that standing structures would emerge. "The most important thing is not to create secretariats or committees before there is substance for them to deal with; they will later emerge on their own," he said. Preparations are under way to establish a virtual BRICS secretariat, as was decided in June 2013, Lukov said.
The member countries are working to establish a BRICS bank and a currency reserve pool. As far as the development bank is concerned, it has already been decided that funding from the new financial institution would be intended for new group members. The share of each member nation is yet to be determined, as is the location of its headquarters. The BRICS members are counting on raising $50 billion.
The meeting pointed out that creation of a $100 billion currency stabilisation fund would be an important driver for the group's consolidation. China is expected to contribute $41 billion, Russia, Brazil, and India $18 billion each, and South Africa $5 billion. The funds are reserved for bolstering national budgets and payment balances in an economic downturn.
It was noted at the recent G20 summit in St Petersburg that, in light of the progress achieved in the negotiations on both initiatives, the New Development Bank and the Contingent Reserve Arrangement, "the BRICS leaders expect tangible results by the time of the next summit," scheduled to take place in Brazil in 2014.
Vyacheslav Nikonov pointed out that the document entitled 'Russia's Strategy within BRICS: Aims and Instruments' contained works by more than twenty researchers and authors representing Russia's leading think tanks. The compilation presents a wide range of opinions, offers new ideas and proposes new approaches to resolving urgent BRICS issues.
All rights reserved by Rossiyskaya Gazeta.