Russia or EU? Former Soviet republics face hard decisions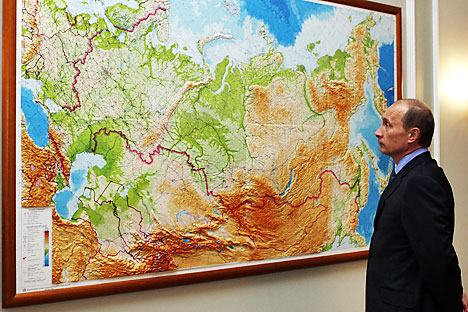 Russia which is the most powerful country in the post-Soviet space will not be interested to concede its turf to other powers in a framework of hostility. Source: Reuters
Countries such as Ukraine, Georgia, Moldova and Armenia have to decide between greater economic integration with the European Union and the Russia-led Eurasian Union.
The post-Soviet space has never been short of political activity and the countries particularly in Russia's south and west and Europe's east, have not found it not easy when it comes to choosing between alignment with Russia and the European Union. So, it is not difficult to discern an asymmetric pattern in the behaviour of these countries on matters of foreign policy. More so, even within these countries one can come across diverse positions in policy establishments whether to look towards east or the west for partnership. The recent debates about the forthcoming Eastern Partnership summit in Vilnius further corroborate these trends.
The asymmetric pattern is clearly visible among the two South Caucasian countries – Georgia and Armenia. The 2008 war with Russia witnessed the peak of Russia-Georgia rivalry with two regions from the Caucasian country, South Ossetia and Abkhazia, asserting independence. The recent months, however, have witnessed moderation in bilateral relations with both the countries agreeing on resuming trade. Georgia, which is geographically a smaller country, could not remain isolated for longer periods from Russia. Particularly after Bidzina Ivanishvili became Prime Minister of Georgia, the relations displayed signs of improvement. On the question of moving towards the European Union or the Eurasian Union, Ivanishvili in his interview to the EU Observer, to the chagrin of some of his political allies and opponents, stated that "I am keeping a close eye on it (the Eurasian Union) and we are studying it. At this stage we have no position at all. If in perspective we see that it is in our country's strategic interest, then, why not?" He further observed in another interview that trade relations and economic relations with Russia are very important for Georgia. He was criticized by President Saakashvili for breaking the 'main taboo' in Georgia by taking a moderate position towards joining the proposed Eurasian Union, which at present shape is called Customs Union and comprises of Russia, Belarus and Kazakhstan.
Armenia's decision earlier this month to join the Russian-led Eurasian Union proved a jolt to the forthcoming eastern partnership meeting. Unlike Georgia, Armenia has traditionally enjoyed friendly relations with Russia with the later being the main security guarantor of the former. Besides getting support from Russia in terms of its economic growth and security preparedness, Armenia entangled in territorial conflict with a neighbour- it was not a difficult choice. The initial prevarication as to whether to move towards the Eurasian Union or European Union was given up with Armenian President Serzh Sargsyan during his meeting with President Putin this month declared Armenia's intention to join Eurasian Union. A statement issued from Kremlin after the meeting read, "The presidents reaffirmed the focus of the Russian Federation and the Republic of Armenia on the further development of economic integration in the Eurasian territory." This declaration has caused worry in Brussels, and there is an apprehension that brining the post-Soviet countries to the orbit of the EU will not be an easy enterprise.
Among the post-Soviet countries taking part in the Vilnius meet, Ukraine has attracted more attention that the others, primarily owing to its geopolitical location and clout in the region. The relationship between Ukraine and Russia has almost akin to a roller coaster, depending on which political formation is in power in Kiev. While Ukraine is likely to sign an association agreement for political association and economic integration with European Union in Vilnius, its desire to move towards the bloc has not been without contestation. Such an agreement with Brussels would impact its friendship, cooperation and partnership agreement with Russia. Recently, it complained that Russia is pressuring it by imposing sanctions to change its course. The same complaint was made by Moldova, another follower of Ukraine's path that Russia has imposed sanctions on it and banned import of wine. The EU's Enlargement Commissioner Stefan Fuele added his voice to these complaints. From a Russian perspective, these sanctions might be justified as it serves Russia's interests. If these countries prefer to move away from Russia's sphere of influence, then Russia, like any major power, will take steps to retain its sphere of influence and sanctions are one of the means in that direction.
A brief analysis on the European Union and Eurasian Union will further put the above scenario in a proper perspective. Though both these unions can be abbreviated as EU, or can be terms as EU West and EU East, there are certain distinctions which can be clearly made between the two. The EU of the west is a relatively old experience, while the EU of the east is a nascent one. Though the European Union to some extent has imposed a modicum of integration among the members, the recent economic crisis with downward spiralling of economies of Greece, Portugal, Spain and Italy, and the wide differences between levels of economic development between Western Europe and Eastern Europe have impacted the prospects of the European Union as a dynamic economic model. The Eurasian Union, recently popularised and pursued by Russian President Vladimir Putin, though perceived as a nascent idea has actually a much older origin. The idea, if one goes further deep, has roots in rich history of the Eurasia and it is more a synthetic and pluralistic idea comprising not a particular religion or culture but synthesis of many religions, cultures and traditions.
The question is whether both the unions can coexist. The answer can be both yes and no. When these organisations are perceived as mutually exclusive and hostile, then problems occur. The recent trends are not very propitious in this regard. The Baltic States which joined the European Union have perhaps displayed more distance from Russia than the other members of the union. Power struggle, energy politics and conflicts have much impacted this issue. Russia which is the most powerful country in the post-Soviet space will not be interested to concede its turf to other powers in a framework of hostility. But at the same time, Russia has to play more diplomacy to remove apprehensions from these countries. Putin's visit to Baku last month was a step in that direction. Russia with its economic clout, connections and diplomacy can play a dynamic role in the Eurasian space.
Dr. Debidatta Aurobinda Mahapatra is an Indian commentator. His areas of interests include conflict, terrorism, peace and development, South Asia, and strategic aspects of Eurasian politics.
All rights reserved by Rossiyskaya Gazeta.