Global economic growth "likely to be slower"- APEC leaders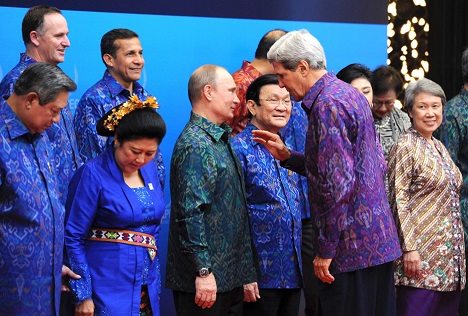 Russian President Vladimir Putin, center, and U.S. Secretary of State John Kerry, foreground, right, during an official photo session by heads of states and governments of the countries of the APEC CEO Summit 2013 held in Bali. Source: Michael Klimentyev / RIA Novosti
With economies of most countries still suffering from the worst recession since the Great Depression of the 1930s, Asia-Pacific leaders don't see a speedy global economic recovery.
"Global growth is too weak, risks remain tilted to the downside, global trade is weakening and the economic outlook suggests growth is likely to be slower and less balanced than desired," the 21 members of the Asia Pacific Economic Cooperation (APEC) said in a joined statement.
On top of that, the group which includes Japan, China, Russia, the United States and Australia, said they need to be "prudent and responsible" to "ensure mutually reinforcing effect of growth and to maintain economic and financial stability in the region, and prevent negative spillover effect."
The joint statement comes just a day after the World Bank cut its economic forecast for China and most of developing East Asia. The latter is projected to expand 7.1 percent in 2013 and 7.2 percent in 2014, down from April predictions of 7.8 percent and 7.6 percent respectively. The forecast for China was lowered to 7.5 percent in 2013, below the April forecast of 8.3 percent.
Until recently the region used to be a driving force for global development, but the latest figures show growth rates have either slowed down or stagnated, Russian President Vladimir Putin told the Bali summit. While the sharpest stage of the crisis might be over no speedy recovery in the global economy should be expected, Putin added.
"Outlook for developing countries' growth has been lowered. We believe this has basically been caused by piled-up global imbalances," the Russian president said.
To tackle the imbalance, global economies need to revise their long-term models for economic development and focus on growth in manufacturing, better quality of jobs and structural reforms, Putin added.
The latest drag on the global economy emerged when the US partially shut down its government after failing to agree the spending bill for the next fiscal year. As the issue remains unresolved the clock is ticking for the world's biggest economy to come to terms with its record debt ceiling, now fixed at $16.7 trillion.
APEC member states said they were hopeful the US would resolve the problem. "…if the fever hits the US economy, this will have an impact on us," Vladimir Putin said on Tuesday.
First published in RT.com.
All rights reserved by Rossiyskaya Gazeta.