Vladimir Putin most powerful man on earth according to new Forbes list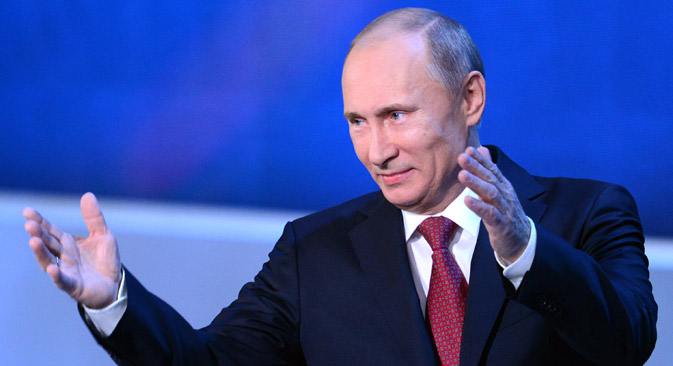 Putin is "the ex-KGB strongman - who controls a nuclear-tipped army, a permanent seat on the UN Security Council and some of the world's largest oil and gas reserves", Forbes said on its website. Source: AFP / East News
Barack Obama dethroned from the top of the list that features Sonia Gandhi, Manmohan Singh, Dmitry Medvedev and Igor Sechin.
Russian President Vladimir Putin has been rated as the most powerful person in the world, according to the latest Forbes List of Most Powerful People. Putin dethrones US President Barack Obama, who topped the list last year.
"Putin has solidified his control over Russia and anyone watching the chess match over Syria has a clear idea of the shift in the power towards Putin on the global stage," the magazine said on its website. "The ex-KGB strongman - who controls a nuclear-tipped army, a permanent seat on the UN Security Council and some of the world's largest oil and gas reserves - is allowed to serve another six-year term, which could keep him in office until 2024."
Obama is second on the list, followed by Xi Jingping, General Secretary of the Communist Party of China, Pope Francis and Angela Merkel. Others in the top ten include Microsoft-founder Bill Gates, Chairman of the US Federal Reserve Ben Bernanke and Saudi Arabian monarch Abdullah.
The highest ranked Indian on the list was Congress party president Sonia Gandhi, who at 21 was ranked 7 places higher than Prime Minister Manmohan Singh. Gandhi fell 9 places from last year on the list from 2012. "Rumors persist of a rift between her and soft-spoken Prime Minister Manmohan Singh, with many expecting Singh to leave office before the 2014 general elections," the magazine said. "Son Rahul, heir apparent in the nation's most famous political dynasty, recently snubbed Singh publicly," it added referring to Rahul Gandhi's objection to an ordinance that would have allowed convicted lawmakers to stay in parliament.
Manmohan Singh fell 9 places to 28 on the list. "Singh's quiet intellectualism renders him a timid public figure," Forbes said.
Other Russians featured on the list include Prime Minister Dmitry Medvedev at number 53 (who fell 5 places from last year), Rosneft Chief Executive Igor Sechin at 60 and Alisher Usamanov, founder of Mettaloinvest at 63.
The magazine said Medvedev "is now seen as increasingly isolated from Putin's inner circle." On Sechin, Forbes said, "Just like that, Sechin stepped out of the shadows (he's been called Putin's Shadow) and created one of the world's largest publicly traded oil companies by output. Of course Rosneft's major stockholder is the Kremlin."
All rights reserved by Rossiyskaya Gazeta.