Vietnam, Customs Union close in on free trade agreement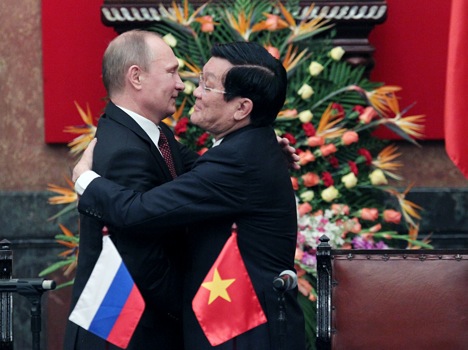 Russian President Vladimir Putin (L) and Vietnamese President Truong Tan Sang during Russian President's one-day official visit to Vietnam on November 12, 2013. Source: Konstantin Zavrazhin/RG
The Southeast Asian country is to join a free trade zone with the Customs Union of Russia, Belarus and Kazakhstan. Hanoi looks at greater engagement with Moscow as a counterweight to Beijing.
At the moment, Russia is 19th largest investor in Vietnam, with 92 Russian investment projects registered in that country, worth a total of $1.9 billion.
Vietnam's entry into the free trade zone will enable Russia to triple its trade with that country by 2020, to reach $10 billion. Last year, according to Russian estimates, bilateral trade amounted to $3.6 billion. According to the Vietnamese government however, it did not exceed $2.4 billion. Vietnam's trade with China stood at $13 billion.
A free trade zone envisages a cancellation of customs duties and of quantity caps on the turnover of goods and services. At the same time countries belonging to a free trade zone retain their customs borders and can take independent decisions on their trade regimes with third countries.
The exact date when Vietnam will join the free trade zone has not been announced, but the year 2014 has been named. Further integration will proceed along three main strands: peaceful nuclear energy; oil and gas production and military-technical cooperation.
Rosatom is already building Vietnam's first nuclear power plant, in the province of Ninh Thuan. The agreement on its construction was signed back in 2010. Interestingly, the tender for the project featured companies from China, the United States, Japan and Russia. But the contract went to Rosatom. The first two power units in Ninh Thuan are expected to be launched in 2023–2024. Russia has granted Vietnam an $8 billion loan to finance the construction of the nuclear plant. Rosatom head Sergei Kiriyenko has promised to build "the safest and most modern nuclear power plant" in Vietnam.
In April 2012, Gazprom signed a production sharing agreement with Vietnam's state company Petrovietnam, under which, the Russian gas giant gets 49 percent in an offshore gas project in South China Sea. Offshore oil production on the Vietnamese continental shelf is being carried out by the Zarubezhneft company, which emerged on the basis of joint Soviet and Vietnamese projects.
"There is no business need for Russia to develop Vietnamese reserves since Gazprom has reserves of its own that will last for more than 30 years," says USB analyst Konstantin Cherepanov. While Aleksei Kokin, from Uralsib bank, believes that Gazprom needs Vietnamese gas in order to strengthen its positions on the LNG market. "At the moment Gazprom accounts for some 2 percent of the world's LNG market. It wants to boost its presence and have one's own reserves in the Asia-Pacific region, which in future will be supplied to the region's market," Kokin points out. He believes Gazprom may build an LNG plant in Vietnam.
Russian submarines and a counter-balance to China
In addition, Russia and Vietnam have signed a certificate of transfer to Vietnam of the first of six diesel-electric submarines of the Varshavanka Project 636 series. The submarine will come into service with the Vietnamese Navy. The contract is estimated at about $2 billion. In 2016 and 2017 Russia will supply to Vietnam two new Gepard-3.9 patrol ships. Earlier Vietnam has already purchased two Gepard patrol ships for its navy.
The submarine will be delivered to the Vietnamese port of Cam Ranh in late December. In addition, a submarine maintenance and repair base will be set up there. "In effect, we are talking about the Russian fleet's return to Cam Ranh after a 10-year interval," says head of the Department of Far Eastern History at St Petersburg State University Vladimir Kolotov.
Experts link the contract for six submarines and Russia's military comeback to Cam Ranh to China's territorial claims on some of the islands in the Spratly archipelago and the Paracel islands in the South China Sea. In the early 1990s the coral islands of Spratly and Paracel were found to contain oil and gas. Since then, they have been an object of a territorial dispute between Vietnam, China, the Philippines, Taiwan, Malaysia, Brunei, Singapore, Indonesia. Some of these countries have mounted their national flags on the disputed islands. Yet the most acute territorial conflict has been developing between Vietnam and China. It has more than once escalated to armed clashes.
Vietnam desperately needs Russia as a counterbalance to China, says a senior research associate with the Russian Institute of Strategic Studies, Ilya Usov. For its part, having a base in Cam Ranh, Russia will be able to monitor the situation in strategically significant areas of Southeast Asia, in particular in the South China Sea. "The contract to sell submarines to Vietnam is a protection for Russian and Vietnamese investment," Kolotov points out. The submarine deal will partly redress the balance of powers in Southeast Asia. "Russia, like China, does not want a destabilization in the region, whereas a military build-up could have a sobering effect on some hotheads in Beijing," says Kolotov.
Vietnam's decision to join a free trade zone with the Customs Union has more to do with geopolitical games, says Usov. "Trade between Russia and Vietnam is very small, so a union like that will do no harm, but it may bring some moral dividends. Russia is showing to the whole world that it is at the forefront of a global trend, that it is strengthening economic integration," he explains. Russia will gain a further distribution market for its goods in Vietnam and via Vietnam will enter a free trade zone of 10 more countries, ASEAN members and China, which means 2 billion more consumers, Kolotov adds.
Read the unabridged original in Russian.
All rights reserved by Rossiyskaya Gazeta.