Six killed as crude bomb explodes near Kudankulam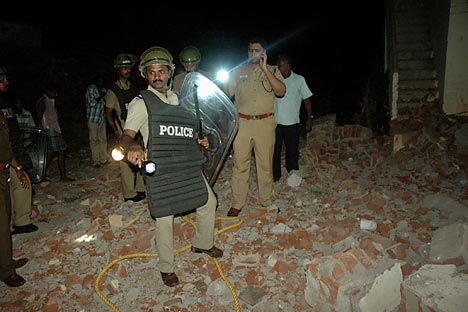 Indian policemen inspect the blast site after a crude bomb went off near the Kudankulam Nuclear Power Plant in Idinthakarai coastal village. Source: AP
Authorities at Indian's Department of Atomic Energy say the Kudankulam Nuclear Power Plant, 5 km from the blast site, was unaffected by the explosions.
Six people, including three children, were killed when a country bomb exploded in a house in a Tamil Nadu village near Kudankulam, the local police said on Tuesday night. The blast took place in a colony built for survivors of the 2004 Tsunami in the village of Idinthakarai, which has been the hotbed of protests against the Kudankulam Nuclear Power Project (KNPP).
It is still unclear as to whether the so-called People's Movement Against Nuclear Energy (PMANE), an organisation backed by local church groups and foreign NGOs and opposing the KNPP had anything to do with the blast. The local police on Wednesday filed a case against PMANE leader S P Udaykumar and in connection with the explosion. A PMANE activist told RIR that the bomb may have been an attempt to discredit the movement.
There is another version doing the rounds of the Indian media. Several Tamil media outlets said the bombs were allegedly stocked by villagers following a communal clash. More than three houses were destroyed as a result of the blast and three girls were among the dead.
The Times of India reported all villagers fled the colony as soon as police personnel arrived as they feared arrest.
KNPP safe
"The plant is running fine and is safe," an official from India's Department of Energy told PTI. Sources close to the KNPP told RIR that there is an air of suspicion towards the protestors. Employees of the plant have from time to time received anonymous threats. The PMANE had also threatened to lay siege to the plant.
"This is only an attempt by the police to frame us and arrest us under terrorism laws," a PMANE activist told RIR when asked about the case being filed against the movement's leader. He added that the group's agitation had been completely peaceful and it would be "insane to attack a nuclear power plant with a bomb."
The construction of the first two units of the KNPP was halted in September 2011 over protests from PMANE, which demanded the scrapping of the Indo-Russian project citing the Fukushima nuclear disaster in Japan. Protesters had blocked all roads to the plant and would not allow the workers to enter. The work resumed in March 2012. The protestors also unsuccessfully approached the Indian judiciary to stop the project.
All rights reserved by Rossiyskaya Gazeta.