BRICS 2014 summit likely to be held in July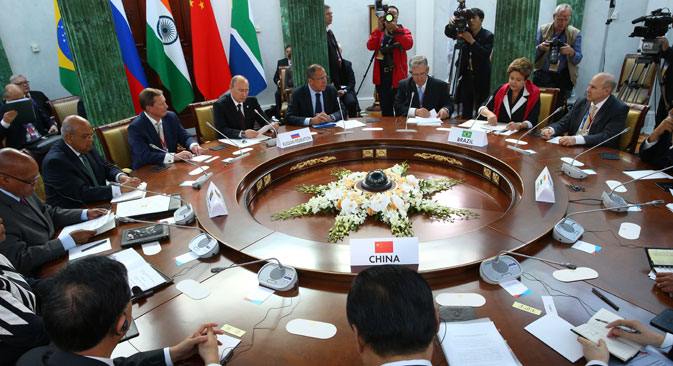 BRICS is likely to continue efforts to reform the international financial system where a considerable overbalance exists in favour of the West. Source: Itar-Tass
The summit in Brazil was expected to be held in March, but has been shifted on China's request. Brazilian authorities don't want the summit dates to clash with the 2014 FIFA World Cup.
The BRICS summit involving Brazil, Russia, India, China and South Africa is likely to take place in Fortaleza, Brazil, in July, the Brazilian Foreign Ministry told Itar-Tass on Saturday.
The exact date of the summit has not been specified yet, the ministry said, adding that all BRICS members should coordinate the date.
Initially the BRICS summit was expected to be held in March or April, according to senior officials. Folha de S.Paulo, a Brazilian newspaper said the date was being changed at China's request. The summit may be held in Fortaleza on July 15, the newspaper said, adding that Brazil does not want the dates of the 2014 FIFA World Cup and the BRICS summit to clash. With BRICS summits, the host party has the right to determine the date of the summit. Brazil is coordinating the date and the venue of the summit through diplomatic channels.
2014 agenda
The grouping is likely to continue efforts to reform the international financial system where a considerable overbalance exists in favour of the West.
At their meeting in Durban in March 2013, the five countries' leaders announced that a "New Development Bank" will focus on infrastructure investment in developing countries, which, they said, was constrained by "insufficient long-term financing and foreign direct investment." They pledged to make an initial capital contribution to the bank that would be "substantial and sufficient for the bank to be effective in financing infrastructure." A second initiative announced in Durban was the creation of a $100 billion contingent reserve facility to deal with "short-term liquidity pressures."
The grouping is also looking to move beyond economic cooperation. At a conference held by Russia's National Committee for BRICS Studies in September 2013, State Duma Deputy and Chairman of the Russkiy Mir Foundation Vyacheslav Nikonov said military and political cooperation within BRICS is a distinct possibility. He expressed confidence that, although the group was established to pursue economic development before anything else, the BRICS member nations could now expand the range of their discussions.
All rights reserved by Rossiyskaya Gazeta.