RIC supports peaceful resolution of conflicts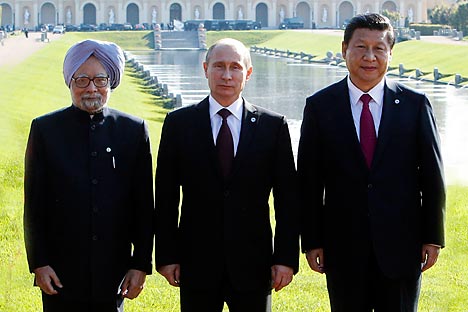 The RIC would prefer economic diplomacy as a route to conflict resolution than the diplomacy of sabre-rattling or war mongering. Source: Reuters
Despite differences, Russia, China and India have often reiterated their preference for dialogue when it comes to tackling of global conflicts instead of resorting to war.
The recent past has witnessed a proliferation of international conflicts. Though many of these conflicts are basically intra-state, or started as intra-state, their implications spread out beyond the geographic boundary of those states. Take the example of two most raging conflicts in Asia – Afghanistan and Syria – they have consumed not only significant diplomatic energy but, more tragically, human lives and their scope of survival. Groups of major powers particularly the RIC countries (Russia, India and China) are increasingly crafting common approaches to address them.
Russia, which has insisted that dialogue is the only way out of the Syrian quagmire, made a diplomatic blitzkrieg by persuading the Syrian regime to dismantle chemical weapons. Though the successful move displeased many countries looking for a war-based solution, it certainly did halt war and opened up prospects for a dialogue-based solution. China has been maintaining a similar position on Syria. Chinese foreign ministry spokesperson, Hua Chunying, recently said that the country's policy called for enhancement of "communication and coordination with all parties" for dismantling of chemical weapons. She pointed out how the third consignment of chemical weapons was transported out of Syria on February 10.
India too has been opposing any war or war-based solution to the Syrian crisis, and its leadership has repeatedly emphasized on dialogue and deliberation to resolve the crisis. The dialogues that are currently taking place in Geneva could not have been possible had the war taken place last year.
Russia, India and China, the three large countries in the Eurasian space are multiethnic and pluralistic. Despite differences, they have often reiterated their preference for peaceful resolution of conflicts instead of resorting to war. Wars are mechanisms of the past, they would argue. The 17th meeting of Indian and Chinese national security advisors this week in New Delhi to resolve border differences corroborates this philosophy that howsoever powerful nations they are, a war (like 1962 war between the two neighbours) cannot be a pragmatic approach to dispute resolution. This was further reiterated by the Chinese spokesperson, who argued, "With the past 16 rounds making positive progress, we have every confidence to believe and expect that this round of meeting will achieve positive results…" The increasing cooperative relationship between India and China and between India and Russia (what Russian Ambassador to India Alexander Kadakin described on the eve of the Diplomats Day as a "peak") further increases their collaboration to address international conflicts, whether at bilateral and multilateral levels.
The desire for peaceful resolution of conflicts is also reinforced by the three countries' desire to counter the forces of extremism and terrorism, which all three suffer from. And they will not support any such forces such as Al Qaeda and motley extremist groups in Syria to resolve the conflict through religion-based violence. This issue was raised during the recent Geneva dialogues. Now, this is common knowledge that many of these terrorists imbued with religious zeal are not Syrians – they are from countries from near and far. Russia, India and China all have opposed these forces, and will prefer their neutralization for smooth transformation of conflict in Syria. Similarly, all the three countries came together to condemn the radical forces in Bangladesh such as Jamaat-e-Islami which has recently caused much havoc in the country and neighbourhood.
RIC as a group has preferred resolution of conflicts through regional and multilateral cooperation rather than through unilateral or bilateral intervention. Afghanistan is an apt example in this context. In an interview early this month, Afghan Ambassador to India, Mohammad Abdali welcomed "India's recent dialogues with China and Russia on post-2014 Afghanistan." It needs mention that last month the RIC countries met in New Delhi to develop a common framework to address insecurity and to foster stability in the war torn country. Afghanistan is an ideal case in which conflicts have erupted since centuries but none of the policies of war and external imposition have worked. With the US's grip on the Afghan leader Hamid Karzai loosening, and with peace talks with Taliban faltering, RIC is perhaps in a better position (to quote Masood's words) to "ensure regional ownership and leadership for a secure Afghanistan".
As a corollary to their peace-oriented policies, the RIC would prefer economic diplomacy as a route to conflict resolution than the diplomacy of sabre-rattling or war mongering. As the nations are increasingly getting connected with erstwhile borders getting soft, or irrelevant, the RIC countries, also as members of BRICS and G20, have argued for reform of international economic bodies and for increasing trade connections. The recent India-China talks to build Bangladesh-China-India-Myanmar Economic Corridor, or the rising India-Russia economic cooperation in diverse areas, are the ways that needed to be replicated in other conflict regions. But for that a base for peace is needed in which multilateral dialogue is the key. With their rising power, the RIC countries not only pose alternative ideas and frameworks for global peace and security, but have the capabilities to give those ideas concrete shape. Their rising prowess is visible in conflict resolution processes in Syria and Iran, and will likely have more visibility in future.
Dr. Debidatta Aurobinda Mahapatra is an Indian commentator. His areas of interests include conflict, terrorism, peace and development, South Asia, and strategic aspects of Eurasian politics.
All rights reserved by Rossiyskaya Gazeta.