Russian military drills "unrelated to events in Ukraine"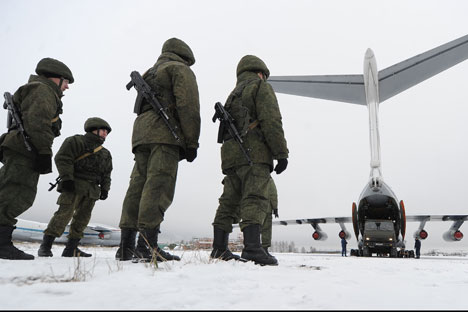 Over 150,000 personnel are taking part in the drills. Source: ITAR-TASS
The surprise combat inspection of the country's western and central military command will involve all wings of the Russian armed forces with over 150,000 personnel taking part. Although not connected to the drills, the developments in Crimea are being closely monitored by the Russian Defence Ministry
On February 26 President Vladimir Putin ordered a surprise comprehensive inspection of the combat readiness of the Russian armed forces in the Western and Central military districts. Apart from the forces stationed in these two districts, troops of the Aerospace Defense service, the Airborne Troops, and the Long-Range and Transport Aviation were put on combat alert.
According to Defense Minister Sergey Shoygu, more than 150,000 personnel are involved in the drills, as well as more than 90 planes and 120 helicopters, up to 880 tanks, 1,200 units of other military hardware, and up to 80 warships. He said that all the tanks will be firing live rounds, aircraft will fly out on combat missions, and there will be a mass landing of airborne assault troops from helicopters.
The MoD says the main objective of the drills is to test the Russian armed forces' combat readiness. "Over the previous year we improved such indicators as the state of repair of the MoD's military hardware, and the numerical strength of military units was brought closer to its nominal levels," Shoygu said. "We now want to test their coordination. The scenario will include coordination between the various armed services across several combat theaters. All the tanks will fire, and all the aircraft will perform combat missions. There will be a mass landing of airborne assault troops from helicopters at one of the firing ranges."
Shoygu emphasized that the sudden drills are not linked in any way to the political crisis in Ukraine. "Regardless of events in other parts of the world, we need to think every hour of every day about the Russian armed forces' combat readiness," said Deputy Defense Minister Anatoliy Antonov. He added that the drills had been planned a long time ago, and he saw no need to change the timing.
At the same time, the Russian MoD is watching closely the developments in Crimea, where the Russian Black Sea Fleet is stationed. "We are taking steps to ensure the security of the Black Sea Fleet's facilities, infrastructure, and weapons depots," Antonov said. He explained that the drills will be taking place in the vicinity of Russia's borders with other countries, including Ukraine. He said that if such drills were to be held near the border with Finland, that would hardly have caused any suspicions or speculation in the media.
The drills will be held in two stages from February 26 to March 3. The troops taking part will return to their bases by March 7.
All rights reserved by Rossiyskaya Gazeta.