Sujatha Singh calls for wider Indian security cooperation with SCO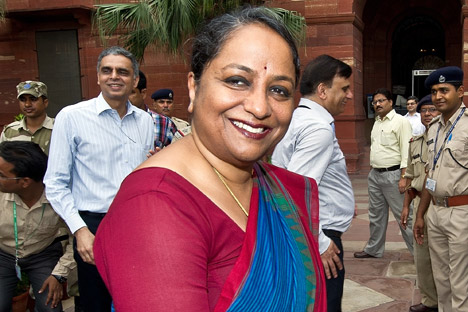 Foreign Secretary Sujatha Singh. Source: AFP
The Indian Foreign Secretary held wide-ranging talks with Shanghai Cooperation Organisation Secretary-General Dmitry Mezentsev in New Delhi
India would like a "larger and wider" role in the Shanghai Cooperation Organisation (SCO), Foreign Secretary Sujatha Singh when told the organisation's Secretary-General Dmitry Mezentsev, the Economic Times reported on its website.
The agenda of the talks covered regional matters of common relevance such as tackling counter-terrorism and narco-trafficking in the region, in the context of the evolving situation in Afghanistan, the paper said.
Singh said India was readiness to play a "larger, wider and more constructive" role in SCO, according to the report. Mezentsev and Singh also deliberated on various dimensions of India's current and prospective association with the organisation, according to the paper.
India has been an observer with the SCO since 2005. Last year, Russian Foreign Minister said that Moscow supported New Delhi's bid to become a member of the grouping. China, which was an obstacle to India joining the SCO, has also accepted India's bid and proposed Pakistan to be a member of the grouping as well.
An obstacle to full membership for India and Pakistan was that under the charter, member states should not have unresolved conflicts among themselves, and Pakistan and India been unable to resolve the Kashmir issue for decades.
Established as Shanghai five in 1996, and then transformed into SCO with addition of Uzbekistan in 2001, the organization had initially been mooted as a major anchor of security in volatile Central Asian region. The SCO comprises Russia, China, Kazakhstan, Kyrgyzstan, Tajikistan and Uzbekistan. The organization consolidates efforts to counter terrorism and radicalization among member countries, and also works on other policy areas such as politics and trade.
Besides India and Pakistan, Afghanistan, Iran and Mongolia have observer status, while Belarus, Sri Lanka and Turkey are classed as dialogue partners.
Since the situation in Afghanistan is likely to be volatile in coming years following the pullout of the International Security Assistance Force, the organization is also seen as a major player in providing security and stability in the greater neighbourhood.
All rights reserved by Rossiyskaya Gazeta.