Russia faces a cold shoulder from the West over Crimea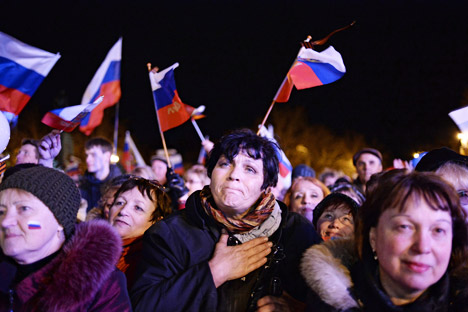 Formally, no country will support Crimea joining Russia. Source: Valeriy Melnikov / RIA Novosti
G7 countries intend to meet without Russia and their leaders promise a tough reaction if Crimea joins the country. How realistic is the threat of isolation?
It's done. The West's hope that the voting in Crimea was a tactical move, upping the ante, has evaporated. Now threats have to be carried out. But there is no experience of effective sanctions against a nuclear superpower that occupies a large part of Eurasia, retains influence all over the world and has an enormous wealth of resources.
Can Russia face isolation of the sort that it has been threatened with? A complete isolation is of course impossible. First, it is impossible to ignore such a huge and significant country. Second, even if the West introduces the toughest possible sanctions, to its own detriment, that would not signify a global blockade. An enormous share of the world's population – in Asia, in the Middle East, in Latin America – are with bated breath watching somebody, for the first time since the 1980s, to throw a challenge to U.S. dominance.
Formally, no country will support Crimea joining Russia. No matter how China, Brazil or even Iran may feel about Ukraine, nobody needs a precedent of annexing part of the territory of a UN-recognized state. But the fact that Russia can start to play a truly independent role on the world arena, indifferent to the reaction from the West, is of interest to many. That could change the global balance of power. Beijing, for instance, now has considerable prospects open to it.
An anti-Russian mobilization is possible, all the more so since the West - for the first time in the last 25 years - is facing a point-blank refusal to adhere to the rules of the game that were established after the Cold War. The sanctions will be aimed to undermine the Russian economy, and there can be many options there. But a different scenario is possible too. The initial reaction will of course be strong. But if Russia in earnest starts to shift its focus to the East, then realistically-minded strategists will start to look at things from a different angle. What is more important: control over Ukraine, which is not exactly at the top of U.S. priorities, or preventing a Russian-Chinese alliance, which would present a serious threat for U.S. positions? And then it may suddenly turn out that a free Ukraine is not such an absolute value for the West after all.
Fyodor Lukyanov is Chairman of the Council for Foreign and Defence Policies and Editor in Chief of the journal Russia in Global Affairs
First published in Russian by Kommersant.
All rights reserved by Rossiyskaya Gazeta.