India calls for restraint in Ukraine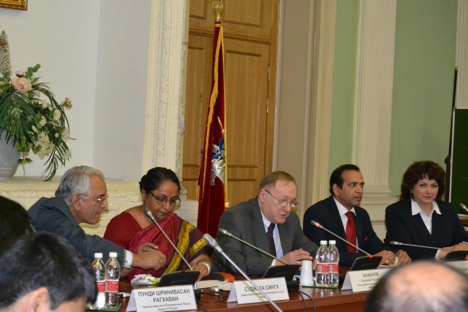 At the consultations Sujatha Singh had detailed discussions on a variety of matters of bilateral and international interest. Source: Embassy of India in Moscow
Foreign Secretary calls for all sides to exercise restraint and work together constructively to find political and diplomatic solutions in Ukraine.
India's Foreign Secretary who is in Moscow for annual Foreign Office Consultations called for restraint in Ukraine and for finding a political and diplomatic solution to the crisis in the country.
"The Foreign Secretary reiterated India's position calling on all sides to exercise restraint and work together constructively to find political and diplomatic solutions that would safeguard the legitimate interests of all sections of Ukraine's population, of all countries in the region and of long term peace and stability in Europe and beyond," the Indian Embassy in Moscow said in a statement. "The two sides expressed the hope that the talks involving Russia, Ukraine, US & EU in Geneva on 17 April 2014, would make a positive contribution in this direction," the embassy statement added.
At the consultations held with Vladimir Titov, Russia's First Deputy Foreign Minister and Igor Morgulov, Russian Deputy Foreign Minister, Singh had detailed discussions on a variety of matters of bilateral and international interest. " Both sides discussed implementation of decisions reached at the last summit held in Moscow in October last year, preparations for the bilateral annual summit to be held in India later this year, preparations for the next BRICS Summit in Brazil and also the calendar of important high-level visits and consultations this year," the Indian embassy statement read. The sides also discussed other bilateral issues ranging from cooperation in trade and investment, civil nuclear energy, hydrocarbons, defence, space, tourism exchanges and intensified cultural cooperation.
"Discussions on international issues covered India's and Russia's neighbourhood as well as other major international developments relating to Iran, Afghanistan, the Korean Peninsula, Syria and on multilateral issues like UNSC reforms, BRICS, RIC, SCO and Asia-Pacific Security," the Indian embassy said.
Sujatha Singh arrived in Moscow after holding similar talks in Beijing. In both capitals, she emphasised India's position that a new government in Delhi would continue to cooperate and work with China and Russia in bilateral and multilateral levels.
All rights reserved by Rossiyskaya Gazeta.