Russia, India fill U.S.-sized void in Afghanistan's security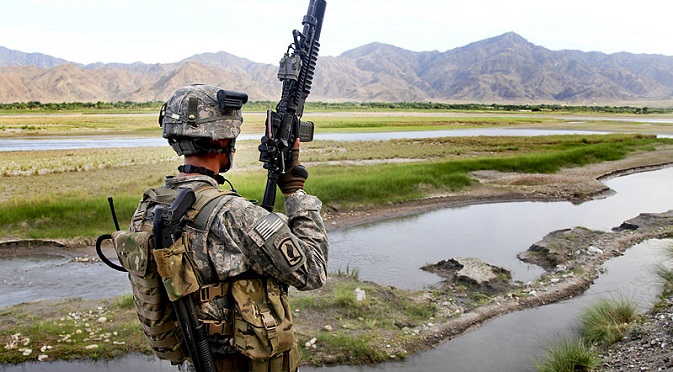 The NATO and the United States forces paved the ground for peace and stability in Afghanistan. Source: flickr.com
Afghan and Indian officials have endorsed the trilateral collaboration of New Delhi, Kabul and Moscow.
As U.S. and NATO troops prepare to pull out of Afghanistan at the end of the year, Russia and India are stepping up their roles in the security and economy of the troubled Central Asian nation.
To facilitate that, India is closely collaborating with Russia to supply light and heavy artillery to the Afghan National Army (ANA). Afghan and Indian officials have endorsed the trilateral collaboration of New Delhi, Kabul and Moscow.
Sayed Sarchashmah, a former Defence and Security consultant for the Embassy of Afghanistan in Washington, told the Voice of Russia's Molly Seder that this move by India should not come as a surprise to the international community and that "to maintain status quo and move forward, Afghanistan should take advantage of these strategic partnerships agreements signed with dozens of countries including India."
The trilateral collaboration's main objective is to boost ANA's defensive capabilities against the enemy, Taliban, and to maintain security and stability in Afghanistan after the U.S. troop's withdrawal. Russia and India see the Taliban's presence in Afghanistan as a threat to themselves and the region as a whole. By filling the gap, Moscow is giving the newly democratic government in Kabul a chance to flourish in the near future.
"This initiative by India will take of some weights of NATO and the United States' shoulders. It is very important for the region to join in and contribute towards a peaceful Afghanistan" Sarchashmah added.
Sarchashmah also said that India partnered with NATO and the United States forces in Afghanistan during the invasion and since then India has been a major contributor over $2 billion for peace, security and development in Afghanistan.
When asked what will this agreement between Afghanistan and India mean for Pakistan and the region, Sarchashmah said this initiative "also has its policy implications in the region, Pakistan's suspicion of India's activities in Afghanistan's security and future government will grow, and "any that India do or does, now or in the future in Afghanistan it will grow Pakistan's tension and Pakistan will always question that."
China is one of the countries that are interested Afghanistan's peace and stability because Chinese companies and businesses have invested in Afghanistan, Sarchashmah added.
"I do not think that China will get military involve in Afghanistan … [for China] it is better to get involved through business … because Afghan National Security Forces are now at the point that they can take the security responsibilities and they provide the security [measures] required by Afghanistan" Sarchashmah added.
The NATO and the United States forces paved the ground for peace and stability in Afghanistan, he said.
"Now it is regional countries responsibility to shoulder some weight so to make sure that Afghanistan is not slipping back to chaos and another civil war, Sarchamshma added.
First published by the Voice of Russia.
All rights reserved by Rossiyskaya Gazeta.