Sixth BRICS summit to be held in Brazil on July 15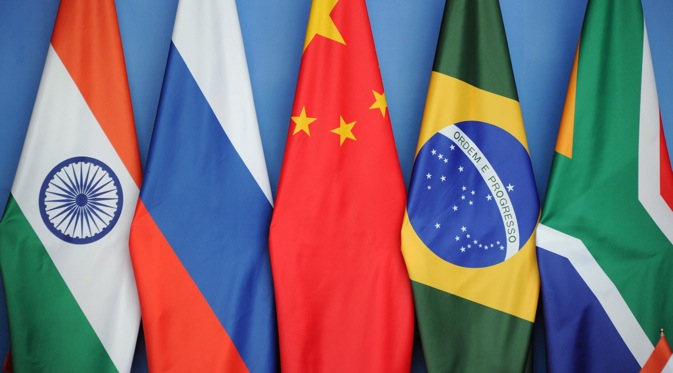 In Brazil, the grouping is likely to continue efforts to reform the international financial system where a considerable overbalance exists in favour of the West. Source: Kommersant
India's new prime minister Narendra Modi will get his first chance to meet Vladimir Putin and Xi Jinping in the city of Fortaleza.
The Brazilian city of Fortaleza will host the sixth annual BRICS summit on July 15, RIA Novosti cited the Russian Foreign Ministry as saying.
Russian Deputy Foreign Minister Sergei Ryabkov and Russia's sous-sherpa to BRICS Vadim Lukov met Brazil's Sherpa to BRICS, Jose Alfredo Grasa Lima last week, the news agency said.
"Lima informed the Russian side about the program for the upcoming Brazil's presidency in BRICS and the agenda for the summit of this group, due on July 15, 2014 in the city of Fortaleza," the news agency cited the ministry as saying.
Economics will have the highest priority at the summit in Brazil, although the grouping has started to devise common policies on international issues. The BRICS countries backed Russia, when there were hints from Australia that Vladimir Putin may not be allowed to participate in the G20 summit.
In Brazil, the grouping is likely to continue efforts to reform the international financial system where a considerable overbalance exists in favour of the West. At their meeting in Durban in March 2013, the five countries' leaders announced that a 'New Development Bank' will focus on infrastructure investment in developing countries, which, they said, was constrained by "insufficient long-term financing and foreign direct investment."
It is unlikely that the much-touted BRICS bank will be formed during the summit, according to informed sources.
Modi to meet foreign counterparts
The summit will be the first occasion for Indian Prime Minister Narendra Modi to meet Vladimir Putin, Xi Jinping, Jacob Zuma and Dilma Rouseff. Modi is expected to hold separate bilateral talks with each leader while he is in Brazil.
Last week at the St Petersburg International Economic Forum, Putin said he had already met Modi, who has been to Russia thrice in his earlier capacity as chief minister of the state of Gujarat. The leaders are expected to review relations and the preparations for the 15th annual India-Russia summit, which will be held in New Delhi in October.
All rights reserved by Rossiyskaya Gazeta.