Russia, Belarus, Kazakhstan sign Eurasian Economic Union treaty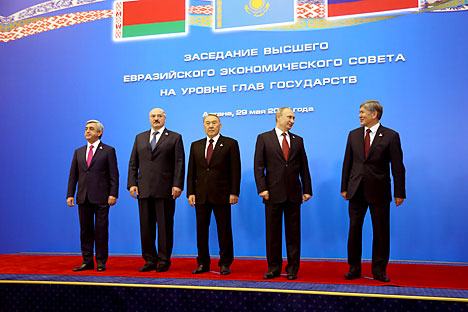 The new economic union will come into effect on January 1, 2015 and cut down all trade and labour barriers between the three members
Russia, Belarus, and Kazakhstan have signed a treaty for the formation of the much-anticipated Eurasian Economic Union, which will come into effect on January 2015. The free trade zone will comprise over 170 million people and will cut down trade barriers between the regional powers.
"The signed agreement has landmark, historic significance," Russian President Vladimir Putin said.
The troika of countries will cooperate in energy, industry, agriculture, and transport, the Russian President said.
In addition, citizens of Russian, Belarus, and Kazakhstan will have the right to work freely throughout the member states without having to be issued any special work permits, Putin said.
Over the last three years, trade within the Customs Union has increased by $23 billion, or nearly 50 percent. At the end of 2013, it stood at $66.2 billion.
"Together, Belarus and Kazakhstan are in third place in foreign trade with the Russian Federation, after the EU and China. We reached this level largely thanks to the integration process," Putin said.
"A new geopolitical reality of the 21st century is born" Kazakh President Nursultan Nazarbayev commented.
"We see this as an open space and a new bridge between the growing economies of Europe and Asia," Nazarbayev added.
The Customs Union is a project to gather ex-Soviet states into a free trade zone to rival the European Union. The three member states of Russia, Belarus and Kazakhstan only comprise 2.5 percent of the world's population, but account for 15 percent of the total land.
"The geographical position permits us to create transport, logistic routes of not only regional, but also global importance that permits attracting massive trade flows in Europe and Asia," Russian President Vladimir Putin said at the meeting of the Supreme Eurasian Economic Council in Astana, Kazakhstan on Thursday.
Together, the three country's account for 20 percent of the world's gas reserves and 15 percent of oil reserves.
The Russian leader said that the document brings Russia, Kazakhstan and Belarus to a new level of integration and fully retains sovereignty.
"We ensure a close and coherent economic collaboration and cooperation. Today we have created a powerful and attractive center of economic development, a large regional market that brings together more than 170 people. Our union has huge reserves of natural resources, including energy, which accounts for one fifth of the world's gas reserves and 15 percent of oil reserves," Putin said.
All member states will retain full state sovereignty. Russia is financing the lion's share of the administration, but each state will have a one-third voting status.
"The Eurasian Economic Union will operate on universal transparent principles understood by all, including standards and principles of the WTO," Russian President Vladimir Putin said.
The idea of creating a regional trading bloc was first suggested by President Nursultan Nazabayev of Kazakhstan back in 1994, when he gave a speech at Moscow State University. The Customs Union began on January 1, 2010, and started operating under a comprehensive customs code in July 2011.
Members of the Commonwealth Independent States like Armenia, Tajikistan, and Kyrgyzstan may be brought into the free trade zone later.
Kyrgyzstan plans to join the Customs Union by the end of 2014, Kyrgyz President Almazbek Atambayev said at the meeting.
A decision on Armenia's membership will have to be made by July 2014, Kazakhstan's President Nursultan Nazabayev said.
Neighbouring oil-rich Azerbaijan hasn't made a decisive move towards either the Customs Union or European Union integration.
First published by RT.com
All rights reserved by Rossiyskaya Gazeta.