All Indian students evacuated from Luhansk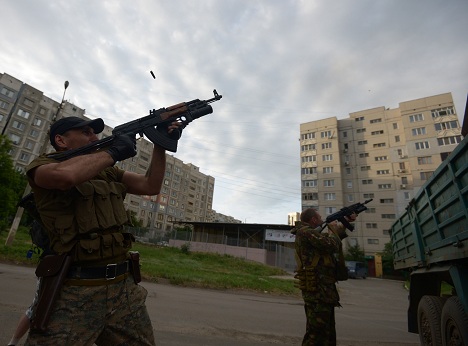 People's militia fighters during a battle with Ukraine's border guards in the Mirny neighborhood on the outskirts of Lugansk. Source: Evgeny Biyatov / RIA Novosti
The Indian Ministry of External Affairs said it evacuated 1000 students studying in the restive city in southeastern Ukraine.
1000 Indian students who were enrolled at the Luhansk State Medical University (LSMU) were evacuated this week by the Indian Embassy in Kiev and the Ukrainian government. The evacuation was done in the wake of intense fighting between rebels and the Ukrainian government.
The Indian Embassy bought train tickets for the students, who left the city in two batches of 500 for Kiev. "The university authorities may please inform the local administration about the en masse departure of the Indian students so that adequate security arrangements are made to enable them to reach the railway station safely," Indian Ambassador to Ukraine Rajiv Chander wrote in a letter to the rector of LSMU.
The Indian Embassy said it made arrangements in Kiev for transportation, transit accommodation and meals for all Indians evacuated from Luhansk. The mission also helped students with onward bookings and preponing of flight tickets from the Ukrainian capital.
According to the Indian Embassy, 350 of the students at LSMU are from Kerala, 300 from Tamil Nadu, 150 from Andhra Pradesh, 60 from Punjab, 25 each from Jammu and Kashmir and Maharashtra, 20 from Uttar Pradesh and 10 from Gujarat. The total number from the other states is 200, according to the embassy.
The Indian mission also helped evacuate students from Pakistan, Nepal, Sri Lanka, Maldives and Bangladesh.
The evacuations came as the academic year was winding up, but university lectures and exams were interrupted in the city by the on-going clashes. It is unclear when the students will be allowed to go back to Luhansk. The situation in the cities of Donetsk and Kharkov is believed to be better than Luhansk and the Indian Embassy has not yet made any announcement of evacuations from those two cities.
The Indian Embassy says there are around 2,500 Indian students studying medicine and engineering in Ukrainian universities. There are over 500 students in Kiev and a smaller number in western Ukrainian cities like Lviv, which are not in the theatre of the current conflict in the city.
Around 1000 Indian students are enrolled at the main medical university in Crimea, which broke away from Ukraine and joined Russia after a referendum. The Russian Federal Migration Service has said that Russian visas would be given to all Indian citizens who chose to continue studying in the peninsula.
All rights reserved by Rossiyskaya Gazeta.