Dmitry Rogozin sets ball rolling with new Indian government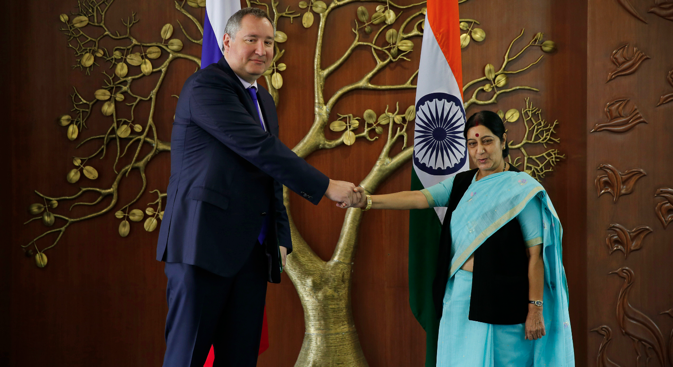 Russian Deputy Prime Minister Dmitry Rogozin and Indian Foreign Minister Sushma Swaraj, pose for the media before their meeting in New Delhi, June 18, 2014. Source: AP
The Russian Deputy Prime Minister is in India to set the agenda for Vladimir Putin's meeting with Narendra Modi on the sidelines of the BRICS summit in Brazil.
Initiating Russia's interactions with the new Indian government, Russian Deputy Prime Minister Dmitry Rogozin met India's External Affairs Minister Sushma Swaraj and Finance and Defence Minister Arun Jaitley in Delhi on Wednesday. The talks focussed on trade, energy security, regional and international issues and defence cooperation.
The Indian Ministry of External Affairs (MEA) added that India and Russia decided to have a joint feasibility study to explore a free trade agreement between India and the Eurasian Economic Union, which consists of Russia, Belarus and Kazakhstan.
At the delegation-level talks, the sides also spoke on the progress of the Kudankulam Nuclear Power Project (KNPP). The countries signed a general framework agreement in April for the construction of the 3rd and 4th KNPP units, which come under India's civil liability law for suppliers. In 2010, Russia and India signed a roadmap for building up to 14-16 Russian-design power units in India. Swaraj and Rogozin also discussed the progress of the roadmap.
Sources tell RIR that Rogozin, who is in Delhi as Vladimir Putin's envoy, thanked India for its balanced approach on the Crimea issue and for not supporting West-imposed sanctions on Russia. Rogozin and Swaraj co-chair the India-Russia Inter-governmental Commission on Trade, Economic, Scientific, Technological and Cultural Cooperation. On Wednesday, they set the groundwork for Vladimir Putin's meeting with Narendra Modi on the sidelines of the BRICS summit in Brazil on July 15.
The MEA said that issues that affect defence cooperation between the countries were raised by Swaraj with Rogozin. This is widely believed to be a reference to Russia's potential supply of Mi 35 helicopters was discussed at the meeting. India and Russian sources tell RIR that reports of India being upset with Russia's decision have been blown out of proportion by headline-seeking members of the media.
Rogozin will meet Indian Prime Minister Narendra Modi tomorrow.
After the BRICS summit in Brazil, Modi and Putin will meet on the sidelines of the G20 meeting in Australia and for the annual Indo-Russian summit, which is scheduled to be held in New Delhi in October. The countries are looking to raise bilateral trade to $20 billion in the next few years. A number of new Russian investments in India will be proposed to Modi by Putin during their meeting in Brazil.
All rights reserved by Rossiyskaya Gazeta.