Putin sees no direct external threats to Russia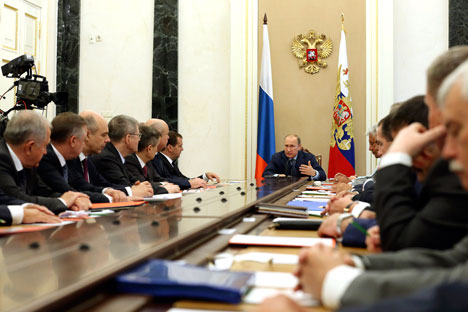 'Whom did Putin address primarily – Russia or the West?' Source: ITAR-TASS
Russia Direct discussed the implications of Putin's address to the Russian Security Council with Fyodor Lukyanov, the Head of the Council on Foreign and Defense Policy.
Several days after the downing of the Malaysian Boeing in Eastern Ukraine, Russian President Vladimir Putin raised the issue of Russian sovereignty and territorial integrity at the July 22 session of the Russian Security Council.
While saying that he doesn't see any direct external threats to Russia, he confirmed that Russia would respond adequately to NATO beefing up its presence in Eastern Europe and increase its own defense capability, including in Crimea.
Below, Russia Direct discusses the most salient points of Putin's address to the Security Council with Fyodor Lukyanov, Head of the Council on Foreign and Defense Policy.
Russia Direct: Whom did Putin address primarily – Russia or the West?
Fyodor Lukyanov: Putin's address is directed to both, yet currently, the more important addressee is the West. The Russian President is trying to highlight key points to show that Russia is not interested in increasing tensions, or any political and psychological escalation of the conflict [with the West and Ukraine]. Provided goodwill and flexibility from the West, Russia is ready to be flexible and express the same goodwill. Yet, it was said implicitly, as indicated from the tone of his speech.
RD: However, Putin also said that Russia will increase its defense capability and will respond "adequately" and "symmetrically" to NATO's build-up in Eastern Europe. Does it contradict his reassurance that Russia sees no direct external threats?
F.L.: In such a situation, a leader doesn't make any unambiguous statements. Putin says that there are no direct threats. Yet it doesn't necessarily mean that there are no indirect and potential threats. So, there will be a build-up of the country's defense and adequate response to withstand hypothetical threats. It's one thing to prepare for these threats for preventive measures; it's another thing to face a direct threat in order to react immediately. And Putin does not think the latter is possible.
Fyodor Lukyanov, Head of the Council on Foreign and Defense Policy. Source: RIA Novosti
RD: Will he be able to influence rebels in Eastern Ukraine to minimize the consequences of the crisis?
F.L.: I think he can influence the rebels. Yet, there is no reason to think that his influence is absolutely powerful. Everything that is now happening there [in Eastern Ukraine] – is a pretty chaotic development with an unstable dynamic.
"Political influence" is a so-called euphemism. What the West requires from Russia is a very concrete step: It is the blocking of the channels of support and aid that comes from Russian territory.
And in this case, the Ukrainian army will defeat the rebels quickly. This is what the West is seeking.
For Putin, this scenario is very difficult and dangerous, because in this case, he faces the risk of disappointing those who fight in Eastern Ukraine as well their Russian supporters who might see the blocking of support as betrayal. So, again, it is a very vulnerable position.
Can Putin admit his mistakes and mend fences with the West? How can Putin insulate Russia's economy from foreign and political risks? What economic moves does he mean? Read the entire interview at Russia Direct.
Russia Direct is an international analytical media outlet with the focus on foreign policy. Its premium services, such as monthly analytical memos and quarterly white papers, are free but available for subscribers only. For more information about the subscription, please visit russia-direct.org/subscribe
All rights reserved by Rossiyskaya Gazeta.