War in Gaza: A perspective from Russian immigrants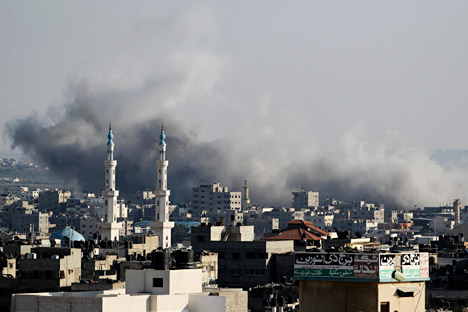 Smoke rise after an Israeli strike over Gaza City on August 8, 2014. Source: Photoshot
RIR interviews residents of Israel and the Gaza Strip, trying to understand how the war has affected their lives.
Israel has a Russian Diaspora that is estimated to be number around one million. Many Russians living in the country have mixed emotions about the war between Israel and Hamas in Gaza. RIR spoke to a few Russian residents of the troubled region to get some fresh perspective on the crisis.
Yulia Blekhman, a graduate of the Moscow State University, who moved to Israel upon completing her higher education, expresses anger and frustration at the developments, but does not hesitate to demonstrate patriotism for her adopted homeland. "Here I learned the meaning of the phrase, 'to be proud of the country you live in,' and I will never be able to say the opposite," she says. "The war was unequal from the very beginning, but everyday it gives me a reason to be proud."
Blekhman tells RIR about how people from all over the country gather provisions and essential items for soldiers serving on the border with Gaza, as well as how they come to the hospitals to visit the wounded. "On the border with Gaza the soldiers stand in the heat for weeks on end, chewing tasteless food and constantly waiting to see what will happen the following day," she says. "And suddenly there are people who come to visit them and bring them food. First their moms and dads bring them homemade food, and then people they don't know from all over the country. People bring food from restaurants, desserts, cigarettes. There are no orders 'from above.' Every individual person has decided that it is important for him to help and support the army. Dozens of people write letters and record videos thanking and supporting the soldiers. Dozens of them go to the wounded in the hospitals, give blood and send tasty food."
She says that a couple of weeks ago a lone soldier, whose family lives abroad, died in Gaza. The victim's friends wrote on Facebook that his parents would not be able to arrive in time for his funeral and it is possible that no one would come to part with the soldier who had given his life for his country. As a result, 30,000 people came to his funeral the following day, people who had never even met him.
Life goes on
Sophia Samoilova, who lives in Tel Aviv, says, "Society is divided in two: those who were unsatisfied and wanted to leave even before the war, and are now talking about leaving all the more; and those who love Israel and even postponed their vacations in order to remain in the country during a difficult period." She says the perception of the war depends on where a person lives. "For example, those who live in the centre of the country, or in the north, don't really feel the hardship of war. Yes, there were a few sirens, everyone got into the bomb shelter and then went about their business."
According to Samoilova's stories, Israelis who live in the south have a completely different sensation of the war. They have to sleep with their families in bomb shelters, having gathered the family members 15 seconds before an enemy shell explodes above their heads.
"Yes, surely the conflict has influenced our daily lives," remarks Samoilova. "But again, in Tel Aviv we feel it less. I remember, though, when the siren sounded for the first time I was in a shopping centre. People were running about panicking everywhere. The Internet and the phones stopped working. Later everyone got used to it. But during the weekend the city where life was always in full swing was empty."
The young lady says that support can be felt coming from everywhere. Last week she met three Italians in a bar, who, in her words, had come to Israel in a time of war in order to show their fellow countrymen that life in Israel is continuing and that not everything is as awful as mass media depicts it.
The view from Gaza
"Almost 60 percent of the Gaza Strip is made up of children and adolescents," says Lyudmila Al Farra, a doctor at one of the hospitals in the Gaza Strip. "Therefore, first and foremost the war concerns them, not us. There are many wounded among them. Parents cannot let their little darlings out onto the street because there are always Israeli reconnaissance planes flying over their heads."
She notes that 250,000 people were forced to leave their homes: their abodes were partially or totally destroyed. In her words, the villages bordering Israel were almost entirely wiped out and people are moving to the country's central regions, trying to save their lives.
"During the first phase of Israel's military operations you could hear the explosions and the F-16 destroyers hitting ground targets miles away," Al Farra adds. "It felt like an earthquake, as if our house would collapse. During the ground operations the shrapnel from the artillery shells came flying to our house. We were even forced to leave the house for three days."
She says that people do not have housing, food, potable water and clothes. "We will continue working and we will remain here. I am a doctor, I can't just leave. Especially since peace seems to be on the horizon. We'll see what happens."
All rights reserved by Rossiyskaya Gazeta.