No ideology or hidden agenda for BRICS- Russian Deputy Foreign Minister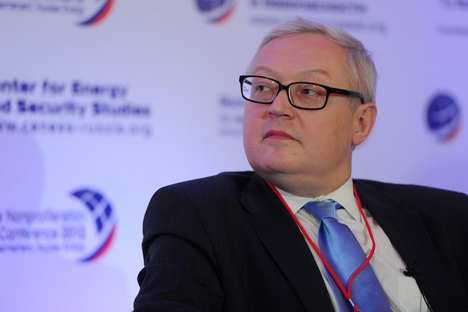 Sergei Ryabkov: "We support the multipolar world and seek the international law strengthening." Source: Itar-Tass
Sergei Ryabkov said the grouping's political agenda was widening, but cooperation should be made more efficient and result-oriented.
The BRICS grouping has no ideology and hidden agenda, Russia's Deputy Foreign Minister Sergei Ryabkov said on Thursday.
Sergei Ryabkov said in an interview to the International Affairs magazine posted on the Russian Foreign Ministry website that "BRICS is still an informal group of five states that are gradually expanding their work agenda, including the political, economic and other applied agenda." He added, "We already have a serious experience of interaction in the financial sphere and increasingly specific interaction in the spheres connected with any society's everyday life - from science and technology to agriculture."
He said, however, that the cooperation should be made more efficient and result-oriented. "But considering its historically short time span (Russian President Vladimir Putin in 2005 put forward the BRICS idea, the first summit was held in 2009, and the next will be held in Ufa next year), compared to other international institutions, the organization has done a lot over this period," said the high-ranking diplomat.
According to him, the group's political agenda is widening. Ryabkov said in this regard that the Declaration of the Fortaleza summit of the BRICS "contains very serious theses, important signals" on Syria, Afghanistan and Iran. "This is the base of our joint work with BRICS partners on many acute problems," the deputy foreign minister said. "I'm sure the consolidation process of the still informal group BRICS will be continued."
Ryabkov said BRICS has no ideology and cannot have it. "But we support the multipolar world and seek the international law strengthening," he added. "We believe it is necessary to regulate international processes and settle problems, searching for the balance of interests, compromise and by dialogue. These are the three things that are obvious and perhaps unobjectionable. BRICS has no hidden agenda of any kind."
The Russian deputy foreign minister forecasts the group's evolutionary development and calls for focusing on the practical work. "This is a two-track movement - gradual raising of the expectations' bar and gradual filling with specifics of the already agreed steps," he said.
Answering a question about cooperation with Latin America and Africa, Ryabkov said Moscow makes its policy in these regions not on the basis of political canons, "so characteristic of the colleagues in the West." "This is no zero sum game," he added. He said Russia develops relations in an accelerated regime with some states or reaches breakthrough agreements with a number of countries in various spheres not to the detriment of somebody. "We think it's normal mutual attraction of the countries that despite their distant geographical location seek to find new partners." "This practice shall be continued," he added.
Ryabkov said those who are suspicious of Russia's policy should take an unbiased attitude to the "developments in Latin America and in Africa in terms of promotion of the Russian interests, their protection and to our formation of new partnerships".
The need for creating a BRICS Development Bank and a reserve currency pool has arisen due to the fact that the United States' inaction delays the IMF (International Monetary Fund) reforms, Ryabkov noted.
"Certain countries have no influence on the decisions taken by the IMF. This situation does not correspond to the authority and responsibility of these states, primarily BRICS countries," he said.
"That is why the creation of a BRICS Development Bank and a reserve currency pool will help form any instruments that help deal with financial stabilization and financial support to promising projects without problems in mutual relations with the IMF and the IBRD (International Bank for Reconstruction and Development)," Ryabkov said.
First published by Itar-Tass.
All rights reserved by Rossiyskaya Gazeta.